Embark on an adventure of a lifetime onboard Seabourn for a monumental cruise vacation you will not soon forget. Seabourn is a leader in the cruising industry when it comes to innovative and unique vacations at sea and their ultra-luxurious expedition itineraries are completely unrivaled.
Let's take a quick look at the Seabourn Expeditions experience in further detail.
Contact an Independent Travel Advisor in the Avoya Travel NetworkTM or browse here to see everything Seabourn has to offer for your next vacation.
Seabourn Venture
Introducing the Newest and Most Innovative Ship to the Seabourn Fleet
Brand new to the Seabourn fleet, Seabourn Venture embarked on its inaugural cruise season in April 2022. Seabourn Venture is a true workhorse in the ocean, designed with the ability to sail through even the iciest water conditions of the arctic, yet features a lavish interior that allows guests to relax and enjoy remarkable views in absolute luxury. All guests are greeted with a glass of champagne upon boarding the vessel at the start of the cruise.
Seabourn Venture is a pioneer in its class, both in its design elements and remote exploration capabilities. This ship was designed to offer an intimate experience for passengers, complete with its warm and cozy ambiance. Its small design allows for it to maneuver easily into ports that other cruise ships can't – and all of this happens without sacrificing guest comfort.
First, of its kind, this cruise ship also houses two submarines to take groups of passengers below the surface of the ocean for iconic underwater tours. You will get to see sights and marine wildlife species that few others in the world ever get to see.
Life Onboard Seabourn Venture
The interior of Seabourn Venture is inspired by nature, right down to the dark wood paneling that lines the walls. The furnishings throughout the ship are modern yet rustic, and the artwork nods to the adventures you will have out at sea. Onboard this ship, you can choose from 124 spacious staterooms to lodge in – all of which offer their own private veranda. Upgrade to a penthouse or owner's suite room for the real royal class treatment.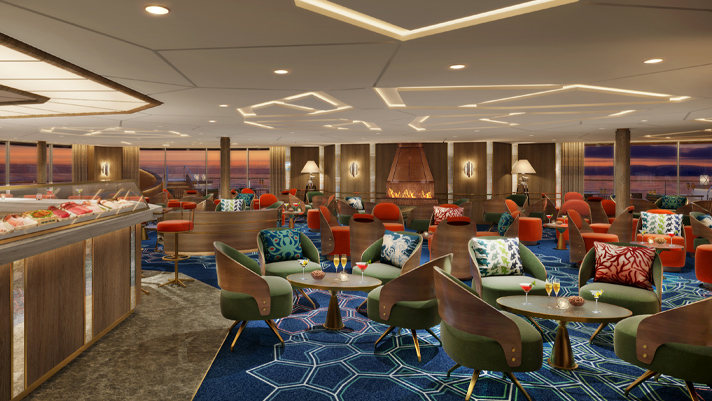 Enjoy a relaxing cocktail at The Club onboard Seabourn Venture
During your cruise, treat yourself to all of the amazing amenities this ship has to offer. Spend some time at the spacious Bow Lounge where you can take in all of the natural beauty of the ocean and observe marine wildlife.
Learn more about the natural history and the culture of the destinations you will visit at Discovery Center or sit back and relax at the rooftop lounge and hot tub recreational area. Seabourn partners with some of the most renowned chefs in the industry to bring you a fine selection of casual and gourmet restaurants to try out while you sail.
What Exactly Are Seabourn Expeditions?
While other cruise companies offer voyages that hit all of the popular vacation hot spots, Seabourn allows you to explore the seas less traveled with its curated collection of Seabourn Expedition voyages.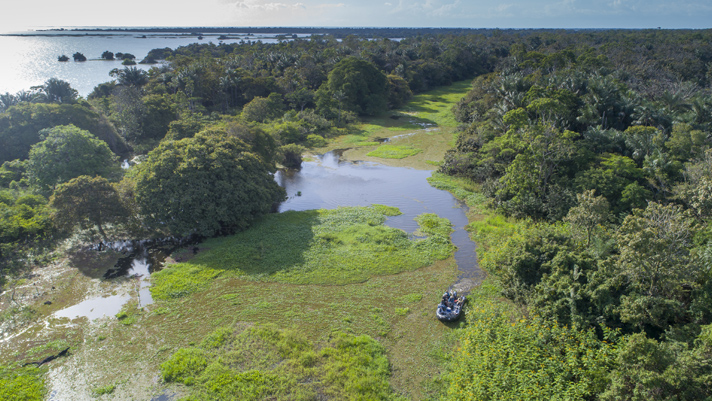 Adventure out on a once-in-a-lifetime shore expedition in the Amazon.
Book a Seabourn ultra-luxury expedition cruise and sail to far-off places like South America, Panama Canal, Europe, the Arctic, or Antarctica in the company of naturalists, scientists, and regional experts who will educate you with lectures and hands-on experiences throughout the entire journey. Seabourn Expeditions are for those who want a unique vacation while enjoying first-class accommodations at the same time.
An In-Depth Look at Seabourn Expedition Itineraries
Each cruise itinerary offers land and coastal excursions that are completely customized to suit your individual sense of adventure. Antarctica itineraries make port-of-call stops along the southern coast of South America and continue on to the islands that make up the South Pole region.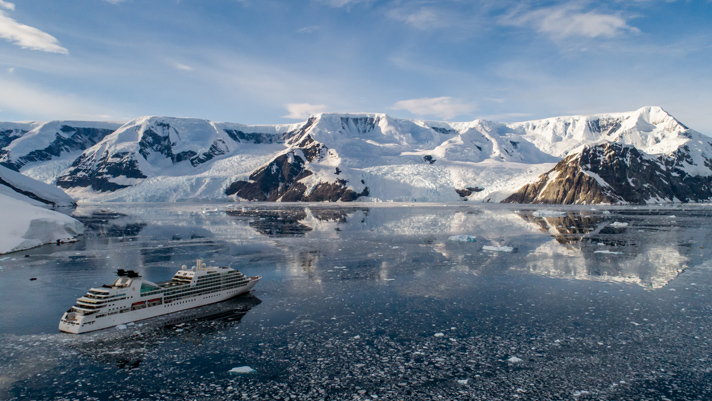 Travel to the Arctic and explore the glacial habitat, which is home to penguins, polar bears, and other fascinating cold-water wildlife. Touted as one of the most pristinely beautiful locations in the world, Seabourn makes this destination accessible to anyone.
The Amazon River is home to the most diverse plant, insect, and animal species on the planet and Seabourn Expeditions is your ticket to checking out all of its natural beauty in lavish style. Row the Amazon River in a kayak, hike through the jungle with a local guide and keep your eyes peeled for all of the unusual lifeforms you will encounter along the way.
Have you ever wanted to visit Europe, but could not decide where exactly to go? Seabourn's Northern Europe expedition cruises allow you to hit all of the highlight destinations in one extended trip. Visit London, Dublin, Shetland Islands, Edinburgh, and other iconic places without having to plan all of the travel details.
To get the most out of your land and coastal excursions, Seabourn Venture is outfitted with two submarine ships, an assortment of Zodiacs, and other gear to get you as close as possible to Mother Nature's show wherever you are in the world.
For thrill-seekers, nature lovers, and those with an adventurous spirit, Seabourn has an ultra-luxury expedition onboard the new Seabourn Venture that is sure to cater to your personal taste. At Avoya Travel, we are here to help you get the best deal on your next dream vacation. Contact us today so we can help you plan a trip you will remember for the rest of your life.
Call the number at the top of this page to be connected with an Independent Travel Advisor in the Avoya Travel NetworkTM who can help you get the best price, navigate COVID-19 restrictions, and answer any questions you have about Seabourn Expeditions.