Inspired by the world's most delectable dishes and crafted by Michelin Star chefs, Celebrity Cruises' Celebrity Beyond has taken dining at sea to an extraordinary level. Whether you are looking for a quick bite on the go, a midday pick-me-up, or a multi-course meal, Beyond has eateries available for all your needs.
Discover 32 distinct dining and beverage experiences onboard. From charming cafes and lounges to the most exclusive dining, this guide will walk you through a few standout options and give you a small taste of what you can indulge in when sailing onboard Celebrity Beyond.
Contact a Travel Advisor in the Avoya Travel NetworkTM or browse here to see everything Celebrity Cruises has to offer for your next vacation.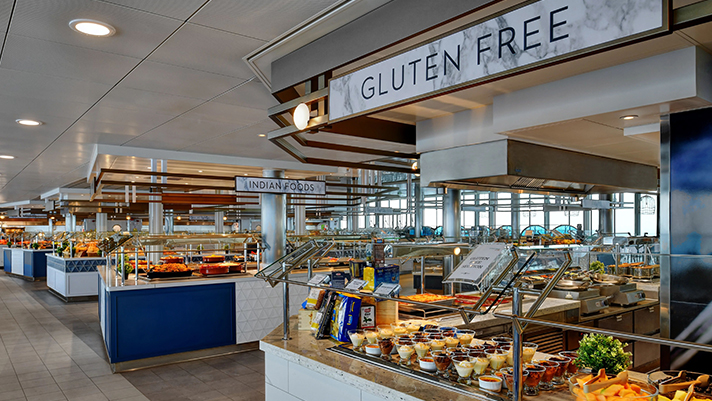 Oceanview Café
Whether you are lounging poolside, returning from a perfect spa day, or longing for stunning floor-to-ceiling views while you indulge in a delectable meal, Celebrity's complimentary eateries will fulfill all your needs. These flexible dining options allow guests to swing by in their own time, grab a bite, and enjoy themselves without the stress of reservations or seating times.
Spa Café and Juice Bar
If you are looking for something light, healthy, and delicious, head to the Spa Café and Juice Bar located inside the adults-only Solarium. This quaint buffet-style setup offers a creative take on healthy cuisine with small plates of various fresh salads, fruits, juices, and more. Enjoy breathtaking views as you refresh and recharge with nourishing and flavorful options.
Oceanview Café
Start your day off right with a wonderful greeting from the Celebrity crew and a delightful breakfast at the fan-favorite and ever-popular Oceanview Café. This alfresco dining area with unmatched views offers delicious international cuisine and a relaxed atmosphere. This buffet-style eatery transitions seamlessly between mealtimes, swapping out food and drink options with ease. Top off the night with a delicious, sweet treat from Scoops.
Mast Grill
Searching for that poolside barbeque vibe? Well, look no further. Mast Grill, located in the pool area just outside of the Solarium, offers juicy burgers, hotdogs, and fresh fries with delicious toppings creating the perfect poolside meal.
Eden Café
Bask in the dazzling morning light as it enters Eden Café creating a bright and airy atmosphere. Guests can order a variety of morning beverages and casual culinary bites during breakfast and lunch hours while taking in the expansive ocean views.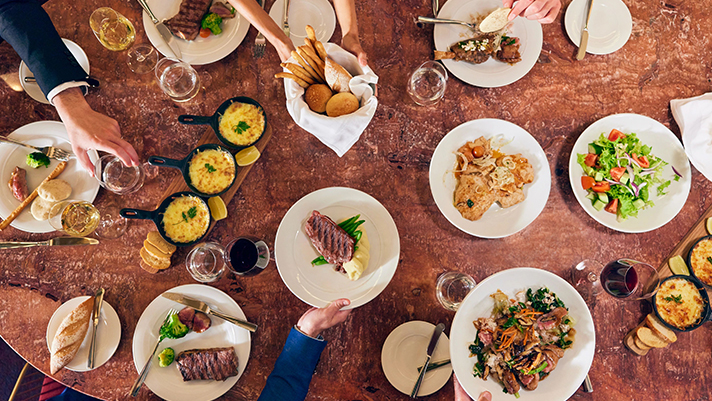 Cyprus Restaurant
Onboard Celebrity Beyond, guests will find four fabulous main dining options that are also complimentary, just with a more upscale feel. Each restaurant is exquisitely designed with signature dishes inspired by specific regions around the world. While a reservation is not always required, it is recommended.
Cyprus Restaurant
Inspired by the Greek goddess of love and beauty, Aphrodite, Cyprus Restaurant embraces Celebrity's Greek heritage and creates a lovely ambiance for guests dining at sea. With a focus on seafood and simple, clean dishes, this Mediterranean menu is nothing short of divine.
Tuscan Restaurant
With a classic design inspired by Italian fashion and film, Tuscan Restaurant recognizes the successes of the popular Tuscan Grille and bumps it up a notch. Indulge in delicious Italian cuisine while you enjoy the beautiful atmosphere Celebrity Cruises has created.
Normandie Restaurant
Inspired by the Murano specialty dining venue onboard other ships in Celebrity's fleet, Normandie combines a refined and romantic setting with delicious French cuisine. This elegant restaurant is seen as the French quarter of main dining onboard Celebrity's Edge Series ships.
Cosmopolitan
Cosmopolitan Restaurant is nothing short of impressive with its stunning décor, walk-through wine display, and new American cuisine. Mirroring the fan-favorite dining experience found across Celebrity's fleet, Cosmopolitan always has guests coming back for more.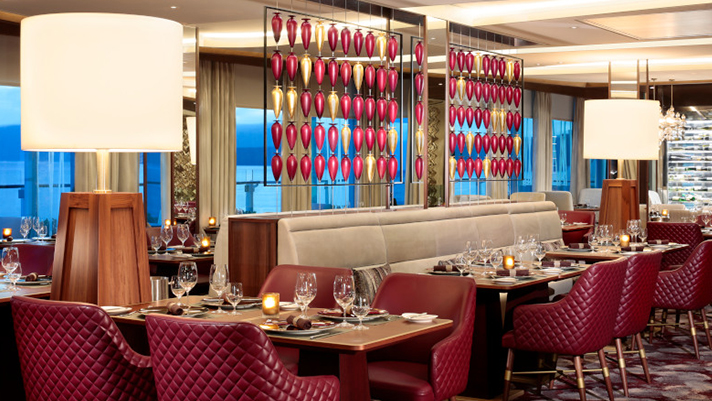 Fine Cut Steakhouse
Want to experience some of the finest dining at sea? Celebrity Beyond has you covered with various specialty dining options that will leave you speechless. From family-friendly eats to elaborate globally-inspired cuisine, an unforgettable meal is surely in your future.
Fine Cut Steakhouse
From Japanese wagyu to tender grass-fed lamb chops, Fine Cut Steakhouse offers scrumptious starters and delightful entrees creating the ultimate steakhouse dining experience. Choose from various premium sauces and toppings to truly take your Fine Cut feast to the next level.
Le Petit Chef
Unlike any dining experience you have had before, Le Petit Chef truly redefines "dinner and a show." With a masterful menu curated by a Michelin Star Chef accompanied by a lively animation right on your table, this one-of-a-kind restaurant is perfect for the whole family.
Raw on 5
Enjoy awe-inspiring views of the horizon through the floor-to-ceiling windows as you indulge in various seafood delicacies at the intimate eatery, Raw on 5. Soak up the sophisticated ambiance or enjoy a limited menu from the Magic Carpet when it is stationed on deck five.
In addition to the restaurants highlighted above, be sure to check out The Magic Carpet, Le Voyage, Le Grand Bistro, the Rooftop Garden Grille, and Eden Restaurant for more mouthwatering menus.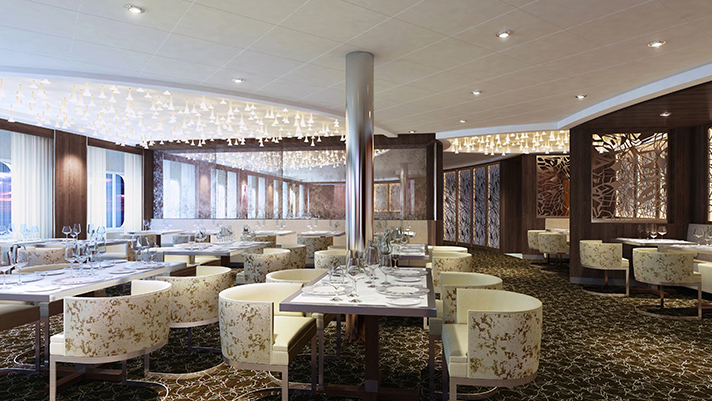 Luminae Restaurant at The Retreat
Unlike other restaurants accessible to all guests on the ship, Celebrity Beyond offers two exclusive dining options for Retreat guests and AquaClass guests respectively.
Luminae at the Retreat
Luminae at The Retreat serves only Retreat guests with an exclusive menu handcrafted by the legendary chef Daniel Boulud. Enjoy extraordinary panoramic views equal to those found in the fabulous Iconic Suites as you indulge in various culinary masterpieces.
Blu
Exclusive to AquaClass guests, Blu focuses on a healthier lifestyle with a clean menu complimented by an extensive list of sustainable, biodynamic wines. Enjoy a fresh and bold experience, expert service, stylish décor, and heavenly dishes.
5. Cafés, Bars, & Lounges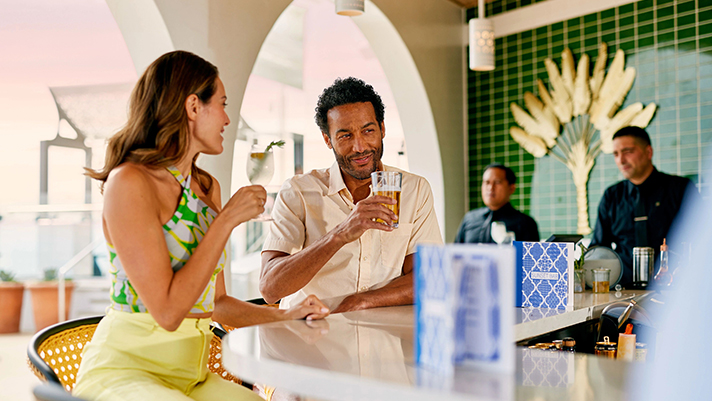 Sunset Bar
You are probably thinking, "How could there possibly be more to offer on this ship?". Well, there is! In addition to all the incredible previously mentioned options, you can also indulge in 14 various cafes, bars, and lounges onboard serving delicious treats alongside fabulous beverages.
From a mid-day caffeine pick-me-up at Café al Bacio to a nightcap drink at the Sunset Bar, you can't go wrong no matter what you choose.
There is no doubt Celebrity Cruises has truly outdone themselves when curating the collection of dining options onboard Celebrity Beyond. With unparalleled service and remarkable menus to match, dining at sea doesn't get better than this.
Want to take your tastebuds on a journey while cruising the high seas on your perfect vacation? Call Avoya Travel to start planning your dream getaway and score the best deal possible on your next unforgettable escape!
Call the number at the top of this page to be connected with a Travel Advisor in the Avoya Travel NetworkTM who can help you get the best price and answer any questions you have about Celebrity Cruises.