Take your palate on a culinary adventure while dining onboard Celebrity Apex and discover a delicious compilation of cuisine that is inspired by the destinations you will visit while on your cruise.
If you are planning a cruise vacation onboard Celebrity Apex, here is the ultimate guide to help you plan your meals and reservations, as well as all the other essential information you will need to know about dining while on your cruise.
Contact an Independent Travel Advisor in the Avoya Travel NetworkTM or browse here to see everything Celebrity Cruises has to offer for your next vacation.
Main Dining
Celebrity Apex has four delicious main dining halls to choose from and each one features its own unique ambiance. These fine restaurants serve breakfast, lunch, and dinner and are all included as part of your cruise. Here is a quick overview:
1. Normandie Restaurant
Inspired by the French countryside, Normandie Restaurant is your go-to spot for tantalizing European fare. This classy dining hall features a warm romantic ambiance that celebrates the flora of springtime in France. Fresh cut roses adorn tables outfitted in white linens as sparkling crystal chandeliers provide muted glow at your table. Sit down on plush armchairs and enjoy an array of starters and entrees while sipping on fine European wines and mouthwatering signature cocktails.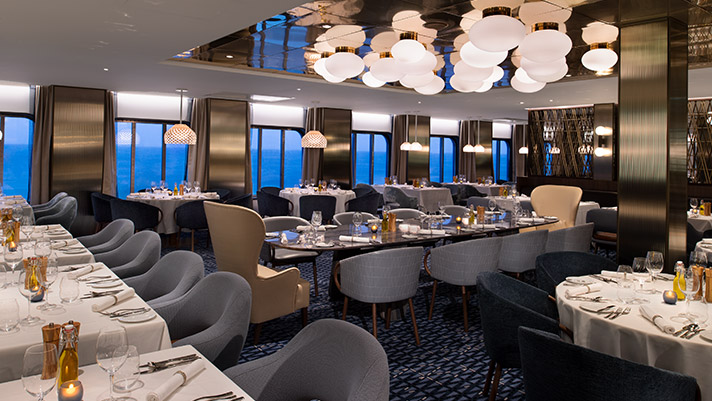 Dine in elegance at the Cyprus Restaurant onboard Celebrity Apex.
2. Cyprus Restaurant
Straight from the heart of the Mediterranean, Cyprus Restaurant is for those who enjoy exotic flavors and cuisine that is bursting with rich flavor. This tantalizing main dining restaurant celebrates the cultural heritage of Greece and other Mediterranean countries. With a selection of decadent land and sea selections to choose from, the hardest part is deciding upon a meal to try. The dining hall features a warm and contemporary ambiance with dark wood furnishings and sea views galore.
3. Cosmopolitan Restaurant
Offering an award-winning selection of fine American fare, Cosmopolitan Restaurant is sure to satisfy the palates of even the pickiest eaters. The restaurant is inspired by the most sought-after fine dining restaurants in American metropolitan cities and outfitted in plush leather seating, a neutral color scheme, and white linens.
The entrance of the restaurant is lined with wine bottles of every kind, inviting you to relax and unwind while savoring American classics like eggs and bacon, soup and sandwiches, or steak and potatoes.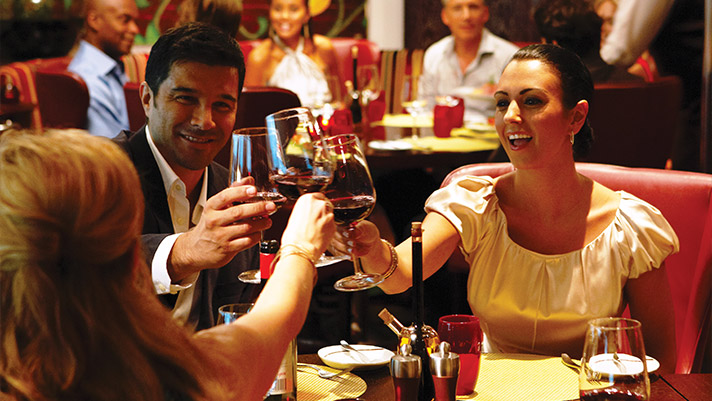 Indulge in delicious Italian cuisine at the Tuscan Restaurant.
Complimentary Dining
For more casual dining morning, noon, and night, here are some of the most popular complimentary dining options to enjoy while on your cruise vacation:
1. Oceanview Café
Relax and enjoy the beautiful water and stunning views on deck at Oceanview Café. This restaurant serves up a worldly selection of fresh baked goods, made-to-order Asian and American fare, and a full salad bar to keep you going throughout the day. Enjoy indoor or outdoor seating, both with incredible views, while eating a light meal or snack.
2. Mast Grill
If you are craving classic American food, Mast Grill is a restaurant you do not want to miss out on. This casual dining option offers classic American favorites, like burgers, fries, salads, and sandwiches, which can be enjoyed poolside, so you don't have to stray far from fun.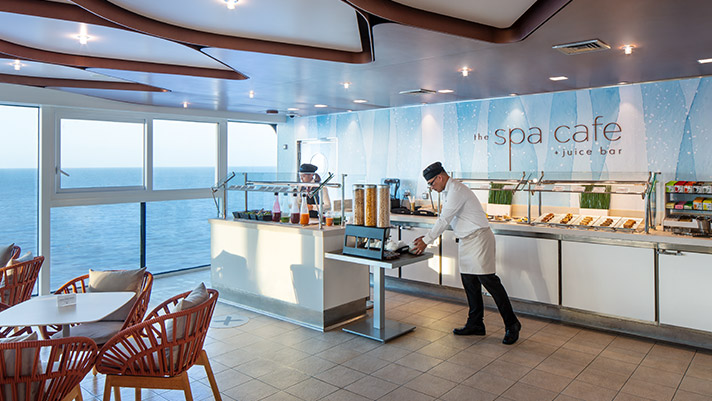 Pick up a healthy smoothie or snack at the Spa Cafe.
3. The Spa Café
For a delicious and healthy breakfast or lunch, stop by The Spa Café where you will find an array of fresh-pressed juices, smoothies, and other healthy treats that can be enjoyed in a tranquil dining room that is an extension of the onboard spa.
Specialty Dining
Make the most out of your Celebrity Cruises vacation by booking a reservation at one or more of the specialty dining restaurants available onboard Celebrity Apex. For an additional cost per person per day, you can dine on gourmet cuisine that is handcrafted by some of the most renowned chefs in the industry. Here are a few of the offerings available:
1. Fine Cut Steakhouse
Enjoy sizzling steak, seafood, and top-shelf wines in a high-class dining room that boasts plush furnishings and an elegant atmosphere.
2. Le Petit Chef and Family
A whimsical family dining restaurant in which the chef takes you through the story and life of Le Petit Chef with food and entertainment.
3. The Magic Carpet
Inspired by the sea, The Magic Carpet is an open deck restaurant where you can feast on prepared seafood, sushi, and other ocean-inspired meals while enjoying unparalleled views of the sea.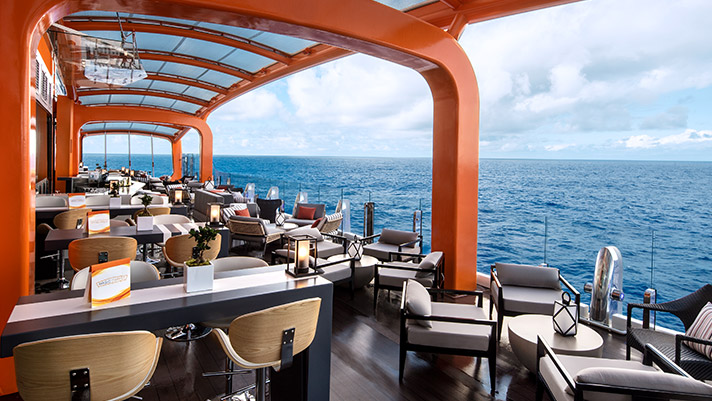 Experience a unique dining experience on the Magic Carpet.
4. Eden Restaurant
Regarded as one of the most spectacular restaurants at sea, Eden Restaurant features an open-kitchen concept where you can watch your chef dream up your meal while lounging in modern elegance.
24-Hour Dining
Celebrity Apex offers 24/7 room service to guests and has snack bars and cocktail lounges for late-night meals and snacks. Upgrade to The Retreat® package for 24-hour access to one of the most exclusive guest lounges and restaurants that Celebrity Cruises has to offer.
Dining is one of the most coveted pastimes of a cruise vacation and the culinary masterminds onboard Celebrity Apex roll out the red carpet for tastebuds of all types. Book your vacation with Avoya Travel today and let us help you plan your dream cruise onboard Celebrity Apex.
Call the number at the top of this page to be connected with an Independent Travel Advisor in the Avoya Travel NetworkTM who can help you get the best price, navigate COVID-19 restrictions, and answer any questions you have about Celebrity Cruises.