You know what they say, variety is the spice of life – and Virgin Voyages is incorporating delectable cuisines and delicacies from across the globe to spice up your onboard experience.
Eat your heart out at sea with 20+ onboard eateries to choose from. Whether you're craving classic American diner fare or world-class dining with menus crafted by Michelin-starred chefs, you're sure to find sumptuous cuisines catered to your tastes, palates, and late-night cravings.
Here's what makes dining onboard Virgin Voyages an unforgettable must for all foodies.
Contact an Independent Travel Advisor in the Avoya Travel NetworkTM or browse here to see everything Virgin Voyages has to offer for your next vacation.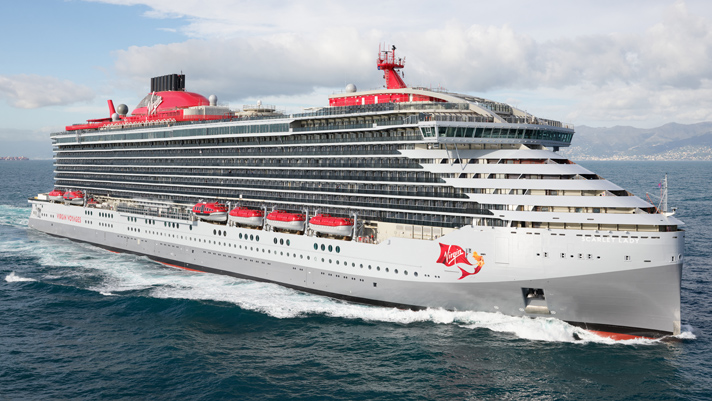 Virgin Voyages Scarlet Lady
Casual Dining (With a Twist)
Did large-scale buffets and massive dining rooms just come to mind? Think again – on Virgin Voyages' Scarlet Lady, they're swapping designated dinner times in the main room for a redefined casual concept. Eat where you want, when you want.
Flexible dining adds an extra layer of customization to your travel itinerary, away from limited early or late seating times.
Throughout the ship, you'll find unique spaces and diverse options to choose from. Snack on a handcrafted pizza at The Pizza Place, grab a scoop of creamy ice cream in a flavored waffle cone at Lick Me Till… Ice Cream, or relax under the sun with a bowl of fresh poke at the Sun Club Café.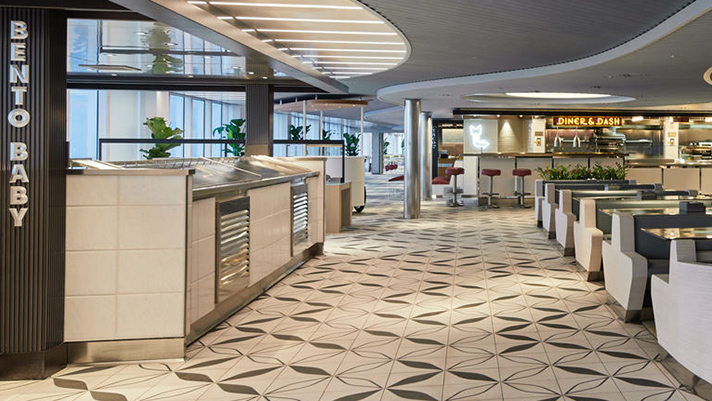 Enjoy a variety of delicious cuisine in The Galley
Be sure to visit The Galley, Virgin Voyages' modern take on the food-court concept. Filled with a variety of dining options including freshly made sushi, tasty burgers, hot-pressed sandwiches, warm baked bread, and fresh fruit, stop by for a snack or sit down and enjoy the delectable cuisine complete with breathtaking ocean views.
And the deliciousness keeps on coming! Be sure to stop by The Galley throughout the day as these joints transition between meal times to offer new varieties and goodies, such as unforgettable pastries for breakfast and specialty desserts in the evenings to satisfy all your sweet cravings while onboard Virgin Voyages.
Specialty Eateries
Dreaming of unique food experiences to add some extra flavor to your vacation? Make a reservation at one of the specialty eateries available onboard – dinner reservations can be made pre-cruise using the Virgin Voyages app, so be sure to plan ahead! Here's a quick guide to specialty dining onboard Virgin Voyages.
Razzle Dazzle
Take your pick from the "naughty or nice" menu – plant-based vegetarian dishes or indulgent meats, sweets, and treats. Our tip: visit for breakfast to try the coconut milk fairy toast. Sprinkles with breakfast, anyone?
Pink Agave
Treat yourself to an upscale menu of Mexican cuisine featuring small and medium plates to share with friends and large plates for your main course. Be sure to grab a drink to accompany your dining experience. Pink Agave's large selection of mezcal and tequila has something for everyone.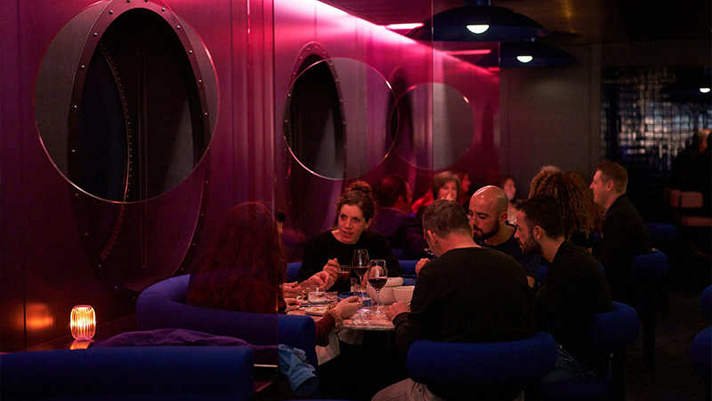 Indulge in delicious upscale Mexican cuisine at Pink Agave.
The Test Kitchen
Here's a dining concept unlike anything you've ever experienced: part cooking lab, part restaurant. This laboratory setting pushes the boundaries of dining, offering a new venue for experimental taste buds. Try unique dishes with a multi-course meal that is unlike anything you've eaten or seen on a cruise ship.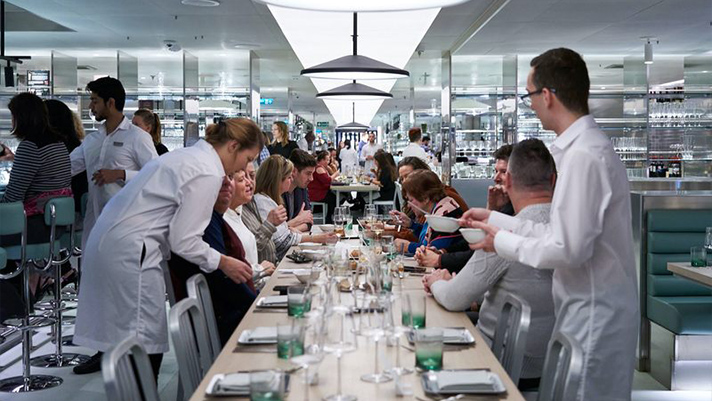 Discover something new for your taste buds at Test Kitchen.
Extra Virgin
This trattoria dishes up classic Italian cuisine in a casual setting, including freshly made pasta and seafood dishes, as well as desserts, prepared tableside.
The Wake
For an upscale experience, this two-story restaurant serves up steak and seafood dishes alongside amazing wake views. Or head over during the daytime to indulge in a bottomless brunch and recharge before the day ahead.
Gunbae
A can't-miss Korean BBQ experience, enjoy fresh grilled meats or veggies and side dishes straight from Korea. This venue is a social event in itself – gather with friends (and make some new ones) and enjoy some soju drinking games to get the party started!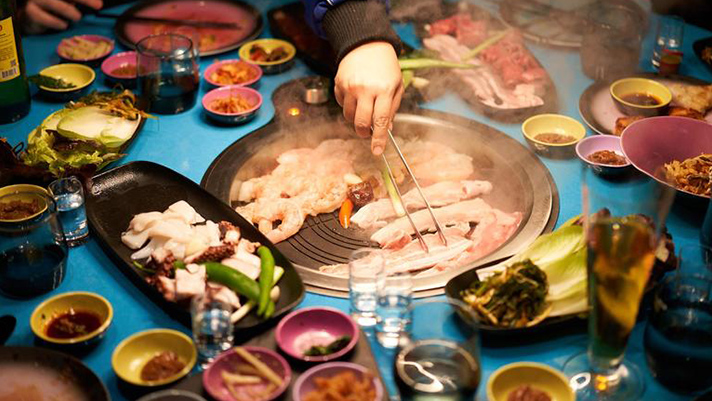 Tantalize your palate at the Korean BBQ restaurant, Gunbae.
Late Night Bites
Looking for a scrumptious late-night snack or need to refuel before enjoying a night out onboard? Slurp up delicious ramen, grab a pizza to go, or stop at Diner & Dash for a 24/7 breakfast with customizable omelets. Many casual eateries are open late to ensure you can find good eats at any hour.
Set sail onboard Virgin Voyages to experience cruising cuisine on a level of its own. With so many options available, you're sure to come home with new memories (and pictures!) of all the unforgettable delicious dining onboard Virgin Voyages.
At Avoya Travel, we work hard to make booking a cruise vacation as seamless as possible so that you can fully immerse yourself in the experience and worry less about the details. Feel free to contact us with any questions or if you would like to move forward in reserving your spot on a dream sailing!
Call the number at the top of this page to be connected with an Independent Travel Advisor in the Avoya Travel Network™ who can help you get the best price, navigate COVID-19 restrictions, and answer any questions you have about Virgin Voyages.