Meet Virgin Voyages' Scarlet Lady, the first of four new mid-sized vessels to sail the open seas. Virgin Voyages is pulling out all the stops with this ship, becoming a leader in innovation and evolution within the industry.
And did we mention there are no kids? These adults-only cruises are unlike any other in that no one under the age of 18 is allowed onboard.
A few of us here at Avoya Travel had the privilege of experiencing the incredible Scarlet Lady for ourselves. While there were countless things that we enjoyed while onboard, here are our five favorite things about this ship.
Contact a Travel Advisor in the Avoya Travel NetworkTM or browse here to see everything Virgin Voyages has to offer for your next vacation.
1. Foodie Loved Dining Experiences
It's time to rethink dining on a cruise ship! Onboard Virgin Voyages' Scarlet Lady, you won't find any large dining halls or buffets. Virgin Voyages has revamped the cruise dining experience with their own unique take called The Galley.
If you're someone who likes variety in your cuisine and flexible dining times while on vacation, The Galley is your spot. Here you can find delicious dishes like ramen, burritos, sushi, burgers, an array of desserts, and more.
Indulge in delicious cuisine at Razzle Dazzle onboard Scarlet Lady.
Scarlet Lady also has a selection of exciting, mouthwatering specialty eateries at no additional charge, so you can experience all the delectable food onboard without compromising on taste (or your wallet).
Explore sit-down restaurants like The Wake, where you can eat incredible steak and seafood with unparalleled views; Razzle Dazzle, which features vegetarian eats as well as 'naughty' meat-based plates; the Korean-BBQ restaurant Gunbae, where you can play drinking games with your tablemates; Pink Agave, which specializes in 'Elevated-Mexican' cuisine; Extra Virgin, the ship's delicious Italian restaurant; and The Test Kitchen, where you can try unique, experimental creations.
2. Modern Activities & Shows for Everyone
There is never a dull moment onboard Virgin Voyages' Scarlet Lady. Grab a drink and dance the night away at The Manor, a two-story '70s-inspired nightclub equipped with three bars so you'll never get thirsty.
Bring out your inner star and sing your heart out in a private karaoke room.
If you are in the mood for games, this ship has you covered. From The Casino to The Arcade, the game choices are endless. Test your luck on one of the 115 slot machines onboard or challenge your friends to a foosball game – But the fun onboard Scarlet Lady doesn't stop there!
Book a private karaoke room and belt out your best vocals or spend some time shopping through new and classic records at the Vintage Vinyl store. If you enjoy unique takes on classic shows and stories, Virgin Voyages brings entertainment to the next level with one-of-a-kind productions like Duel Reality and Another Rose.
Whichever way you enjoy being entertained, you're bound to find plenty of opportunities onboard Scarlet Lady.
Avoya Tip: Don't forget to bring something red to wear for Scarlet Night, a huge ship-wide party where everything (including yourself) is decked out in scarlet red!
3. Redefined Health + Wellness at Sea
Calling all lounge lovers and relaxation connoisseurs! Virgin Voyages is redefining health and wellness at sea to reveal a new version of you.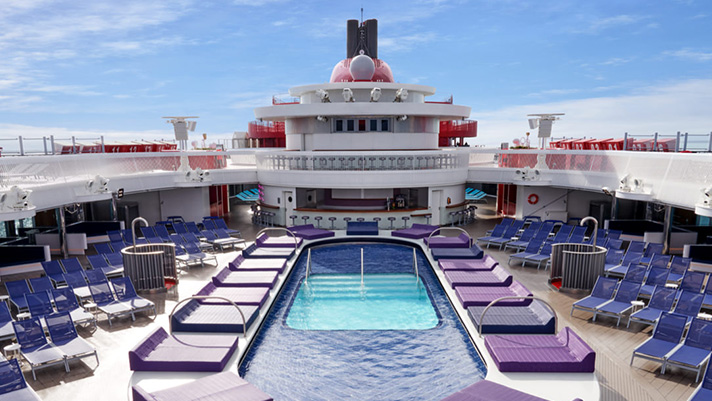 Soak up the sun at the Aquatic Club's pool deck.
Redemption Spa: Unwind at Redemption Spa and discover ultimate relaxation and self-care onboard Scarlet Lady. Find your fix for bliss with a hot-stone massage or head to the Thermal Suite which includes a mud room, salt room, sauna, steam room, hot and cold plunge pools, and heated marble hammam benches. Need we say more? Come on in and stay awhile, your body and soul will thank you.
The Runway: Still training for that half-marathon you signed up for? Not to worry, you can stay active on The Runway. This signature 'Virgin-red' running track will have you jogging, strutting, or strolling with dynamic ocean views for miles.
Aquatic Club: Grab your swimsuit and sunscreen as you spend the day on a poolside daybed or catch up on last night's events with friends in the pool. Inspired by the glam of a contemporary yacht, the Aquatic Club has everything you need to get your daily dose of vitamin "sea".
Gym & Tonic: Is there anything better than a juice bar inside a cocktail bar? If you need a protein shake after your strenuous workout or a Bloody Mary to fight off the hangover from the wild night before, you can find your reset beverage at Gym & Tonic.
4. Elevated Cabins & Suites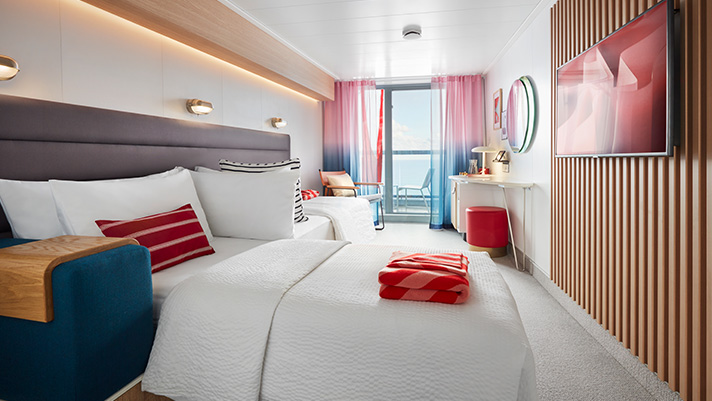 Unwind in the Sea Terrace cabin after a full day of activities.
A comfortable room to stay in is so important when traveling on a cruise. During our trip onboard Scarlet Lady, we found Virgin Voyages is taking their accommodations up a notch.
Featuring modern and innovative amenities like automatic curtains and lights that are controlled by an in-room iPad, a rainfall shower, a balcony with a hammock, and a cozy bed that can be rearranged into a sofa, we were blown away by our Sea Terrace cabin!
It was the perfect home away from home, and we loved knowing we had a cool and relaxing place to come back to after exploring the ship or the destinations we visited.
5. Dreamy Tropical Destinations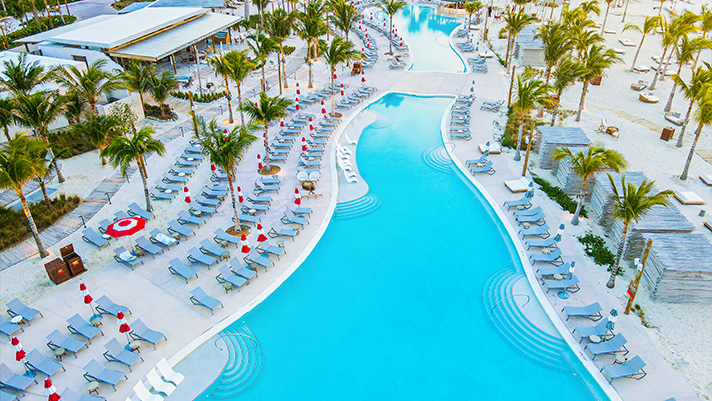 Spend the day at Virgin Voyages' exclusive experience, The Beach Club at Bimini.
Speaking of destinations, the places you can visit on a Virgin Voyages cruise are nothing short of spectacular. Before you break out the lounge chair, get ready to take on adventurous excursions at exciting ports of call throughout the Caribbean when sailing onboard Scarlet Lady. Jet ski in Key West, snorkel off the coast of Cozumel or explore the ancient Mayan ruins in Costa Maya.
Virgin Voyages' very own private beach club experience in the beautiful Bahamas, dubbed The Beach Club at Bimini, was the highlight of our itinerary! Step on site and take advantage of endless seating options in the shade or sun, large pools, a crystal-blue water beach, music played by a DJ to get you into party mode, and delicious food that's included so you don't have to travel far when you get hungry.
There are several popular itineraries onboard Scarlet Lady that everyone will enjoy! Whether you uncover new destinations in the Caribbean or revisit old favorites, you won't be disappointed by the ports available to you on your fun-filled Virgin Voyages vacation.
Book With Confidence
From a fully equipped spa, fitness classes, and a juice bar to modern cabins, dreamy destinations, and endless entertainment opportunities, this cruise will certainly make you 'ooh' and 'aah' at every turn.
If you're ready to set sail on an adults-only cruise vacation and experience everything Virgin Voyages Scarlet Lady has to offer, turn to one of Avoya Travels' Independent Travel Advisors to help with the booking process from start to finish.
Call the number at the top of this page to be connected with a Travel Advisor in the Avoya Travel NetworkTM who can help you get the best price, navigate COVID-19 restrictions, and answer any questions you have about Virgin Voyages.