Our team at Avoya Travel was lucky enough to board Virgin Voyages' magnificent Scarlet Lady for the 4-night Fire and Sunset Soirées cruise through the Caribbean. From the onboard amenities to the breathtaking ports visited, our experience was nothing short of extraordinary.
If you are looking for a short but sweet tropical getaway, read on to learn more about our adventure and why one of Virgin Voyages' Caribbean cruises could be the ideal escape for you.
Contact a Travel Advisor in the Avoya Travel NetworkTM or browse here to see everything Virgin Voyages has to offer for your next vacation.
Day 1 – Embarkation | Miami, Florida
We got our first glimpse of Virgin Voyages' Scarlet Lady as we pulled up to the port in Miami. Sitting on the glistening water and lit by the Florida sun, she really was a sight to see. We boarded with ease, quickly found our cabins, and set out to explore this amazing ship.
After getting settled, we headed out to our first dinner at Pink Agave. Serving tasty Mexican cuisine and home to a rather impressive tequila and mezcal collection, our first dinner did not disappoint. We indulged in seven different dishes – small, medium, and large plates – all shareable amongst everyone at the table and ended our dining experience with a decadent dessert. We finished the night enjoying some live music and a drink, looking forward to what the next day would bring.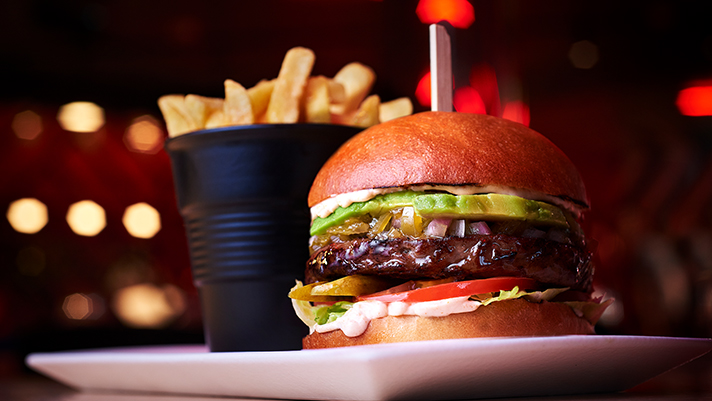 Dine at Razzle Dazzle for a delicious breakfast, lunch, or dinner.
Our second day onboard Scarlet Lady was a full day at sea allowing us to really get acquainted with this stunning vessel. We started the day with a relaxing sunrise yoga class on The Perch overlooking the ocean. With calming music and a wonderful instructor to lead us, it was the perfect way to start the day.
After the yoga class, we headed to Razzle Dazzle for our first breakfast onboard. This stylish, vegetarian-forward restaurant offered delicious eats along with fresh pressed juices, tonics, and morning cocktails.
The afternoon brought more excitement as one of our team members booked an appointment at Squid Ink, the onboard tattoo parlor, for a few piercings. We joined her for moral support and chatted with the talented artists and piercers in the shop. We got to see a beautiful watercolor-style piece that one of the artists was working on as a tribute tattoo for a guest onboard. After, we grabbed a quick bite at The Pizza Place and made sure not to spoil our appetites for our dinner reservation later in the evening.
As night fell, we headed to the restaurant and thoroughly enjoyed the Italian cuisine served at Extra Virgin. With various kinds of pasta, delicious appetizers, and satiating wines, we left beyond satisfied.
The night was not yet over! Scarlet Night was upon us, and the ship transformed into a wonderland full of entertainment drenched in scarlet red decorations. From live music, dancers, acrobats, and more, Scarlet Night truly was a one-of-a-kind experience. With a phenomenal grand finale on the pool deck, the entertainers onboard Scarlet Lady gave an extraordinary performance.
Day 3 - Key West, Florida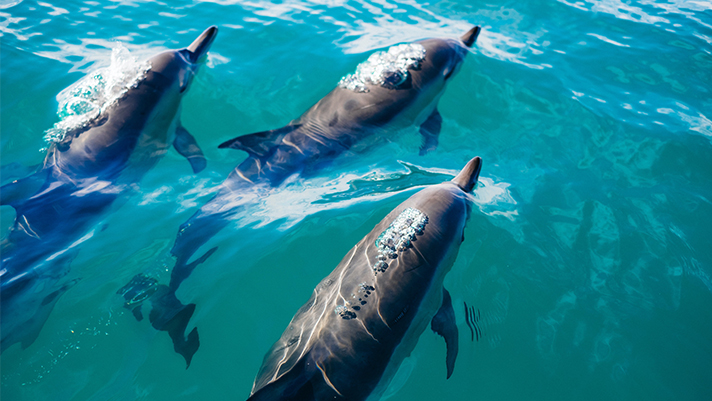 See dolphins up close with the Dolphin Watch and Wildlife Snorkel excursion.
We awoke on day three excited about our plans in port. Our team secured an incredible Virgin Voyages excursion in Key West. First, we headed to the Grounds Club for a morning coffee and pastry and then headed out to explore.
The shore excursion we chose was the Dolphin Watch and Wildlife Snorkel leaving from the marina in Key West. We enjoyed a short walk through some shops and restaurants to get to the marina and then boarded a small boat to search the Key West channels for bottlenose dolphins. Our friendly captain gave us some helpful tips on how to spot dolphins, and after some time, we came across two female dolphins and a six-month-old dolphin calf. Seeing these majestic, wild animals swim through the crystal-clear waters of Key West was a breathtaking and memorable experience. Soon after, we hopped in the water for a shallow and relaxing snorkel before heading back to the marina.
Once we were back onboard Scarlet Lady, we headed to The Galley for lunch. Featuring a mix of eight shops and food-truck-style carts with ever-changing menus, we guarantee everyone will find something they love.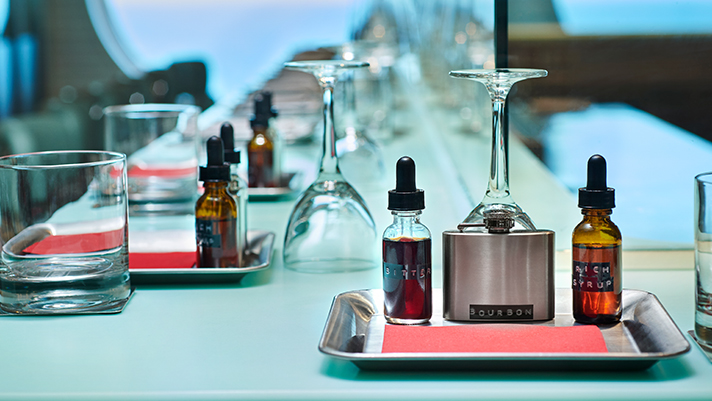 Enjoy a unique culinary experience at The Test Kitchen.
For our third night onboard Virgin Voyages, we made a reservation at the Test Kitchen. Here, we indulged in some molecular cuisine and experienced the truly innovative culinary techniques and pairings Virgin's talented chefs utilized.
Dining Tip: We highly recommend making a reservation at the Test Kitchen when planning for your Virgin Voyages cruise as this dining experience is unlike any other.
To top off the night, we headed to the Ship Show, a wonderful variety show onboard Scarlet Lady. With a hilarious host, live band, amazing singers and dancers, and unique variety of acts, this fun-filled performance was the perfect way to end the night.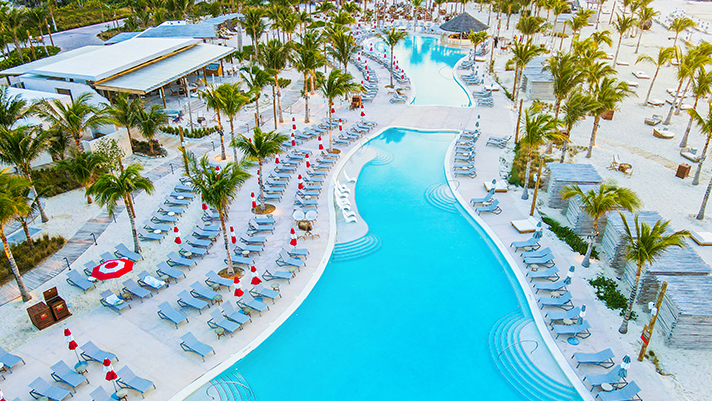 Relax or join the party at Virgin Voyages The Beach Club at Bimini
Day four of our Fire and Sunset Soirées Caribbean cruise was a port day in Bimini, Bahamas. We arrived early in the morning and were ready for a day of relaxation at Virgin Voyages Beach Club at Bimini. After breakfast, we disembarked and were shuttled to this tropical paradise.
As we arrived at the Beach Club at Bimini, we were awed by the beauty of the décor, amenities, and of course, the marvelous crystal-clear water just beyond the rows of palm trees. The day was spent seaside listening to lively music, sunbathing, swimming, and enjoying the complimentary eats offered at this exclusive spot.
The Beach Club had various seating areas, from private cabanas to hammocks, lounge chairs, and more, so everyone was able to find their own space to unwind and enjoy the warm Bahamas sun.
After a peaceful day on land, we returned to Scarlet Lady, enjoyed some time on the ship, and prepared for our last dinner onboard. We arrived at Gunbae just as the sun was setting and indulged in mouthwatering Korean barbeque as the sun met the cerulean waters on the horizon.
To end our last night, we headed to The Manor, the onboard club, for Tamar Broadbent's hilarious show, Best Life. A wonderful mix of music and stand-up comedy, Tamar's show is a must-see when sailing on Scarlet Lady.
Day 5 – Disembarkation | Miami, Florida
After four spectacular nights onboard Scarlet Lady, it was time for our Fire and Sunset Soirées Caribbean cruise to come to an end as we disembarked in Miami. From the cozy accommodations to the fabulous onboard amenities, beautiful ports, and fantastic Virgin Voyages crew, our team will fondly reminisce on our experience onboard this stunning vessel.
Book Your Virgin Voyages Escape With Confidence
If you are searching for your perfect getaway, take it from us, sailing onboard Virgin Voyages will truly exceed your vacation expectations. With the help of our Independent Travel Advisors here at Avoya Travel, you can start planning your dream escape at an incredible value today.
Call the number at the top of this page to be connected with a Travel Advisor in the Avoya Travel NetworkTM who can help you get the best price and answer any questions you have about Virgin Voyages.