Oceania Cruises is a luxury cruise line with a fleet of high-end ships suited to a discerning clientele who enjoy a more intimate style of cruising. These remarkable ships are regularly refurbished and updated to ensure all of the onboard amenities continue to impress loyal passengers as well as new guests.
Each ship offers world-class entertainment, a host of activities, and comfortable accommodations. And it wouldn't be an Oceania vessel without The Finest Cuisine at Sea® with its signature restaurants and dining experiences onboard.
Oceania Cruises currently operates six luxury ships, with the seventh and newest ship set to begin cruising in 2023. The vessels are divided into three classes of sister ships: Regatta, Oceania, and Allura. Each class has the same layout and amenities, but every ship is unique in its own way.
Contact a Travel Advisor in the Avoya Travel NetworkTM or browse here to see everything Oceania Cruises has to offer for your next vacation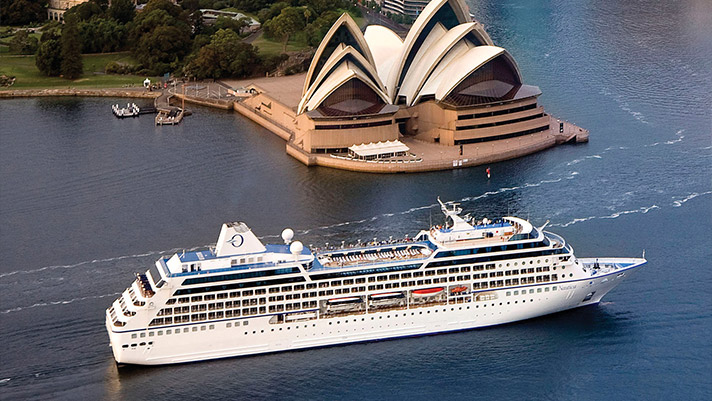 Oceania Cruises' Nautica in Sydney, Australia.
The Regatta-class ships were the first to be added to Oceania Cruises' current fleet. Each luxury ship can accommodate 656 guests in its 333 suites and staterooms, 70% of which come with private verandas.
These impressive ships also boast on average 410 staff members for an excellent guest-to-staff ratio. Onboard amenities shared by Regatta vessels include the Aquamar Spa + Vitality Center, a casino, the stately Grand Dining Room with a chef's tasting menu, nightly entertainment, and shopping boutiques. The pool deck on each ship features a large saltwater pool and two whirlpool spas for ultimate relaxation.
Regatta
Regatta is Oceania Cruises' flagship, and it continues to be as splendid as ever. A 2019 refurbishment breathed new life and inspiration into the ambiance of the vessel with redesigned suites and staterooms.
The sprawling decks are made of beautiful teak wood that is meticulously maintained, and custom stone and tile work can be seen throughout the vessel for a luxurious finish.
Enjoy a delicious meal at one of the four open-seating restaurants and eight lounges and bars. The plethora of eating options offers guests a variety of dining choices.
Nautica
Newly refurbished within this past year, Nautica was also updated with fine teak wood and custom stone and tile work. The restaurants, lounges, bars, staterooms, and public areas have been optimized to ensure maximum guest relaxation as well. Nautica is a beautiful vessel to experience and enjoy a luxury cruise vacation.
Insignia
Insignia was refurbished in 2018 with a re-imagined atmosphere and a soft color palette that reflects the sea and sky. Custom light fixtures and designer furnishings were a welcome update, replacing the previous traditional-style decor with chic and contemporary pieces.
Sirena
Sirena has all of the best features and benefits of its sister Regatta-class ships with a few unique perks all its own. It is home to the signature specialty restaurant Tuscan Steak, which serves steaks, fresh seafood, and Italian cuisine favorites.
It is also the only Regatta-class ship with the specialty Asian restaurant Red Ginger, which was originally introduced on the cruise line's Oceania-class ships. Sirena was last refurbished in 2019 with an upgrade to the ship's suites, staterooms, and bathrooms.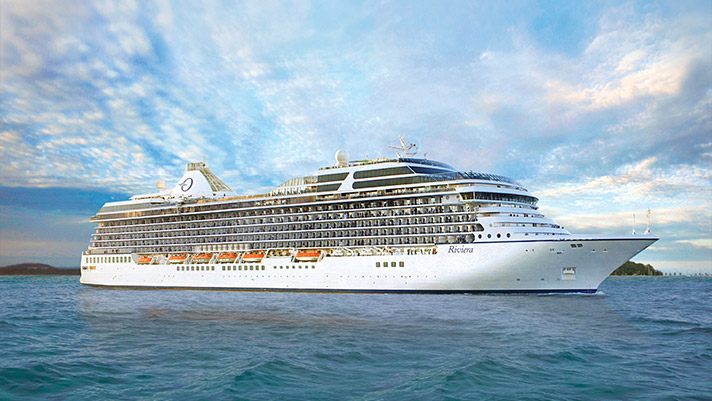 Oceania Cruises' Riviera
The cruise line's two larger Oceania-class luxury ships have double the capacity of the Regatta class at 1,238 guests and 776 staff members. The sister ships are nearly identical in design and amenities, and it's all about the dining experience onboard the Oceania class with highlights including private dining at the exclusive Privée restaurant and a wine pairing dinner at La Reserve by Wine Spectator.
Other amenities include a spa, a casino, exclusive production shows, and The Culinary Center, a hands-on cooking school at sea. Extensive refurbishment plans were announced for both ships in April 2022.
Riviera
Riviera is just finishing its refurbishment and will be making its debut in December 2022. The ship has received a highly ambitious, stern-to-stern transformation that left almost no part of the vessel untouched.
The suites and staterooms have been completely resurfaced, and the public spaces will see new fixtures, furnishings, and finishes, including elegant Tuscan marble. The Grand Dining Room, Polo Grill, and Horizons restaurants are all receiving a makeover to make them lighter, brighter, and grander.
Marina
Marina will undergo the same transformation as her sister ship, Riviera. It is expected to drydock in October 2023 for the updates and make its debut in November 2023.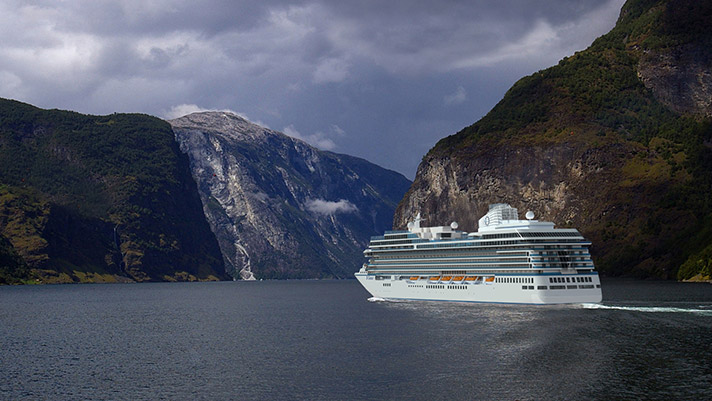 Oceania Cruises' Vista
In 2019, Oceania Cruises ordered two new ships to make up its new Allura class: Vista, to set sail in 2023, and a yet unnamed ship expected to debut in 2025. The ships will have a passenger capacity of 1,200 and a ratio of two staff per three guests.
Vista
Vista will be departing for its inaugural season in April 2023, and passengers are sure to marvel at the captivating beauty of the cruise line's newest offering. The ship builds upon Oceania Cruises' tradition of The Finest Cuisine at Sea® with two new restaurants, Ember and Aquamar, Kitchen.
In total, Vista boasts 12 dining venues, setting a new precedent for ships of its size. When it comes to accommodations, every single suite and stateroom has its own veranda, and solo travelers will be able to take advantage of a new Concierge Level Veranda Staterooms category. The all-new LYNC Digital Center will also provide 24-hour internet access to keep you connected while out at sea.
Experience Oceania's Luxury Cruise Ships Firsthand
The Oceania Cruises fleet lives up to its promise of unparalleled luxury at sea. Each class of ships offers a unique experience with all the amenities you could ask for, and you owe it to yourself to experience it firsthand.
Experience one of Oceania's new or stunningly refurbished luxury ships by speaking to an Independent Travel Advisor in the Avoya Travel NetworkTM for a stress-free planning process and the best available savings.
Call the number at the top of this page to be connected with a Travel Advisor in the Avoya Travel NetworkTM who can help you get the best price and answer any questions you have about Oceania Cruises.