Guest Blogger: Ryanne Gatti, The Weekend Wanderer
Picture this: you're scrolling through the internet browsing photos of 'to die for' vacation destinations, white sandy beaches, bright blue skies, lush green mountains, and there it is, the crystal turquoise-blue water that is obviously photoshopped, right? Guess again! After spending 10 days cruising the French Polynesian Islands with the luxury all-inclusive cruise line Paul Gauguin, I am here to tell you that the crystal clear turquoise paradise actually exists, and man is it everything you've been dreaming of.
Paul Gauguin Cruise Line offers a relaxing and simplistic atmosphere that will change your mind about modern day cruising. Activities and facilities encourage personable connections with high-end, all-inclusive services that will leave you with your vacation needs met and relaxation achieved. Here's a closer look at all the amazing things I experienced with this cruise line, and what you can too!
A huge factor that separated this cruise vacation from any other I've been on before was my wonderful experience with a travel agent in the Avoya Travel Network. Check out 'My Experience Booking with Avoya Travel' to get a closer look at the benefits of booking travel this way!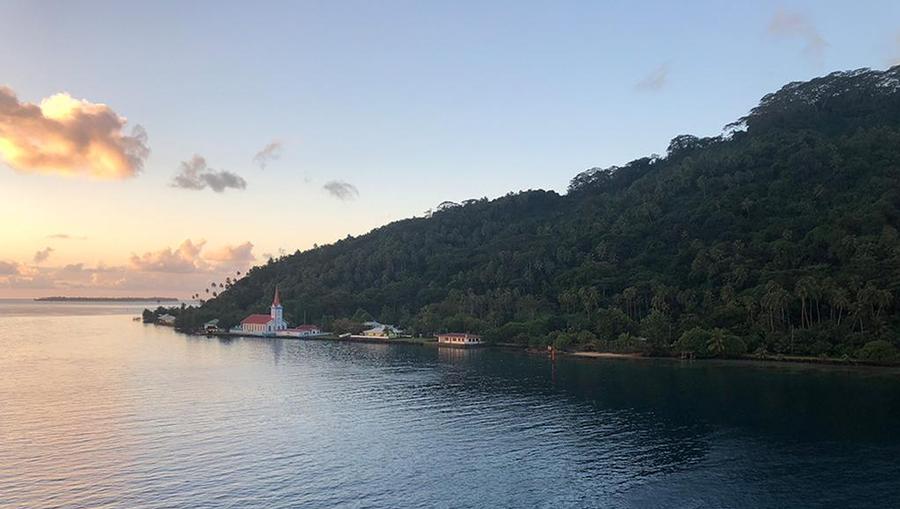 Get 50% off a Paul Gauguin cruise!
Food and Drink
The MS Paul Gauguin boasts three all-inclusive restaurants onboard to keep the foodie in you on its toes. La Veranda offers classic French cuisine, La Grille serves delicious Asian and Polynesian fusion, and L'Etoile offers a wide range of cuisines with a unique menu every night. In my mind, the best part of any cruise is the food, and PG cruises does not disappoint. Their delicious food and dining experience as a whole leaves you wishing you could take their chef and waiters home with you.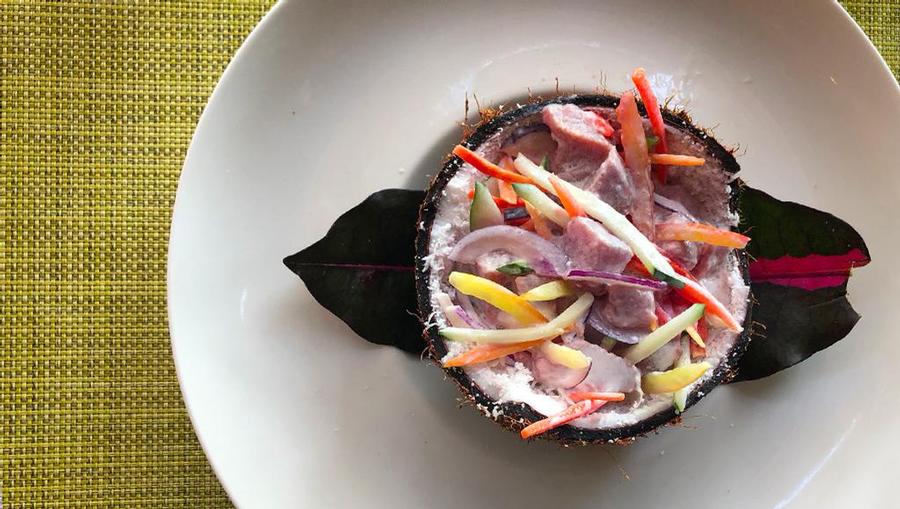 Calling all wine lovers! Eduardo was our sommelier onboard M/S Paul Gauguin. He was available to us at every meal, remembered our favorite wine, and was always ready to make recommendations that blew us away every time (pst, choose the red!).
Since we are on the topic of staff, I honestly can't praise Paul Gauguin's cruise staff enough! Each member has an authentically humorous and larger than life personality. They each remember your name, are attentive, funny, and genuinely interested in getting to know you. These hard-working individuals truly make the cruising experience with PG what it is.
One dish not to miss: Polynesian Night Lobster!
Social & Activites
Every night you receive a schedule of the next day's activities. Some of our favorites included crafting jewelry, making floral leis and headdresses, playing BINGO, listening to the onboard musicians as well as the Les Gauguines (staff members that sing and dance in local Polynesian fashion), and enjoying afternoon tea.
The M/S Paul Gauguin also has a marina off the back of the ship where you can paddleboard and kayak; this is also where the dive team jets off for their daily scuba dives.
One activity not to miss: Lei and head dress making on Polynesian night!
South pacific Destinations & Excursions:
Day 1 - Huahine (Society Islands)
Excursion: 4x4 Island Tour
Huahine is very tropical with lush forested mountains in the center. Our first excursion of the trip was a guided tour of the island via a 4x4 truck. This is the perfect opportunity to snap some breathtaking photos along the way. Local guides explain Huahine's ecosystem, people, politics, and what life on the island is truly like. We even got to stop at a local Tahitian vanilla farm where the farmer had vanilla bean for sale.
Must try in Huahine: Local Tahitian vanilla from local farmers!
Day 2 & 3 - Bora Bora
Excursions: Day at the Beach at Intercontinental Resort Thalasso & Jet Ski around the island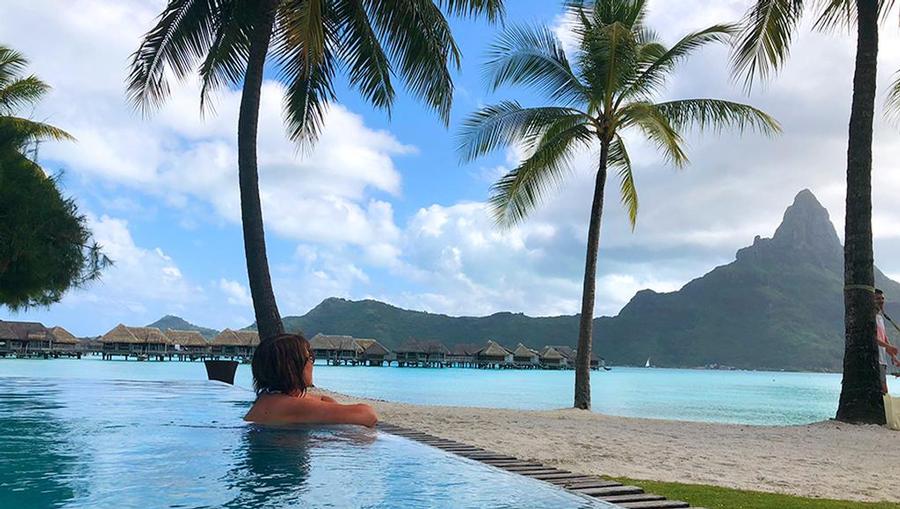 Bora Bora has exploded on the map as one of the most coveted vacation destinations. After soaking in the views here, I can 100% see why. We spent our first port day in Bora Bora at the Intercontinental Resort Thalasso, where you truly feel like a celebrity. The white sandy beaches, overwater bungalows, and crystal clear turquoise waters are completely unreal (BUT SO REAL!). During your day, the beach excursion will get you access to most of the amenities at the resort as well as a two-course lunch. The resort also hosts some pretty cool visitors; stingrays enjoy swimming along the water's edge and are fed fish throughout the day by staff.
On our second day in Bora Bora, we decided to energize our vacation by taking a toured Jet Ski ride around the island. This excursion is not for those who like to cruise along, it was fast-paced and invigorating. During our drive, the guide took us to different lagoons where we could hop off the Jet Ski and take a dip in the clear blue water - he even provided us with a little picnic made up of local fresh coconut and fruit from the island!
Must Try in Bora Bora: Swimming with the sting rays (you can feed them right off the beach at the Intercontinental Thalasso)!
Day 4 - Rangiroa (Tuamotus Islands)
Excursion: Aquarium Snorkel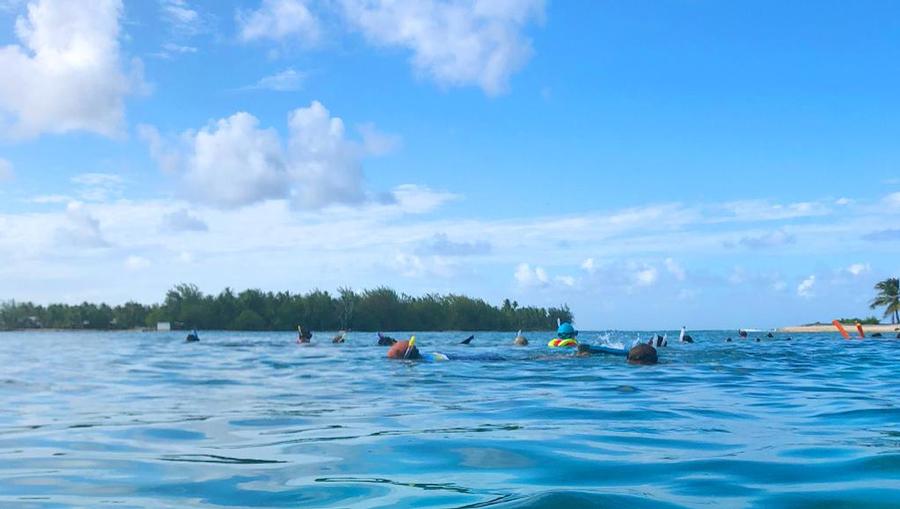 All I can say is that I'm still a little in awe about how cool this snorkeling trip was. We took a small boat from the dock out to the nearby mini motu to do some snorkeling. Just below the water's surface were hundreds of beautiful tropical fish. It was truly an experience. Not to mention, during this excursion I conquered one of my fears: swimming with reef sharks. It was all worth it!
Must Try in Rangiroa: Scuba diving here is said to be the best, snorkeling is a definite must!
Day 5 - Fakarava (Tuamotus Islands)
Excursion: None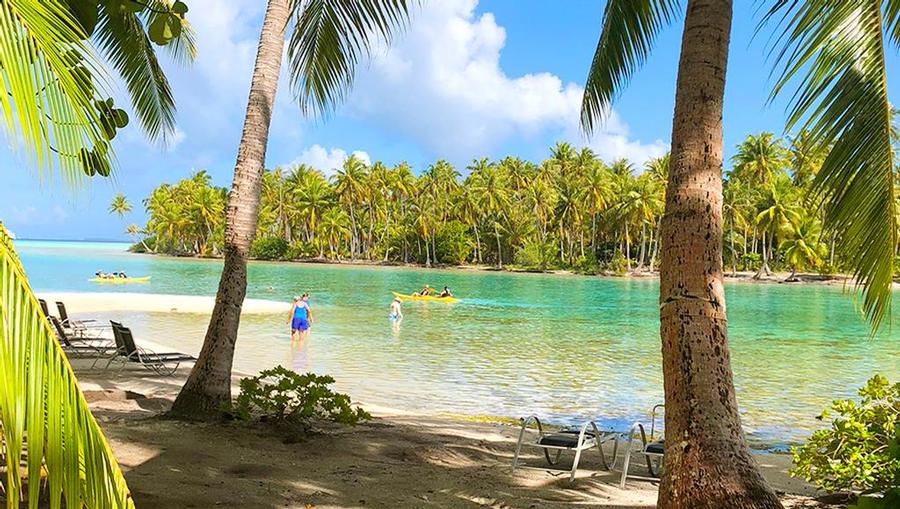 Fakarava and Rangiroa are both well-known for their scuba diving experiences, something I do not personally do. Instead, we decided to take the local approach and walked around the little island to experience its natural beauty on land. We ended up at a small beach and decided to just cool off in the island water and that's never a bad idea!
Must Try in Fakarava: Take a bike ride around the island (you can rent bikes right off the dock)!
Day 6 - At Sea
Time to get some extra rest, fill up on those all-you-can-drink cocktails, and spend the entire day soaking up the Polynesian sun, poolside.
Tip! Head to the spa for a relaxing massage or spa treatment. Lounge by the pool with a good book and your favorite cocktail.
Day 7 - Taha'a (Society Islands)
Excursion: PG's Private Island & BBQ- Motu Mahana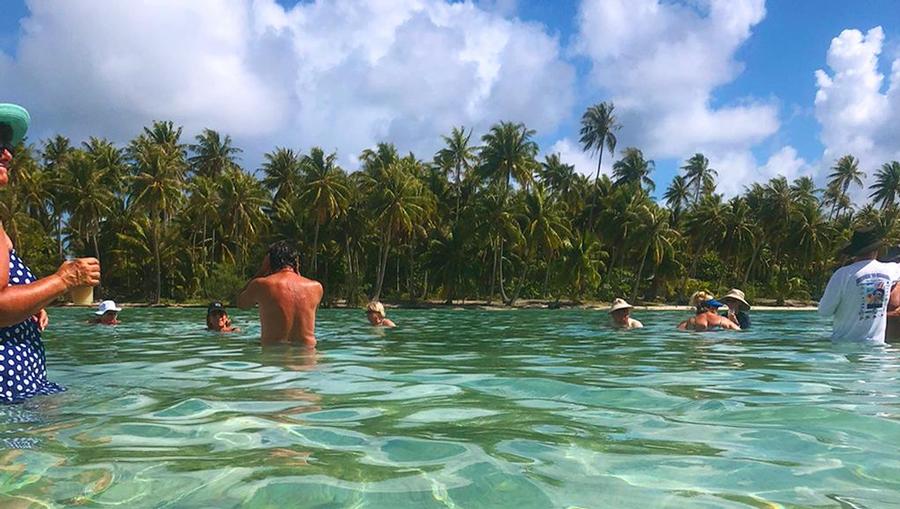 Paul Gauguin does it again, making me feel like a total celeb! PG Cruises owns a little island in Taha'a known as Motu Mahana. You can start your day off by exploring other excursions and end your day at the Motu, or you can simply take the tender boat straight to the island. We decided to do the latter, so we could spend as much time enjoying the Motu as possible. Here on the island you will enjoy your favorite cocktail served in a coconut, aqua blue waters, the island breeze, and a delicious BBQ served up by your favorite staff members (hi Phillip and Mark Lucky!). Does it get more relaxing than this?
Must Try in Taha'a: Your favorite cocktail in a coconut!
Day 8 & 9 - Moorea (Society Islands)
Excursion: Snorkel with Sting Rays/Sharks & Island BBQ and Day at the Beach Intercontinental Moorea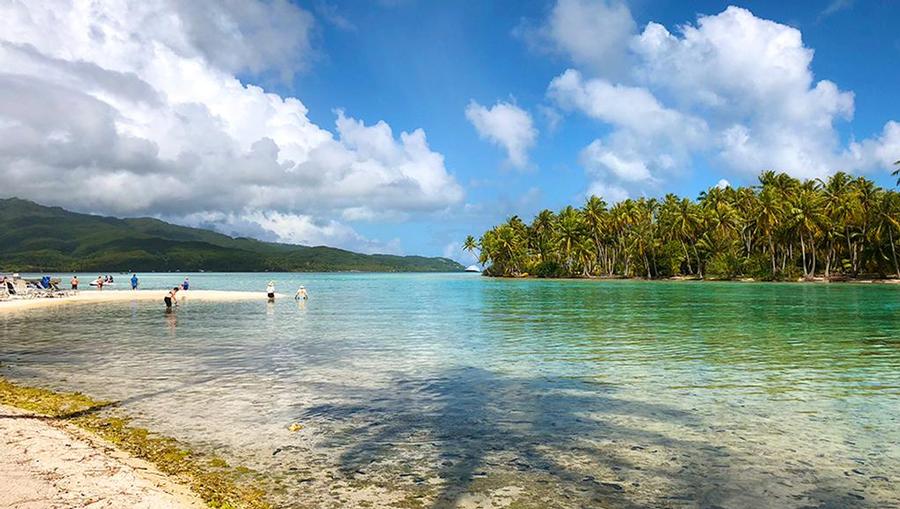 Our first excursion in Moorea was a bit of a mixed bag. A boat took us out to a lagoon where the water only came up to your waist. Here you could see straight to the sand with no problem, meaning you didn't need any snorkel gear. This is where we swam with the stingrays and multiple reef sharks. Don't get me wrong, it was an absolutely beautiful and great experience, but this area becomes very busy very quickly. As we spent time in the water, about 4 other boats arrived. Once the area became crowded, we hopped back into our boat and jetted off the little island where we enjoyed a delicious BBQ of island fish and chicken.
Day 2 in Moorea was spent once again enjoying the Intercontinental resort. What can I say, sometimes I just love laying out by an infinity pool gazing at the ocean views! Just like the Intercontinental in Bora Bora, we received access to many amenities at the resort as well as a two-course lunch.
Must Try in Moorea: Black Pearl shopping! Moorea has a well-known shop right across from the Intercontinental called Albert Black Pearl Shop that has some of the best deals for black pearls.
There is truly nothing better than travelling the world and experiencing all of the wonderful things it has to offer. I highly recommend Paul Gauguin Cruises for their impeccable cruising destinations and luxury all-inclusive benefits.
Happy Travels!
-The Weekend Wanderer
Plan your Paul Gauguin getaway with exclusive onboard credit!