Princess features an impressive lineup of dedicated vessels that sail to over 330 ports around the world. Popular with retirees, middle-aged couples, and families, Princess prioritizes a more relaxed cruising experience for guests with a focus on exceptional cuisine and world-class entertainment. They're also known for offering longer cruises, perfect for taking full advantage of the many onboard amenities while also enjoying the exhilarating shore excursions at each port.
With award-winning ships like Royal Princess® and Enchanted Princess®, as well as MedallionClass® ships designed for exceptional convenience with perks like contactless boarding and keyless stateroom entry, you're in for a fun-filled, stress-free voyage.
Each Princess ship offers plenty of features and amenities to suit every traveler – from kids to adults – with family-friendly entertainment, elevated dining experiences, stellar service, and can't-miss itineraries. Dive into a few of our favorite Princess cruise ships and discover what you can look forward to on your next cruise.
Contact an Independent Travel Advisor in the Avoya Travel NetworkTM or browse here to see everything Princess Cruises has to offer for your next vacation.
Sky Suite onboard Enchanted Princess
Awarded "Great for Groups" by Good Housekeeping's Family Travel Awards, Enchanted Princess® is one of the newest members of the Princess® fleet. Built in 2021, this MedallionClass® ship explores the Mediterranean and the Caribbean and features transatlantic crossings too.
The real jewel of Enchanted Princess® can be found in its Sky Suites. There are two Sky Suites onboard, each boasting over 1,873 square feet of space, including the largest balconies at sea. On each balcony, you'll find perks like a dining table, a day bed, loungers, and an exterior bar. Each Sky Suite can accommodate up to five guests, so bring the whole family or a group of friends and enjoy a 270-degree view throughout your cruise – all from the comfort and privacy of your suite.
Don't miss out on the world-class dining available during your voyage. Guests sailing onboard Enchanted Princess® can reserve a table at Bistro Sur La Mer for elevated French cuisine tastefully created by Emmanuel Renault, a 3-Michelin Star chef. Tantalize your tastebuds with favorite dishes like the beef filet mignon and delicious seafood plates.
Fancy an Alaskan cruise? Step onboard the newly-built Discovery Princess® and see why Travel Weekly has named Princess the "Best Cruise Line – Alaska" 18 times! Discovery Princess® also sails along the west coast of the United States and Canada, through the Mexican Riviera, and to Hawaii.
With your free Medallion device offered on MedallionClass® ships like Discovery Princess®, you can easily enjoy benefits like exceptional WiFi at sea, seamless stateroom entry, and more. Download the MedallionClass app for additional features like OceanNow™, which allows you to order snacks and drinks and have them delivered to you wherever and whenever you want!
Also, don't miss out on onboard experiences like Take Five, where you can enjoy delicious cocktails while listening to classic jazz at this unique lounge that debuted on Discovery Princess® and two other ships.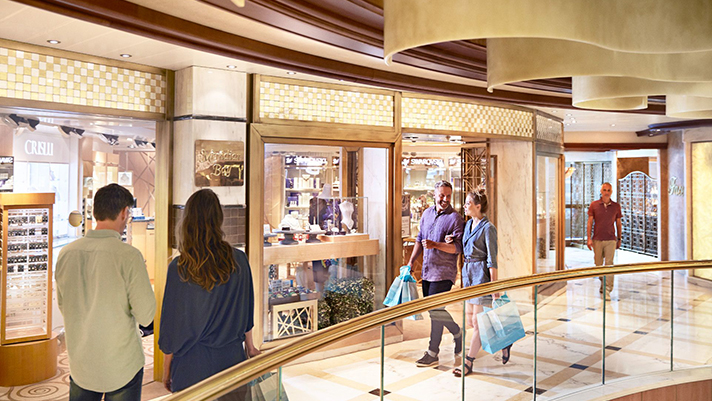 Indulge in some boutique shopping onboard Royal Princess.
Known for its voyages in the Southern Hemisphere with stops in Australia, Tasmania, New Zealand, and the South Pacific, Royal Princess® brings you the best in must-see destinations while providing an unparalleled onboard experience for the whole family.
As you sail to exciting destinations, start your day with a wander through the Piazza, which takes its inspiration from the Old World feel of a European square. Grab a coffee here before shopping in one of the nearby boutiques, or sit down with a glass of wine while being treated to a live performance.
With nine bars and showrooms, there's no shortage of cocktails and live entertainment to be enjoyed on a Princess cruise. At the main theater, you'll be whisked away to a magical experience with Broadway-level productions, complete with impressive stage sets and special effects. Try your luck with onboard game shows like Deal or No Deal, or try to impress the judges and the audience at The Voice of the Ocean, an at-sea singing competition!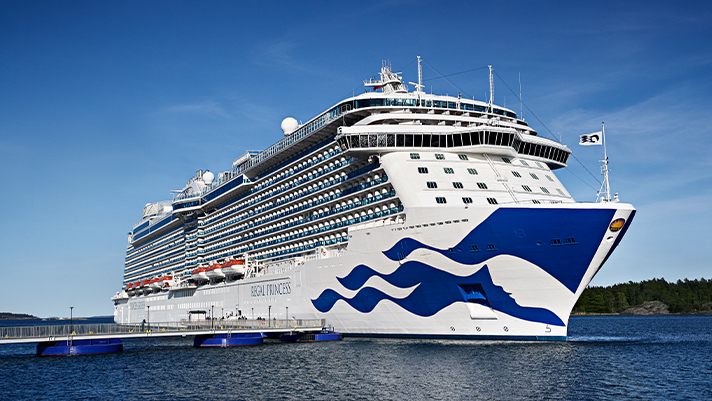 With itineraries to the Western Caribbean, Mexico, the British Isles, and Western Europe, there's plenty of the world to see on a Regal Princess® cruise.
As you travel between ports, take a stroll along the SeaWalk, a 60-foot-long covered path, for views of the sea and the ship. Take a dip in the Fountain Pool and Plunge freshwater pools or feel the heat with one of eight hot tubs onboard.
Food & Wine Magazine named Princess the "Best Cruises for Food Lovers" and it's easy to see why. It's a foodie lover's dream, with a variety of restaurant options, from grab-and-go options to formal sit-down meals. For lunch, grab a bite to eat at casual fare options like Prego Pizzeria or Trident Grill. Elevate your evening with a specialty restaurant like the crowd-pleasing Crown Grill for steak and seafood or immerse yourself in a one-of-a-kind dining experience at Chef's Table Lumiere.
After dinner, take the family to a fun evening at Movies Under the Stars®. Head to the open-air poolside venue, grab some popcorn and stretch out on one of the lounge chairs while enjoying a popular feature film.
Part of the Royal-class ships, Sky Princess® is one of the largest ships in the fleet, alongside Enchanted Princess®. This ship showcases a sleek, contemporary design and plenty of entertainment options. With sailings to Europe, the Caribbean, the Mediterranean, and the east coast of Canada and the United States, you've got your pick of amazing itineraries to choose from.
There's something for everyone onboard a Princess cruise – including kids and teens – and Sky Princess® is no exception. Kids and teens have a special place that's just for them with Camp Discovery™ Youth and Teen Center.
Kids and teens are grouped by age: the Treehouse is for ages 3 to 7, the Lodge is for ages 8 to 12, and the Beach House is for ages 13 to 17. Whether they're participating in a scavenger hunt, showing off their moves at a dance party, or playing the latest video game with new friends, there's plenty for them to love at Camp Discovery™ Youth and Teen Center.
6. Coming Soon! Star Princess®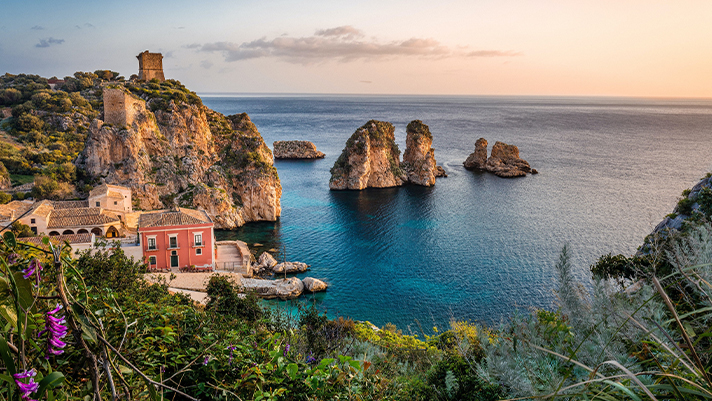 Explore the dreamy Mediterranean on the newest Princess ship, Star Princess.
In 2025, take part in the inaugural voyage of Star Princess® as it sets sail through the Mediterranean. This impressive vessel features 21 decks, over 29 restaurants and bars, and 1,500 balconies. Enjoy breathtaking views from the new Wake View Terrace, home to an infinity pool, resort deck, and a full bar, or spend time in the new Dome, a multi-level, glass-enclosed space. Swim in the indoor/outdoor pool by day and take in lively entertainment by night.
Guests staying in a Reserve Collection Cabana Mini-Suite can kick back and relax on the brand-new Cabana Deck – an exclusive spot to enjoy sea views while soaking up the sun.
Pamper yourself with the best treatments onboard the cruise line. Head to The Sanctuary, an adults-only area for spa services. Indulge in an aroma stone massage at Lotus Spa, or venture to the Enclave for the thermal suite, heated dry chamber, or hydrotherapy pool.
Book Your Next Princess Cruise With Avoya Travel
Ready to set sail onboard one of the top Princess cruise ships? Turn to Avoya Travel's Independent Travel Advisors. They will happily guide you through the booking process by helping you discover the best itinerary and ship for your vacation and ensuring you receive the best deal available.
Call the number at the top of this page to be connected with an Independent Travel Advisor in the Avoya Travel NetworkTM who can help you get the best price and answer any questions you have about Princess Cruises.