First setting sail in 1965, Princess Cruises has earned a reputation for providing first-class experiences to all of its passengers. From warm and contemporary staterooms to a tantalizing selection of gourmet and casual restaurants to try out, each ship within the Princess fleet is designed to offer a getaway as you have never experienced before.
If you are considering booking a Princess Cruises voyage and are wondering what amazing things you can experience while onboard one of their ships, we have highlighted the top amenities offered as you travel the open ocean to the ports of call on your itinerary. Read on to learn more.
Contact an Independent Travel Advisor in the Avoya Travel NetworkTM or browse here to see everything Princess Cruises has to offer for your next vacation.
1. Culinary Demonstrations & Wine Tastings
Have you ever wanted to learn how to be a master in the kitchen or learn more about the nuances of wine like a real Sommelier? While on your Princess cruise, seize the opportunity to learn new cooking skills at the "Chefs Table" as part of the Princess ScholarShip@Sea Program.
The chefs onboard Princess ships are delighted to help cruisers hone in on their cooking skills through guided group classes. You will learn how to properly wield a chef's knife to chop and cut and then cook and garnish restaurant-quality dishes.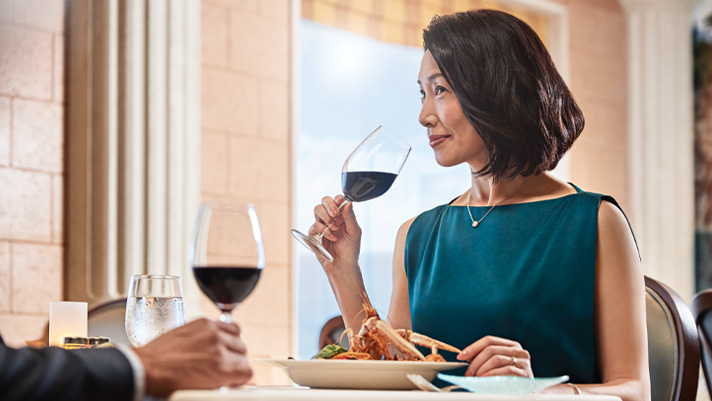 Enjoy an exquisite wine tasting onboard a Princess cruise
While sailing, join in on a wine tasting class and learn how to swirl, smell, and sip wine like the pros do without leaving the comfort of the ship! Wine experts will take your senses on a delicious and aromatic journey with a selection of wines that are inspired by the destinations on your travel itinerary. Learn about the nuances of wine and how wine differs in flavor based on where and how the wine grapes are grown.
2. World-Class Live Entertainment
Dress up in your finest and get ready for live entertainment you are sure to remember for the rest of your life. The stage comes alive each night to present you with a host of Broadway-caliber, Vegas-worthy, and Hollywood-inspired shows.
Nestle into a luxuriously soft seat in the theater and take in world-class shows like Rock Opera, Magic To Do, 5-Skies, Movies Under the Stars®, or The Voice of the Ocean.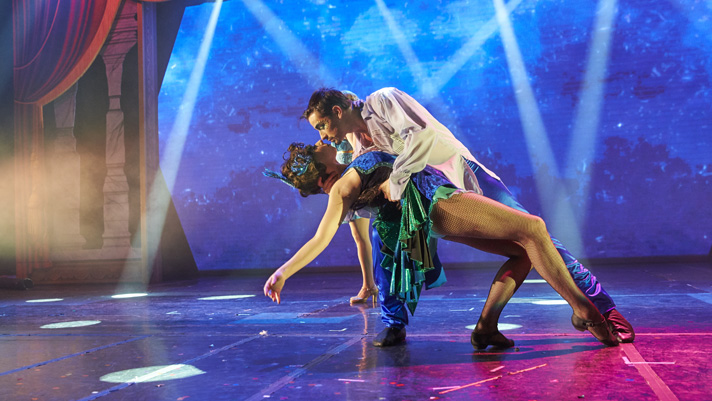 Experience the Magic To Do show onboard Princess Cruises
3. Princess MedallionClass® Service
Every guest onboard a Princess ship is empowered to personalize their cruise vacation via the Princess MedallionClass® service, which uses state-of-the-art technology to create a sailing experience that is uniquely your own.
Upon booking your cruise vacation, you will receive a small medallion to carry with you while on the ship, which is your ticket to the best Wi-Fi at sea, your stateroom key, your beacon to help you find staff members, your events and activities organizer, your ship map, and your calling card to get whatever you need to be delivered to your room. The Princess MedallionClass® service makes traveling onboard a Princess ship as seamless and stress-free as possible.
4. Adults-Only Indulgences
Retreat up to The Sanctuary for some peace and quiet while the ocean breeze gently blows through your hair. The Sanctuary is an adults-only, top-deck outdoor lounge where you can sip on a cocktail, cuddle up with a nice book, enjoy light conversation with other cruisers, or simply stare off into the distance for phenomenal views of the ocean all around you.
The Sanctuary features an array of plush furnishings, relaxing music, and even offers you the opportunity to indulge in an open-air massage.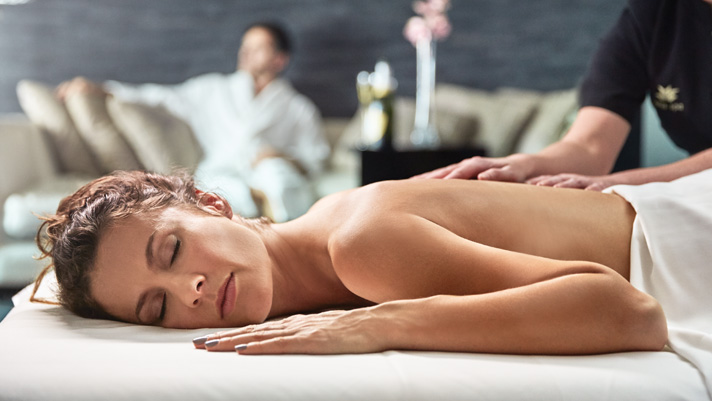 Relax in the Lotus Spa and enjoy a custom massage
You are also invited to wander over to Lotus Spa and Fitness center to partake in a host of beauty, health, and wellness treatments that are customized to your specific needs. Enjoy a hot stone massage, an expert manicure and pedicure, a detoxifying wrap, or select from a complete menu of luxurious beauty treatments.
Lotus Spa Fitness Center is your one-stop destination for breaking a sweat in the most indulgent setting possible. At Lotus Spa Fitness Center, you can work out on state-of-the-art exercise machines while admiring views of the ocean through floor-to-ceiling windows. The fitness center also offers personal training sessions as well as group yoga, Zumba, and Tai-Chi classes.
5. One-of-a-Kind Luxurious Beds
Princess Cruises has partnered with sleep expert Dr. Michael Breus to craft a bed that is unlike any you have ever slept in before. Spend each night getting a good night's sleep in the most luxurious bed at sea with the new addition to all staterooms on Princess ships.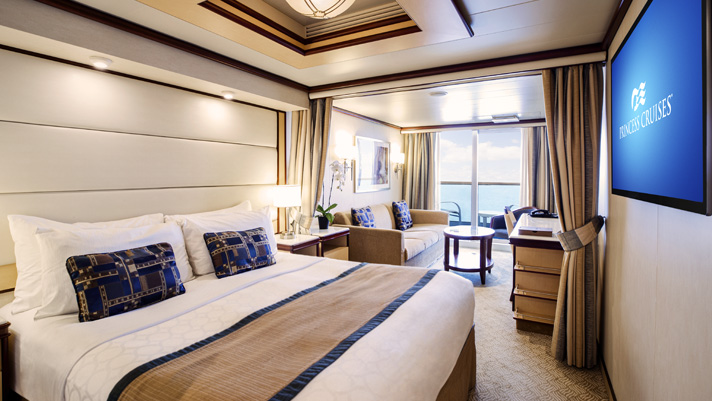 Unwind in the Royal Princess Stateroom
These beds are designed with a high-density foam base, individually wrapped coils, and a 2-inch pillow-top, which will make you feel like you are sleeping on a cloud at night. Waking up relaxed and rejuvenated is of the utmost importance when on vacation and ensuring you are relaxed is a job that Princess Cruises takes seriously.
Explore destinations like Asia, Australia, Hawaii, Europe, Mexico, Japan, or Antarctica onboard a Princess Cruises ship and discover all the amazing amenities they have to offer. From tantalizing gourmet food to the crew members that are ready to roll out the red carpet for you and more, you will experience a getaway like no other.
So, whether you are booking your first cruise or your annual cruise vacation, we at Avoya are here to help you manage all the details when planning your dream Princess Cruises voyage.
Call the number at the top of this page to be connected with an Independent Travel Advisor in the Avoya Travel NetworkTM who can help you get the best price, navigate COVID-19 restrictions, and answer any questions you have about Princess Cruises.