From go-karts on the high seas and looping waterslides, to unparalleled cruise ship cuisine – Our editors joined hundreds of Avoya-affiliated Vacation Planners onboard the last stop of Norwegian Bliss' inaugural tour to get a firsthand, insider-look at the newest product to launch from Norwegian Cruise Lines. With only two days to squeeze in as many onboard features and venues as possible, we will share our firsthand experience about what it's like onboard the largest ship to ever dock in LA, and why we think it should be on all cruise fans vacation bucket list…
1. Tremendous Top Deck
Mega ships like the Norwegian Bliss usually have top decks packed with awesome attractions, but unlike the others, Bliss allows you to experience the adrenaline rush of high-speeds, epic plunges and head-to-head battles, all while surrounded by the backdrop of the open ocean. Here are some Top Deck attractions that can't be missed…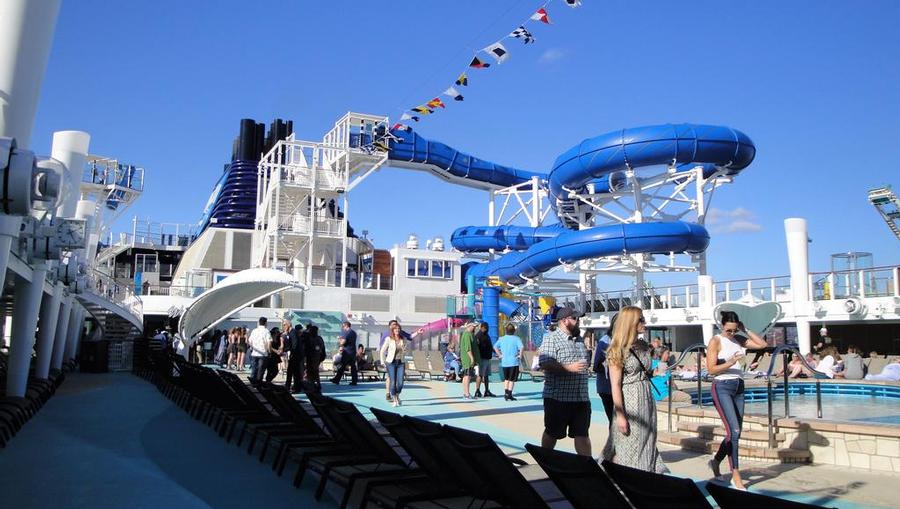 Waterslides – Ocean Loops was the top pick, but make sure you're ready to plunge and zoom into two full loops – one of which extends over the edge of the ship! The Aqua Racer may be a better option for those who want to slide at a less intense rate, without sacrificing the thrills. Don't worry, the Aqua Racer still showcases some stunning views as you slide.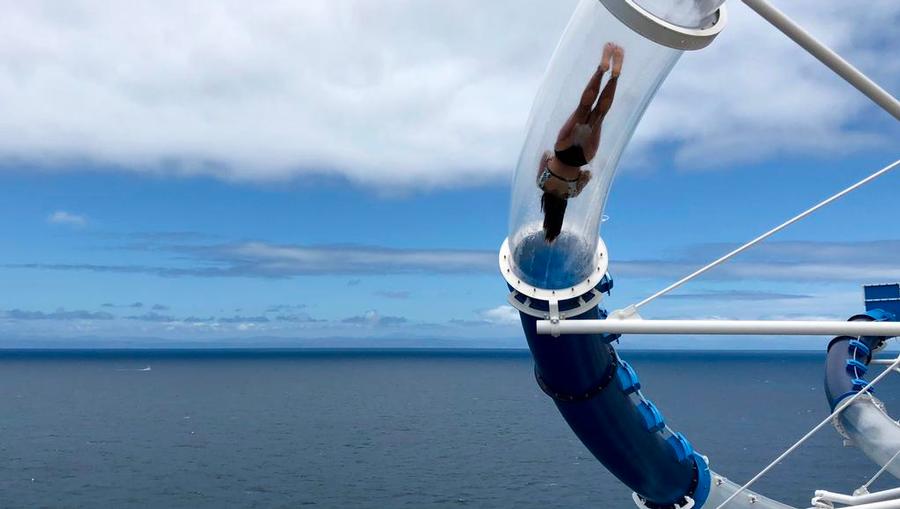 Go Karts – The putt-putt golf course can make it tricky to find the entrance to the Go-Kart Track, but don't let that stop you from racing. This was an amazingly unique experience that might have you coming back again for a few more races before the end of your sailing. (The track is open late and while the ocean views are spectacular during the day, it lights up at night adding a whole other level of thrill!)
Laser Tag – This is a great onboard perk for social cruisers who are traveling with a group of friends or family or interested in meeting new people while traveling. With a maze-like, interstellar themed layout with some fun references thrown in, this is a great activity to keep the blood flowing while they are having fun.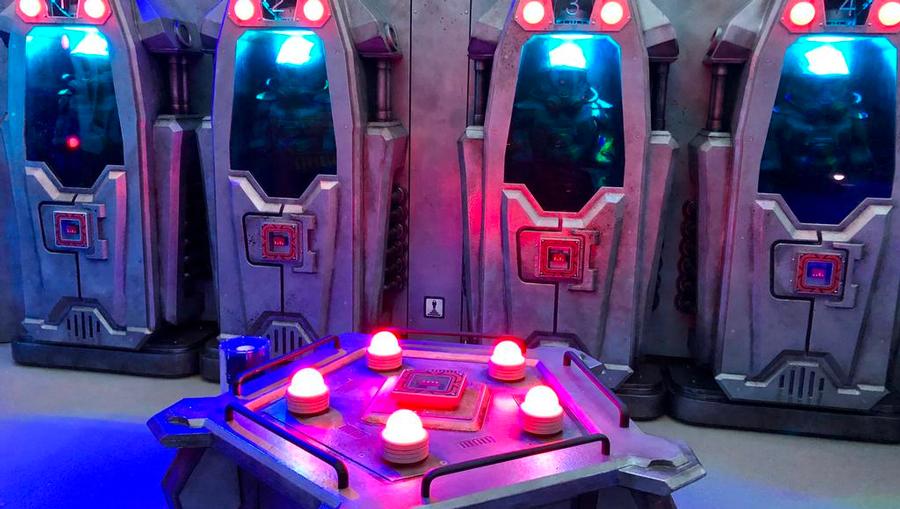 The Bliss delivers a unique sun deck experience that offered just as much relaxation by the pool or jacuzzi with live music and a drink as it did excitement and intrigue with endless on-deck activities
Tip: Before you set foot onboard, you can line up all your onboard activities, shore excursions, specialty dining reservations, entertainment, spa appointments and more. Ask your Vacation Planner how to reserve onboard features online!
2. Cavern Club Beatles Throwback
One of the most pleasant surprises was the live Beatles cover band performing in the Cavern Club, a lounge which takes inspiration from the Liverpool club where the iconic band played in the 60's. This fun show will raise your spirits with fantastic covers of Beatles classics, complete with choreographed bartender tricks that add to the electric atmosphere.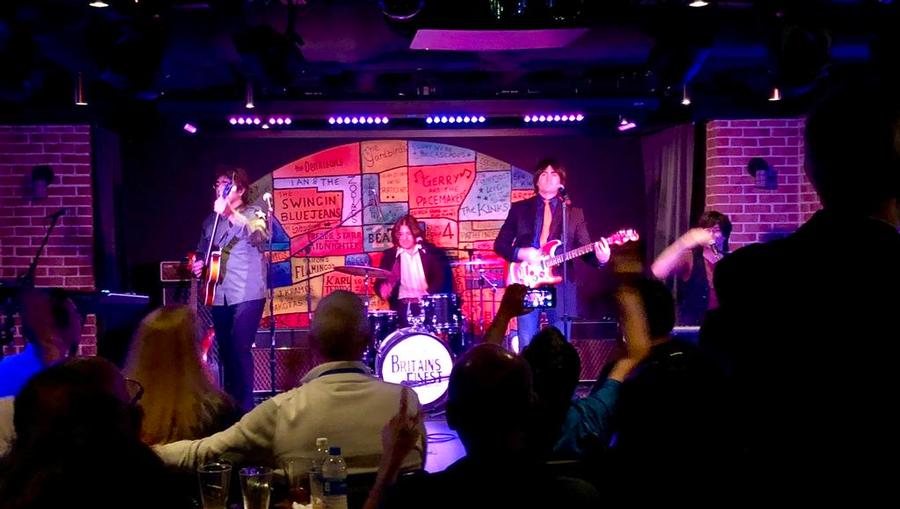 3. Divine Dolce Gelato
If you don't sample the pistachio or tiramisu Gelato at 'Dolce Gelato' onboard the Bliss, you definitely will have missed out on a delicious experience! This gem gelato shop will make your walk along the Waterfront promenade while you take in ocean views even sweeter.
4. Stunning Views at the Observation Lounge
The Observation Lounge puts the world around the ship on display in a truly impressive way. With expansive, panoramic views and a full-service bar, this will be one of the most fantastic ways to take in the incredible views of Alaskan land and seascapes this Summer.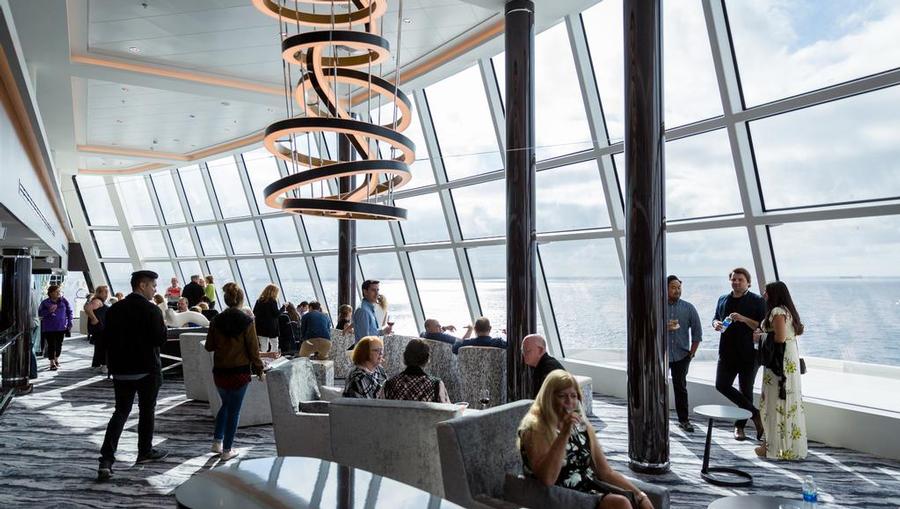 5. Delicious BBQ Dishes!
If you love BBQ, this ship is a dream come true for you. Not only did the new 'Q' specialty restaurant deliver smokehouse Texas BBQ with delectable servings of hickory, oak, and pecan wood-smoked ribs, chicken, and brisket, 'Teppanyaki' delivered delightful Japanese jumbo shrimp and steak BBQ that was cooked up right in front of us by the chefs.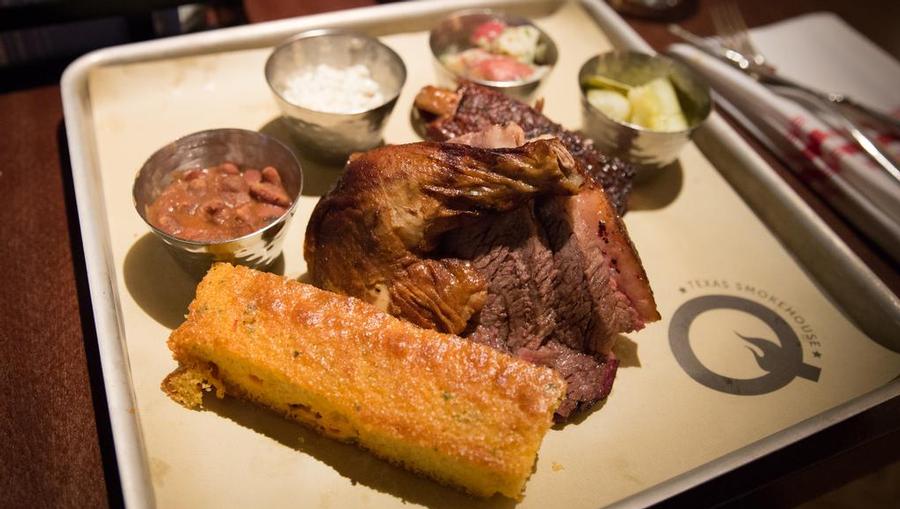 biggest takeaways from onboard the Norwegian Bliss:
Stellar Dining – We can't say enough about the tantalizing full-course meals, snacks, desserts, and countless mouthwatering indulgences that were available throughout the ship. Whether it's BBQ, or gelato, or the meals at the Manhattan Room, Garden Café, or one of the many other venues, your taste buds will thank you for booking the Bliss.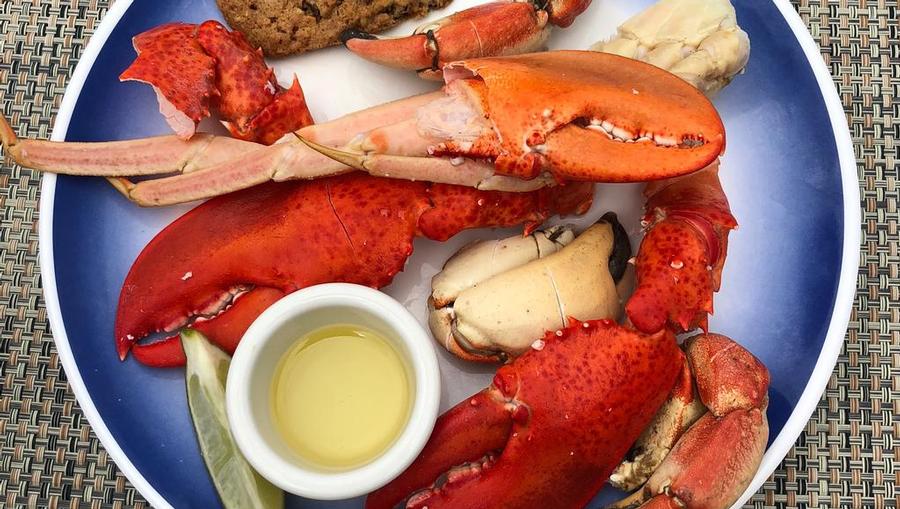 Unique At-Sea Experiences – The many apparent efforts by Norwegian to create unique elements to the Bliss cruise experience pay off as there is a real freshness buzzing around onboard. Cruising "firsts" range from the thrilling race track at sea to the exciting possibilities that arise from a ship of this caliber sailing to Alaska for the first time. The buzz was alive and well!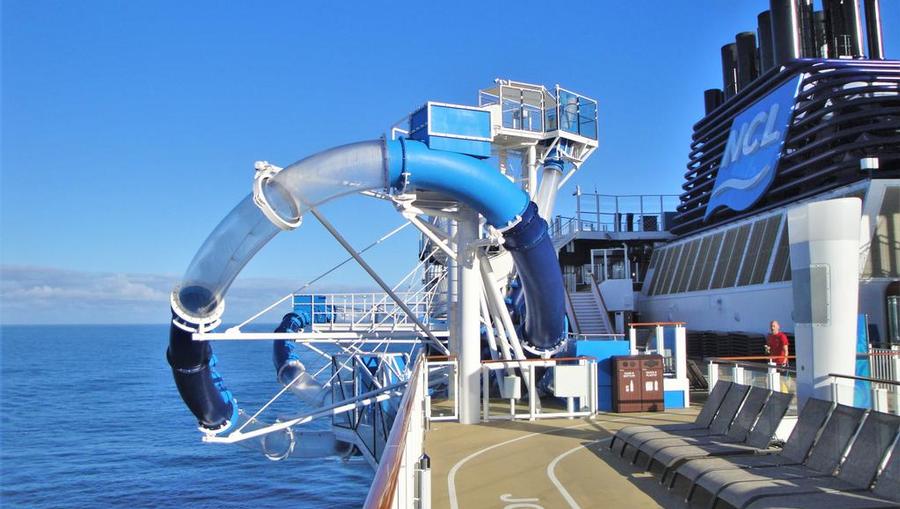 Endless Discoveries – If you are worried about the ship being too overwhelming, our experience was quite the opposite. We found the ship very easy to navigate with something new to discover at every turn, including quieter spots to enjoy to yourself.
Related: 5 Exciting Things to Know About the Norwegian Bliss