Read Time – 4 Mins & 10 Secs
If you enjoy watching snowy weather from inside a cabin, or love to layer up in warm winter clothes and explore beautiful trails and terrains, a trip to Alaska to see the Northern Lights should be on your radar as a future vacation destination. There are not many sights as stunning as the 'Aurora Borealis' (Latin meaning 'Northern Goddess of the Dawn') lighting up the Alaskan night sky.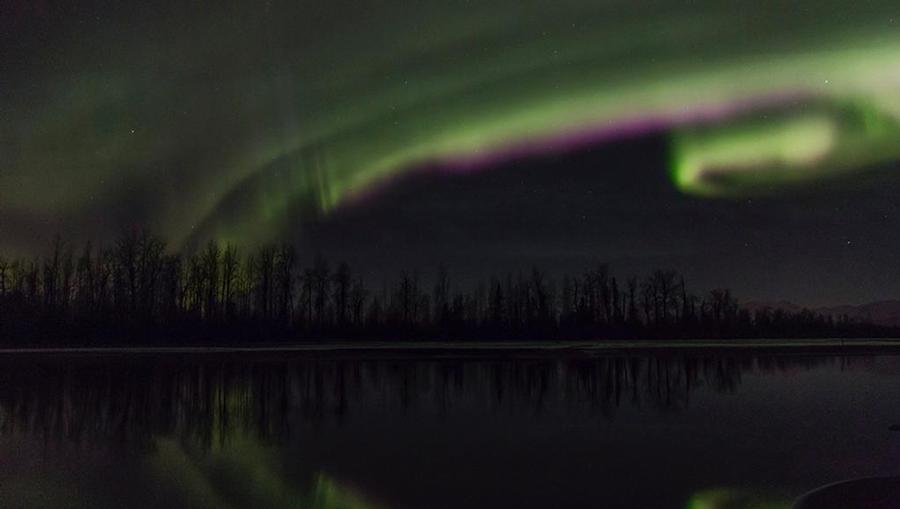 Swirling green and purple Northern Lights in Fairbanks, Alaska shining over tall trees and a body of water.
What causes the Northern Lights?
Sun storms disperse solar particles flying across space and when they collide with atoms in the Earth's atmosphere the atoms react with a beautiful neon glow. This unforgettable light show can be seen on a clear night from certain locations across the globe, including Alaska.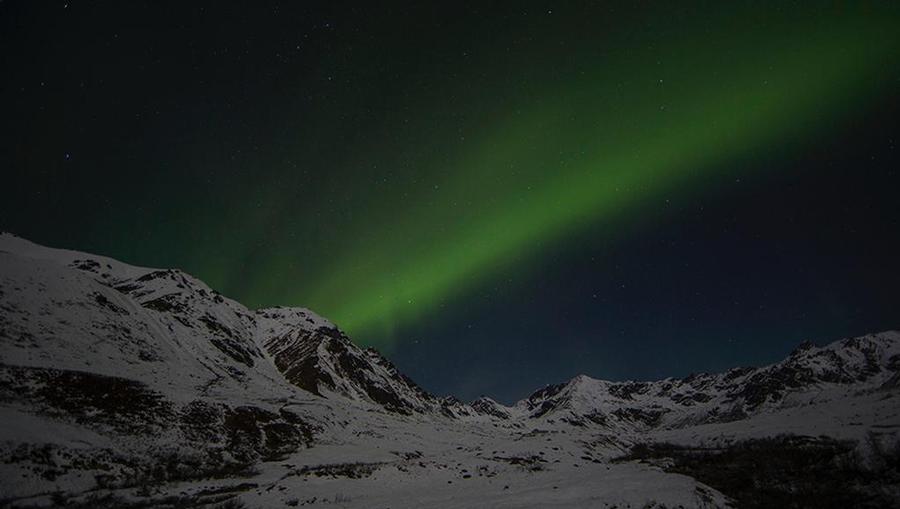 Aurora Borealis shining a green beam of light over the Alaskan mountain scape.
Where are the best places to see the Northern Lights in Alaska?
Specifically, when you are closest to a latitude of 65-70 degrees. Where the Alaskan Arctic Circle is drawn is where the Earth's tilt is most in line to be scattered with solar showers. Fairbanks is the most accessible city to get to where you have a good chance of seeing the lights, but Cleary Summit, Haystack Mountain, Ester, Coldfoot, and Wrangell-St. Elias are other options to consider.
Tip: Remember that Anchorage, Fairbanks, and Juneau are the main Alaskan Airports with commercial flights.
A view from the water of Wrangell-St. Elias National Park and Preserve and it's icy glaciers in Alaska near the gulf.
What's the best way to see the Northern Lights in Alaska?
To give yourself the best chance of seeing the Northern Lights in Alaska visit as close as possible to the Arctic Circle, but most realistically in a Northern city with an airport like Fairbanks. You can conveniently fly directly to Fairbanks International Airport and there are also plenty of cabins and hotels to choose from in this destination mainly popular for its Aurora Borealis accessibility. This is due to the many remote areas with little light pollution that surround Fairbanks.
To truly immerse yourself and get a real feel for Alaska's beauty, visit the closest thing to a metropolis you will find in 'The Last Frontier', Anchorage. This is one of the most popular cities in Alaska and is also access point to other Alaskan gems like Seward. It is about a one-hour flight from Anchorage to Fairbanks and you can also find amazing tour options connecting the two cities by bus and the iconic Alaskan Railroad.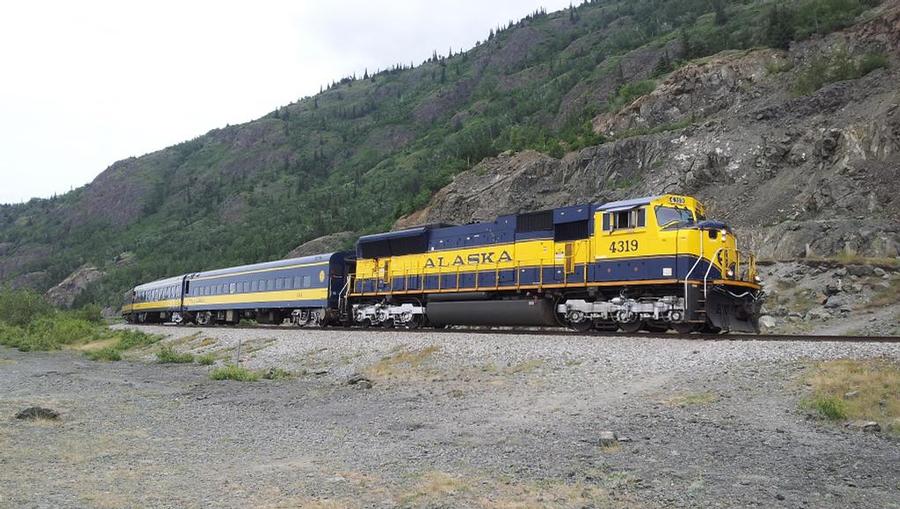 A train passing through mountainous terrain on the Alaska Railroad on the way to Fairbanks in the Summertime.
Can you see the Northern Lights on a cruise?
Yes, it is possible on lucky occasions when the sky is clear in early June or late August, but it is very rare to see the Northern Lights from anywhere South of latitude 65 degrees. The furthest North that cruise ships typically sail is to Anchorage or Whittier, but most Alaska cruises offer connecting tours that guide you to all the best spots for viewing. Plus, you get the full Alaska experience stopping in all the other must-see Alaska hotspots onboard cutting-edge cruise lines like Princess Cruises.
To extend a cruise that ends in Anchorage or Whittier with an added tour to Fairbanks could truly be the best way to take in the full Alaska experience in one vacation. Ending an Alaskan sailing up the coast with extended time in Anchorage, followed by 'Northern Light hunting' in Fairbanks would be nothing short of extraordinary.
The opposite itinerary with Fairbanks light viewing first, prior to a cruise South embarking from Anchorage, could be a bit more relaxing. This way you front-load the active hikes and transfers from train to bus in central Alaska before ending with the convenience of a cruise along the coast. Once you board the ship all you need to do is unpack and enjoy the views from the comfort of your stateroom.
Visiting Alaska is not a simple trip to plan, but it is completely worth it. We recommend inquiring with a travel agent so they can help you find the best lodging, tours, and cruise options if you are looking to visit.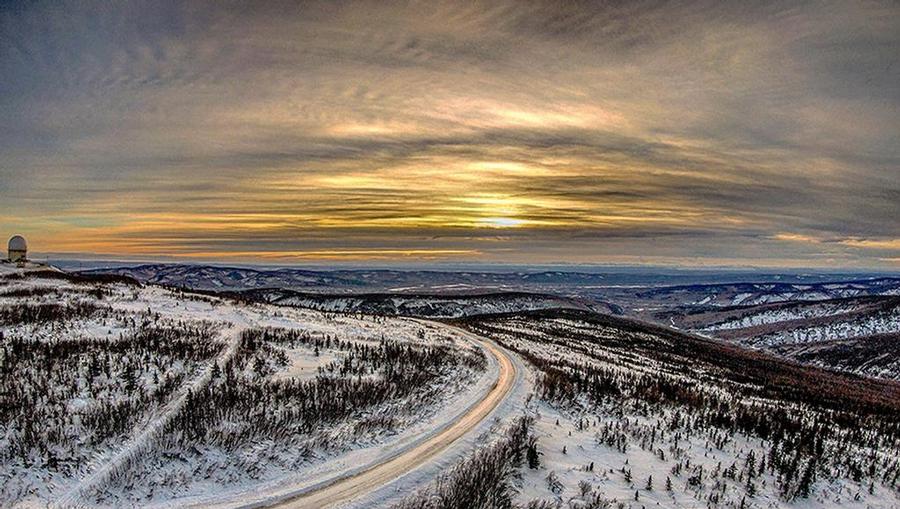 The sun rising over a winding road and white snow-covered hills in Fairbanks, Alaska.
When is the best time to see the Northern Lights in Alaska?
In Equinox months of September and March the Earth is tilt towards the sun giving you the best chance to see the spectacle. The late hours of the night around midnight are better because the skies are more likely to be clear during this time with less light pollution
Related: The Best Places to Visit in Alaska
Sources: EarthSky and Smithsonian.com