Sail away into the heart of the South Pacific islands and enjoy beautiful sun-soaked tropical destinations and idyllic coastlines onboard a luxury cruise ship designed for a cozy and ambient vacation experience.
Unlike other cruise companies with fleets of large vessels designed to accommodate thousands of voyagers, Paul Gauguin Cruises operates only one cruise ship, The Gauguin. With a capacity of 330 guests, the crew can spend more time catering to your every need.
The Gauguin was designed with the discerning traveler in mind, so every guest can experience VIP treatment.
Contact a Travel Advisor in the Avoya Travel NetworkTM or browse here to see everything Paul Gauguin Cruises has to offer for your next vacation.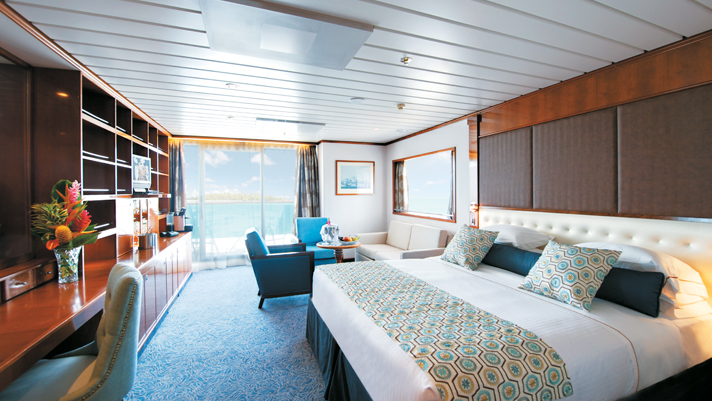 Unwind in luxury in the Grand Suite.
With newly renovated cabins inspired by the tropical scenery of the South Pacific islands, each space is designed with tranquility and relaxation in mind. Choose from a 200- to 600-square-foot stateroom, each boasting a private or semi-private balcony that's just the right size for taking in all the stunning scenery while you sail to the various ports-of-call on your itinerary.
The staterooms onboard are decked out in relaxing nautical-theme colors like white, teal, and beige that welcome you for rest and relaxation after a long day of exploring. Each room also comes with a queen bed, a full-size bathroom with a tub, and other luxurious accommodations, including a cozy bathrobe, slippers, and abundant fluffy towels.
While sailing, indulge in amenities like 24-hour room service, guest entertainers, complimentary equipment to enjoy during land excursion activities, an in-suite refrigerator that is always stocked with your favorite beverages, complimentary WiFi throughout the ship, plentiful gourmet and casual dining options, a lending library with books in every genre, and a day spa and fitness center that will help you relax, unwind, and feel your best.
Access to Exclusive Ports-of-Call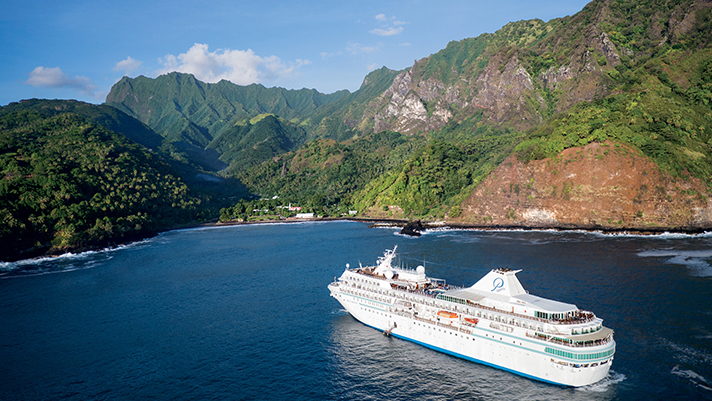 Exterior of The Gauguin near the South Pacific islands.
With an overall length of 504 feet and nine decks, The Gauguin is a smaller cruise ship making it the ideal size to navigate coves and other smaller bodies of water around the South Pacific islands. With service to ports-of-call such as Tahiti, the Society Islands, Fiji, Tonga, and the Cook Islands, you can travel in style and enjoy all the breathtaking beauty of the most desired beaches without all the other cruise traffic.
While on your cruise, you will get the opportunity to sign up for exhilarating land excursion activities, like cultural shows and festivals with native islanders, guided snorkeling and hiking trips, shopping at local boutique stores and outdoor markets, tours of ancient ruins and villages, exploring volcanos, learning about the local flora and fauna, and of course, lounging around on pure white-sand beaches with a cocktail in hand.
For those who want to explore the tropical fish, coral reefs, and seascapes of the South Pacific, you can also register for PADI certification as part of your cruise. You can learn how to scuba dive with top divers and have a fun time doing it.
Sailing with Paul Gauguin Cruises also gives you access to a private stretch of beach in Bora Bora, renowned for its deep crystal-blue water, lush green landscape, pure white-sand beaches, and scenic landscapes.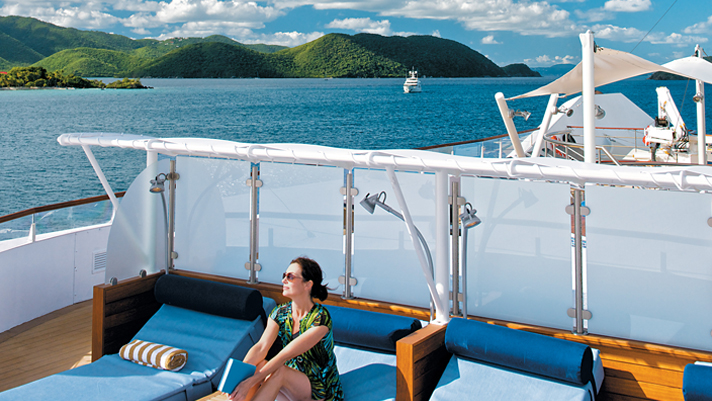 Soak up the sun on the top deck of The Gauguin.
While cruising between ports, the crew strives to ensure that each guest enjoys the very best during their cruise vacation. While sailing, guests are welcome to head up to the top deck where they can swim in a spacious swimming pool, without all the waterslides, or lounge around soaking in the sunshine with a good book and cold beverage.
When anchored, guests can enjoy watersports off the exclusive back platform, allowing quick access to the water. This platform provides the ideal launching point for heading out into the water in a kayak or stand-up paddleboard, all included in your cruise.
Paul Gauguin Cruises also offers guests the opportunity to keep up with their physical fitness routines by providing top-deck yoga and exercise classes. Sign up for a class and burn some calories with top-rated fitness instructors who make getting into shape more enjoyable.
Secure Your Spot to Paradise
If you want an intimate cruise getaway, consider booking your next cruise vacation onboard The Gauguin with Avoya Travel. One of our Independent Travel Advisors can help you design your dream luxury vacation to the South Pacific islands while securing you the best available deal.
Call the number at the top of this page to be connected with a Travel Advisor in the Avoya Travel NetworkTM who can help you get the best price, and answer any questions you have about Paul Gauguin Cruises.