Celebrity Beyond is the third ship in the Edge® Series fleet and is designed to allow voyagers to feel even closer to the sea thanks to its sleek, outward-facing design.
That, coupled with an additional deck, expanded deck length, new dining and bar venues, new entertainment experiences, and upgraded spaces and suites, makes this new ship in the Celebrity lineup a must-experience for any cruisegoer.
Contact a Travel Advisor in the Avoya Travel NetworkTM or browse here to see everything Celebrity Cruises has to offer for your next vacation.
Enjoy a delicious cocktail on the innovative Magic Carpet venue onboard.
Get ready for an awe-inspiring experience with an enchanting luminary encounter at The Grand Plaza, where lighting changes throughout the day and provides guests with a dynamic visual treat. Guests can also take in an exhilarating view over the ocean at the Rooftop Garden thanks to its unique extension over the water's edge.
Celebrity Beyond's cantilevered floating platform, otherwise known as The Magic Carpet®, allows guests to chat over cocktails while listening to live music – all against the stunning backdrop of the open sea. Eden's multi-level design offers a sensory experience like no other onboard. In Eden, there is a café, restaurant, and bar plus room for live entertainment.
Modern Staterooms, Luxurious Suites, and Fabulous Amenities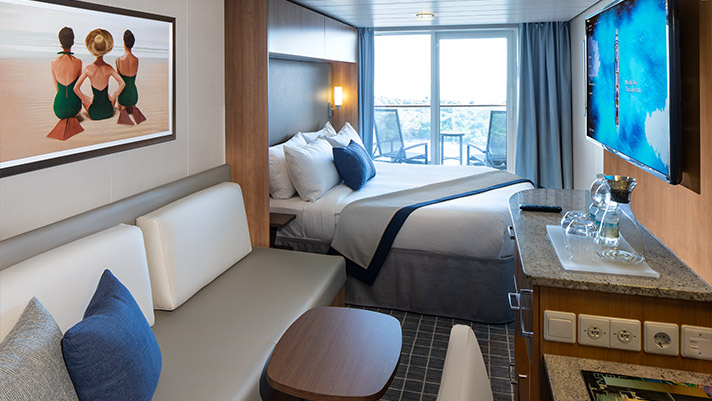 Relax and unwind in the AquaClass stateroom onboard the Celebrity Beyond.
Celebrity Beyond has redefined comfort with expansive new staterooms designed to bring unparalleled comfort with stylish, modern details. Guests can enjoy a blissful night's sleep on eXhale® bedding and Cashmere™ mattresses.
For guests staying in AquaClass staterooms, amenities include features like a massaging showerhead, yoga mats, and access to Blu, the exclusive AquaClass restaurant. AquaClass also includes meals in the four main dining areas, a room service menu with healthy options, daily service of fresh bottled water, and daily activities all included, as well as the use of the fitness center.
Guests who book a spacious and luxurious two-story Edge Villa, Iconic Suite, Penthouse Suite, Royal Suite, Celebrity Suite, Aqua Sky Suite, or Sky Suite can enjoy the amenities The Retreat® has to offer. From luxury suite accommodations to the exclusive Luminae restaurant which boasts panoramic views and a one-of-a-kind menu, this is an upgrade you don't want to miss.
The Retreat® guests can also enjoy a private sundeck that beckons outdoor relaxation with day bed lounges, a bubbling hot tub, and a cooling swimming pool. Back inside, The Retreat Lounge offers a space for conversation over complimentary drinks.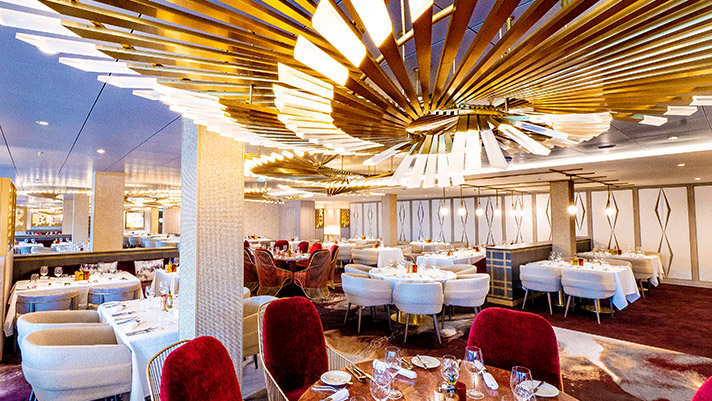 Indulge in delicious 5-star cuisine at the Cyprus Restaurant.
Celebrity Beyond restaurants bring a variety of global cuisine onboard with culinary excellence and visionary design. New dining options include Le Voyage, led by Michelin-starred chef Daniel Boulud. His restaurant brings fine dining to the forefront against the backdrop of an intimate, elegant setting.
Other offerings include Fine Cut Steakhouse, providing tasty, tried-and-true steakhouse flavors in a distinctly modern space. Rooftop Garden Grill takes barbecue to the next level thanks to its sleek glass enclosure and ocean views, while Le Grand Bistro brings iconic French café flair with its sidewalk-styled setting. Raw on 5 offers seafood specialties like sushi, sashimi, and lobster rolls.
Entertainment: Shows and Onboard Activities
Guests will have no trouble finding live exhilarating entertainment at one of the several venues onboard. The Theatre offers an immersive experience with technological productions on a 4K LED curved screen that can be seen from every seat. There are several one-of-a-kind shows in The Theatre to choose from, including acrobatic, dance, and musical performances.
Looking for a live music scene? Then head over to The Club or The Jazz Joint and enjoy a variety of musical entertainment. If you enjoy dancing until the sun comes up, The Club is your spot as it transitions into a nightclub after midnight. For something a little more interactive, voyagers can head to Eden for Silent Disco and dance along to pop songs with other guests.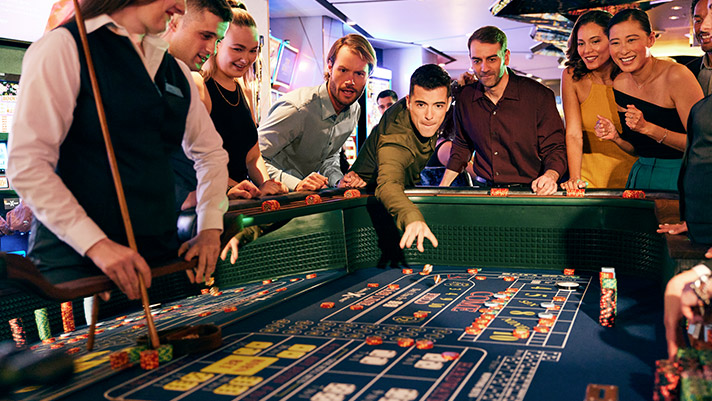 Test your luck at the onboard Casino.
Daily activities onboard Celebrity Beyond are abound. Fitness goers will appreciate offerings like F45® fitness classes, Peloton® cycling, and Technogym® weight machines. At the Spa, guests will find a range of treatments and massages to choose from. The SEA Thermal Suite takes relaxation to the next level with eight therapeutic rooms, with such offerings as a salt room, steam room, and infrared sauna room. The SEA Thermal Suite is complimentary for AquaClass guests (with an additional charge for non-AquaClass guests).
Guests can chance their luck at the onboard casino or enjoy a leisurely cocktail at one of the many bars and lounges, like The Sunset Bar, a hip, two-storied space at the back of the ship, or the new World Class craft cocktail bar.
Of course, no Celebrity cruise experience would be complete without a dip in the pool – and Celebrity Beyond features an expanded main pool and new plunge pools. Guests may also wish to stop at one of the onboard boutiques for some shopping.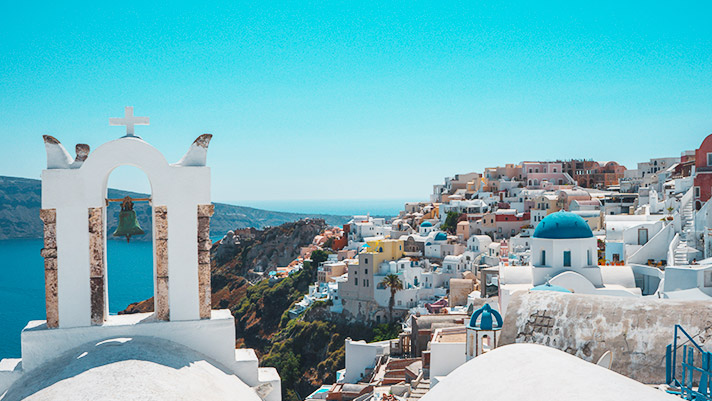 Experience all that the beautiful Mediterranean has to offer on a Celebrity cruise
Guests who choose a Celebrity Beyond cruise won't be disappointed by the impressive itineraries to idyllic destinations. Depending on the time of year, you can experience this ship firsthand while exploring the Caribbean or the Mediterranean – or opt for a Transatlantic journey for days of open sea sailing.
Set sail to the tropical Caribbean and enjoy pristine beaches and stunning turquoise waters with must-experience stops, including Grand Cayman, the Bahamas, Aruba, Curacao, and Jamaica to name a few.
If you're dreaming of a Mediterranean escape with picturesque sunsets, iconic whitewashed houses, and glamorous sites, choose a sailing with port stops that may include Naples, Santorini, the French Riviera, and more. Whatever destinations you would like to explore, you are bound to have an unforgettable vacation while cruising onboard Celebrity Beyond.
Book with Confidence
When you're ready to set sail onboard a Celebrity Beyond cruise, consult one of Avoya Travels' Independent Travel Advisors who will be happy to guide you through the booking process from start to finish.
Call the number at the top of this page to be connected with a Travel Advisor in the Avoya Travel NetworkTM who can help you get the best price and answer any questions you have about Celebrity Cruises.