A family vacation is just what you need! With life being a crazy whirlwind, you don't always get to spend the desired amount of time with the ones you love. So, after all your hard work, it's time to call up the grandparents and grab the entire family for some high-quality bonding.
What better way to include everyone than on a family cruise? With fun-filled activities for kids, relaxing spas, theatrical entertainment, and more for adults, a cruise is the perfect vacation for everyone.
So, climb onboard one of these amazing vessels and discover what makes cruising around the world a dream getaway for all ages.
Contact a Travel Advisor in the Avoya Travel NetworkTM to learn more about the cruise suppliers and what they have to offer for your next family vacation.
Fun-Filled Activities for Kids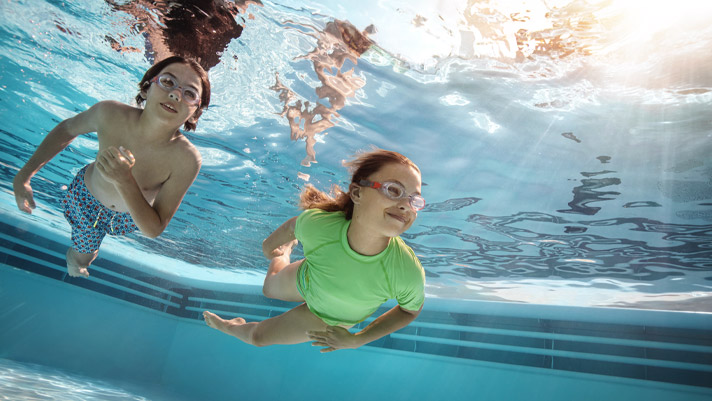 Enjoy a family swim onboard the Norwegian Encore.
If you are worried about keeping the kids entertained, don't be! Many different cruise lines offer a variety of activities for kids of all ages. From youth programs to teen hangouts, educational opportunities, and more, there is something onboard for every kid to enjoy.
Onboard Royal Caribbean, you can find youth programs from ages three to twelve and teens and tweens programs as well. The youth programs require drop-off and pick-up, but the teen programs offer a little more freedom allowing teens to come and go as they please. Every program is tailored to each individual age group and offers engaging activities in a safe and supervised environment.
Entertainment, activities, and availability in the youth programs can vary depending on the cruise line and cruise ship, so be sure to check what your specific ship offers. For example, Norwegian's Norwegian Spirit does not offer youth programs, but for the remaining ships that do, children can look forward to music jam sessions, improv exercises, circus skills classes, themed events, and tons more.
There is no shortage of fun to be had, so feel confident knowing your kids will be safe and entertained if you choose to spend some time apart.
Relaxation and Entertainment for Adults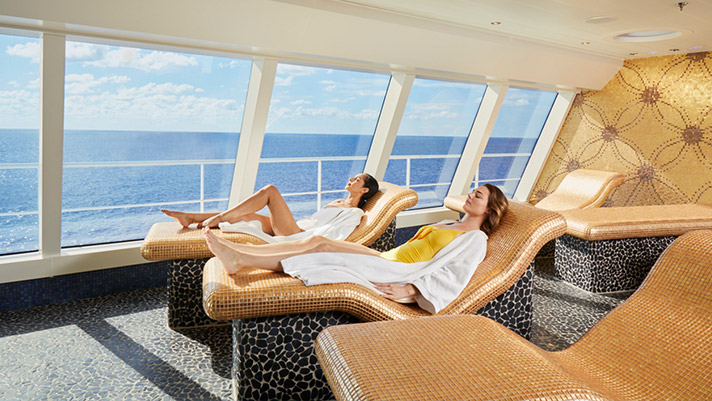 CloudSpa Thermal Lounge onboard Carnival Cruise Line.
Now, the kids don't get to have all the fun. Onboard these gorgeous vessels, spas, casinos, bars, pools, and more create the perfect blend of relaxation and entertainment.
Great for both parents and grandparents, some cruise lines, such as Carnival Cruises, offer rejuvenating spas and wellness centers allowing you to recharge and restore yourself while onboard. Indulge in ultimate relaxation at Cloud 9 Spa offering massages, facials, body wraps, thermal suites, and more. For some extra self-care, head over to the hair and beauty salon or medi-spa for your finishing touches. To keep the relaxation going, grab a seat at the Serenity Adult-Only Retreat and read a book, sip on a drink, or blissfully do nothing at all.
If nightlife is where you thrive, Royal Caribbean has endless entertainment onboard. Enjoy Tony award-winning shows at sea, such as Cats, Mamma Mia!, Hairspray, and more. Take a spin at Casino Royale or hang out at one of the various onboard bars or lounges for a delicious drink and delectable appetizers.
Some cruise lines, such as Norwegian, also offer programs for children, like "Port Play" or "Late Night Fun Zone", giving extra alone time to adults for a small fee. Check the availability of such programs when planning your activities.
For those who are retired or have a surplus of free time, consider joining programs, such as Royal Caribbean's Club Royale Rewards, so when you book future cruises and are having the time of your life at the casino, you are raking in the rewards as well.
No matter what your ideal cruise experience looks like or the cruise supplier you choose, there are fun-filled entertainment and activities available designed with adults in mind.
Activities for the Whole Family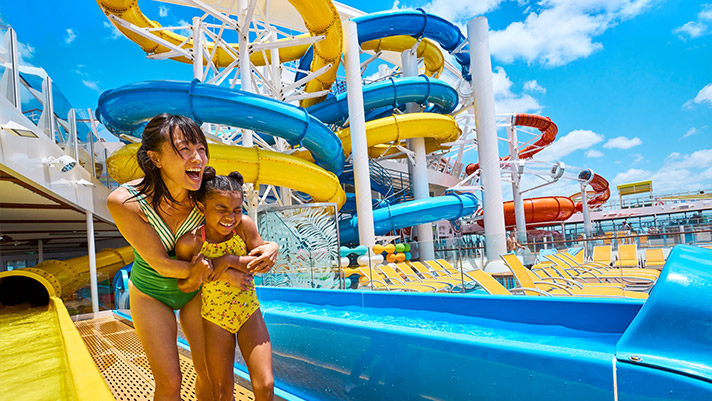 Have a fun-filled time on the Perfect Storm Slide onboard Royal Caribbean.
Ready for some family bonding? Cruises offer an amazing environment for everyone to hang out and spend quality time together. Whether you are headed to an onboard show together, getting a meal in, or exploring ashore, family time is guaranteed.
While you cruise the open seas, splash around with the family at one of the many aquatic attractions such as Royal Caribbean's Flowrider, an exciting surf simulator, or Typhoon and Cyclone, the racing water slides. Even better, visit private islands exclusive to cruise guests and create memories with the whole family. You can enjoy beautiful beaches, a variety of outdoor activities, and the ultimate waterpark wonderland at Royal Caribbean's Perfect Day at CocoCay.
For a more laid-back day onboard, enjoy curated group entertainment designed with the whole family in mind. Norwegian offers family workshops and activities allowing everyone to come together for some quality time. Workshop entertainment consists of game shows, sports challenges, pizza making, trivia, and more. Grandparents, parents, and kids? I sense some healthy competition brewing.
For families traveling with infants, babies, or toddlers, Norwegian also offers a fun program for their smallest passengers that allows parents and children to bond, play interactive games, and make some new friends onboard.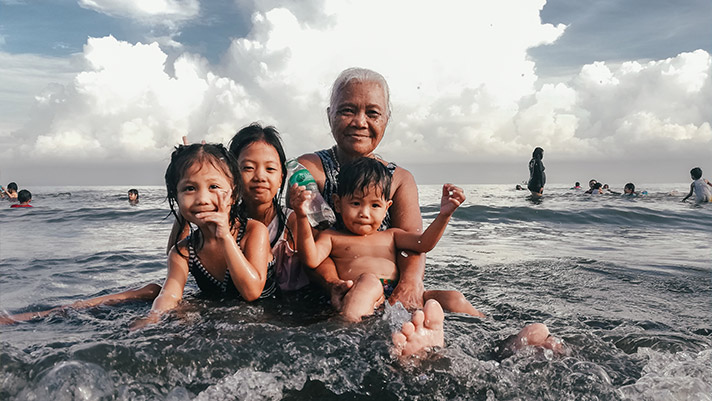 Enjoy an unforgettable vacation with the entire family.
The best part about going on a family cruise is, of course, the breathtaking destinations you get to explore together.
Whether you are cruising through the Caribbean, drifting along the coast of the Mediterranean, or beyond, you are bound to create lasting memories with your family in the most picturesque locations. Freely explore stunning ports of call or book unforgettable shore excursions for some sightseeing and adventure.
Book With Confidence
Cruises truly do make the perfect family vacation. Just pack your bags, climb onboard your resort at sea, and set sail. Explore remarkable destinations, enjoy endless onboard entertainment, and best of all, spend time with the ones you love.
Contact us today and speak to a Travel Advisor in the Avoya Travel NetworkTM who will assist in your vacation planning and work to get you the best deal at no additional cost.
Call the number at the top of this page to be connected with a Travel Advisor in the Avoya Travel NetworkTM who can help you get the best price and answer any questions you have about booking your next family vacation.