As nights start to fade into days and the seasons begin to change, the time to book the perfect family vacation is quickly approaching. And what better way to spend quality family time together than on a quick cruise getaway onboard Royal Caribbean?
Royal Caribbean is a trailblazer in family-friendly cruises with incredible onboard amenities, thrilling waterslides, and impeccable onshore excursions for kids and adults. But most importantly, they anticipate your family's needs before you even book by offering a wide range of itineraries for every kind of traveler.
Family vacations are the perfect way to create life-long memories – but the typical week-long to month-long trips can be expensive and time-consuming for everyone. That's why Royal Caribbean offers shorter action-packed cruise itineraries for busy, budget-friendly families.
Relax in overwater cabanas in the Caribbean or enjoy fresh seafood bites in Mexico – and be back home before the week is over! Here are our top quick cruise getaways onboard Royal Caribbean for a tropical escape that will be short but sweet.
Contact a Travel Advisor in the Avoya Travel NetworkTM or browse here to see everything Royal Caribbean has to offer for your next vacation.
The 3-Night Mexican Fiesta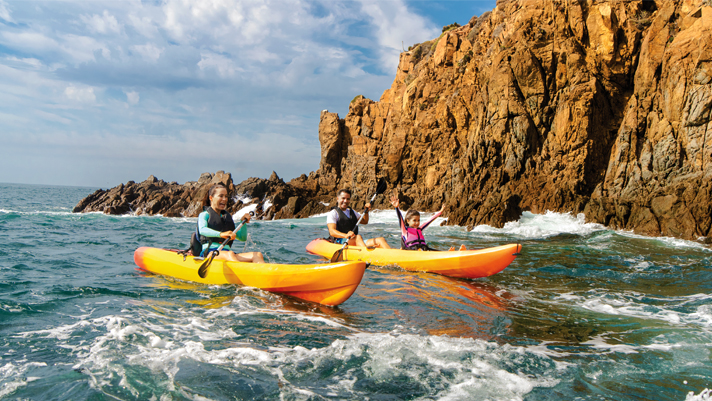 Enjoy a fun family kayaking adventure in Ensenada, Mexico.
Whether you're celebrating a special occasion or simply have an extra day off, exploring beautiful beach towns in Mexico is the perfect way to quickly recharge and start the week off with a bang. Sail across the Pacific on this 3-night quick cruise getaway departing from Los Angeles, California, and stopping in the popular Mexican seaside town, Ensenada.
Onboard one of Royal Caribbean's finest ships, the Navigator of the Seas, you'll get to experience stellar entertainment and activities as you sail overnight to one of Mexico's most well-known beach towns. Once you reach the port in Ensenada, you and your family will be able to explore historic centers, such as the Museo de Historia, or opt for an onshore excursion, like horseback riding at Rancho Los Bandidos. One must-see landmark perfect for kids is La Bufadora, the world's second-largest marine geyser that can shoot water over 100 feet in the air – and yes, this is a splash zone.
Before the night is up, make your way to the malecón (boardwalk) right by the port stop and enjoy shopping for souvenirs or dining at one of the many authentic Mexican food stalls in the area. You can also stop by the mercado de mariscos (seafood market) and treat yourself to fresh seafood caught by local fishers.
The 4-Night Bahamian Escape
Head to the Bahamas onboard Allure of the Seas
If your heart is set on white-sand beaches, crystal-blue waters, and loads of family fun, this 4-night tropical getaway from Port Canaveral to the Bahamas is the perfect itinerary for you and your family. Once you set sail on Royal Caribbean's breathtaking ship, Allure of the Seas, you'll get to experience all the outstanding amenities and show-stopping entertainment that they have to offer – including four pools, two rock climbing walls, an ice-skating rink, and more!
After a day of cruising, you'll arrive at your first stop in Nassau, Bahamas. Here, spend the day exploring the capital's various historical sites such as the Queen's Staircase ­or the Pirates of Nassau Museum – a museum with a replica of the infamous pirate ship, Revenge. For an unforgettable beach excursion, you can splash around with adorable local pigs on Pearl Island.
Once you depart from Nassau, you'll make your way to your final destination before returning to Florida – Royal Caribbean's private island, Perfect Day at CocoCay. Built like an amusement park, you and your family can enjoy an action-packed day sliding down thrilling waterslides, ziplining across the island, or splashing around in the wave pool. If you need a break, head on over to Chill Island and relax under the sun while munching on world-class cuisine. After a full day of fun, you'll arrive home feeling refreshed from your latest adventure.
The 5-Night Bermuda Adventure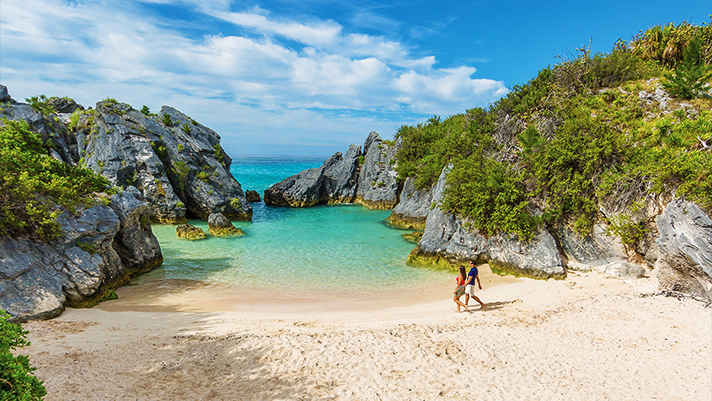 Explore the gorgeous beaches of Bermuda.
Spend your extra vacation days on something worthwhile – like an extended weekend in sun-kissed Bermuda. Embark on this 5-night quick cruise getaway from Cape Liberty to Bermuda with the family and enjoy exotic cuisine, endless onshore excursions, and breathtaking ocean views as you sail on Royal Caribbean's adventure-filled ship, Liberty of the Seas. Enjoy a day of water parks, incredible shows, and exquisite bites while sailing to your port stop, Kings Wharf, Bermuda.
Upon arrival at the largest port in Bermuda, you'll get to enjoy two full days of exploration, giving you plenty of time to experience everything the island has to offer. From sunset rum-tasting cruises to historic underwater caverns, this island is known for its seemingly endless variety of excursions. A popular family excursion is a visit to one of the world's oldest aquariums at Bermuda Aquarium, Museum, & Zoo plus the Crystal and Fantasy Caves, where you can see countless marine life underneath enchanting cave ceilings.
Before you depart, be sure to shop for souvenirs at the Bermuda Craft Market for handmade goods or at Front Street, a colonial-style shopping center selling traditional and high-end British keepsakes. While browsing, settle in at Dockyard Glassworks & Bermuda Rum Cake Company for a glass-blowing demonstration and a chance to try a notorious Bermudian rum cake. Or stop by Bailey's Bay Ice Cream Parlour for delectable homemade ice creams and other sweet frozen treats.
After departure, you'll enjoy one more day of mesmerizing views and outstanding accommodations as you sail back to Cape Liberty, New Jersey.
Book with Confidence
With Royal Caribbean, you can experience the perfect vacation even if you only have a few days to get away. Gather the family and embark on the perfect quick cruise getaway to experience awe-inspiring landscapes, sun-kissed beaches, and thrilling adventures.
Once you're ready to book, consult one of Avoya Travels' Independent Travel Advisors to help you plan your vacation and ensure you get the best deal available. ­
Call the number at the top of this page to be connected with a Travel Advisor in the Avoya Travel NetworkTM who can help you get the best price and answer any questions you have about Royal Caribbean cruises.