Sail away on an epic family adventure at sea onboard a Royal Caribbean cruise and discover what these unique cruise ships have in store for you. From Miami to the Bahamas, Seattle to Alaska, or France to Italy, the sky is the limit on the places you can go. This is more than just a vacation, it is an experience. With a tantalizing mix of indulgent gourmet restauradnts to choose from, relaxing suites to retreat to at night, fun activities to partake in day or night, and a private island to explore, be ready to sail the open seas in absolute luxury.
Contact a Travel Advisor in the Avoya Travel NetworkTM or browse here to see everything Royal Caribbean has to offer for your next cruise vacation.
Here is a quick look at 5 of the most awe-inspiring features on Royal Caribbean ships and cruises:
1. An Onboard Waterpark
Splish, splash, and have a memory-making fun time with the whole family at the waterparks offered aboard most Royal Caribbean cruise ships.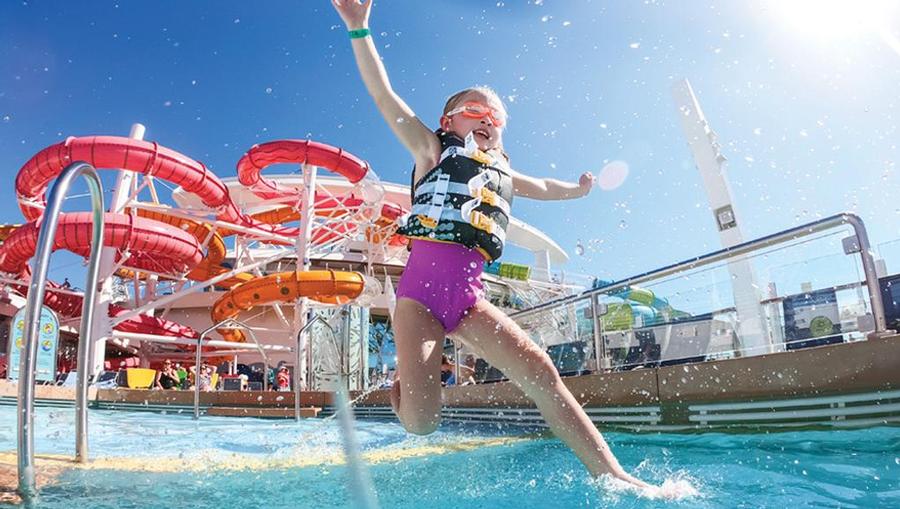 Adults and kids alike can bask in the glow of the warm sunshine while enjoying some adrenaline-fueled action.
Depending on which cruise ship you are sailing aboard, your family will get the opportunity to slide down an assortment of bold and colorful open-air and tunnel-style waterslides, like 'The Supercell', 'The Perfect Storm' and 'The Blaster', just to name a few.
Oasis of the Seas is one of the most popular Royal Caribbean ships that features an amazing waterpark. Contact us today to discover current deals...
The ships in this fleet are also equipped with outdoor heated swimming pools, a kid's fun aquatic zone, and a wave pool that allows you to practice your surfing or boogie boarding technique. For those who prefer a more relaxing experience, slip into the hot tub with an ice-cold cocktail in hand.
2. The Bionic Bar
Making its debut in 2014 aboard the Quantum of the Seas cruise ship, the Bionic Bar allows guests to time travel into the future and order signature cocktails made completely by a pair of bionic arm mixologists.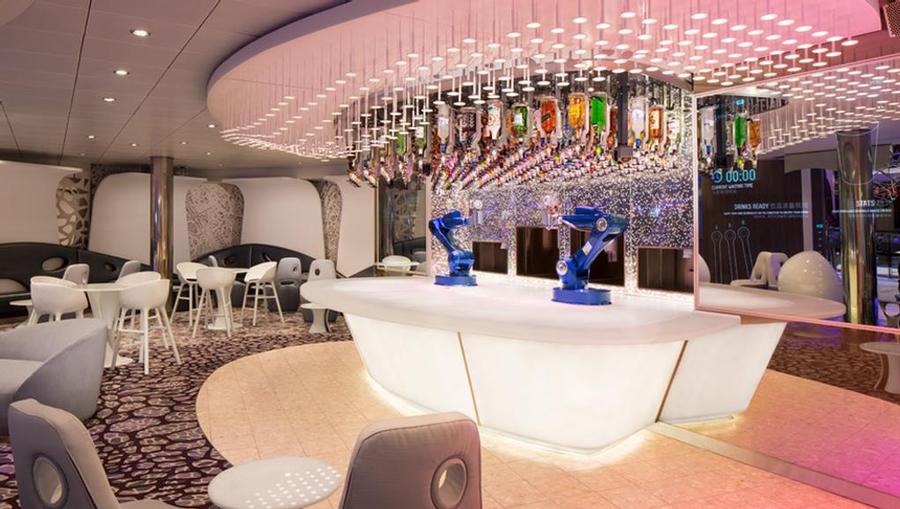 The Bionic Bar onboard Harmony of the Seas.
The Bionic Bar is currently available aboard Harmony of the Seas, Ovation of the Seas, Symphony of the Seas, Anthem of the Seas, Spectrum of the Seas and Odyssey of the Seas ships. Not only has ordering a cocktail been so much fun, but the bar itself is a stunning beauty.
The Bionic Bar is decked out in frosted glass and the booze bottles hang from the ceiling as opposed to being displayed on shelves like in traditional bars. Order your drink from the touch screen and watch as the robots magically go to work making your cocktail.
3. The North Star
Proudly claiming its spot in the Guinness Book of World Records for being the world's highest observation deck aboard a cruise ship, the North Star provides a stunning bird's eye view that is unrivaled by any other cruise liner.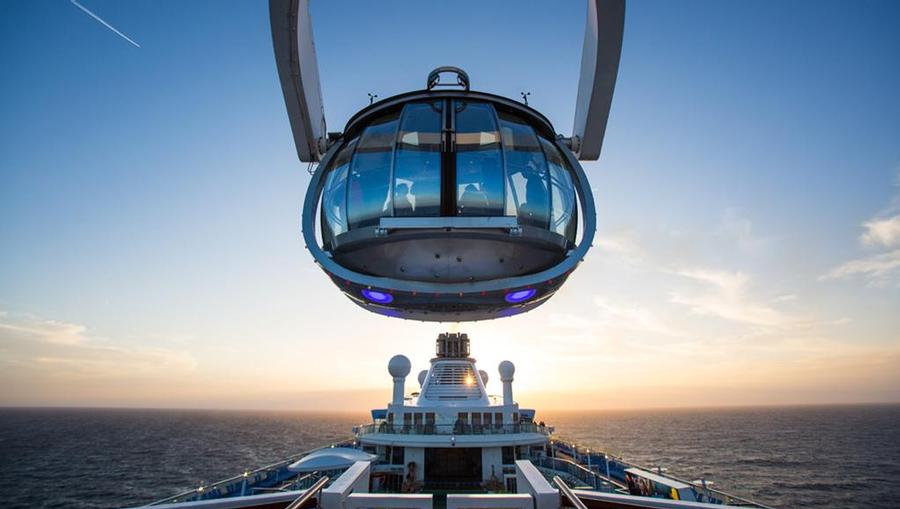 The North Star onboard Quantum of the Seas.
This crane-like gondola raises guests up into the air to an astonishing 300 feet above sea level and provides a 360-degree view of the cruise ship and open ocean below. Each ride lasts approximately 20 minutes, which is ample time to snap some amazing photographs. Take a trip on the North Star at sunset to take in all of the beauty of the early night sky.
4. Luxurious Suites For All
Boasting posh interiors that are warm and stately in design, the suites and staterooms aboard all Royal Caribbean Cruises ships offer the very best in modern luxury accommodations. The color palette of each room is rich and dynamic, allowing each guest to feel like a true royal while on vacation. Many of the suites come with floor-to-ceiling windows that allow in plenty of natural light and bring the outdoors inside.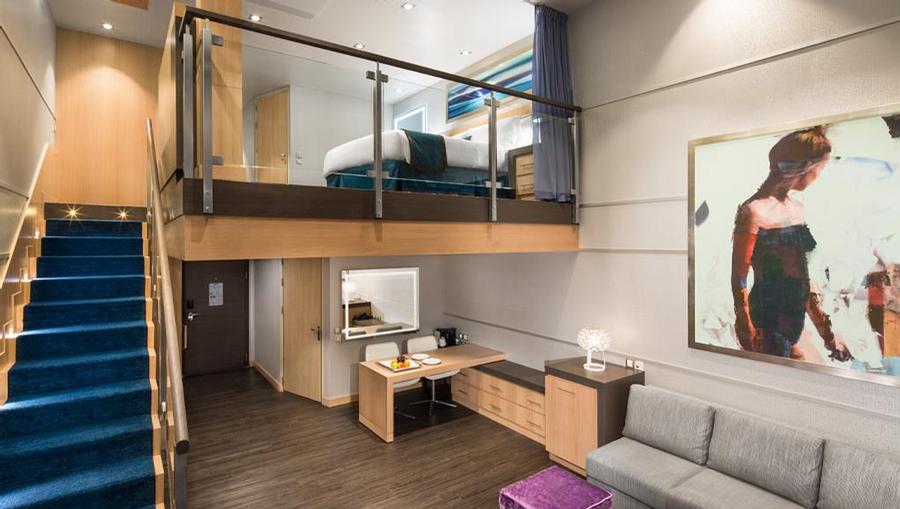 Two-deck-high stateroom with panoramic views.
The utmost attention is paid to the finer details in designing each stateroom, making Royal Caribbean the best cruise ships at sea. The Royal Class Suites mimic the look of a 2-story condo with a bedroom loft at the top; these suites are ideal if you are traveling with your family or a group. When you book one of the staterooms in Royal class, you also receive a private butler and a host of complimentary services to enjoy during your cruise vacation.
Contact a Travel Advisor in the Avoya Travel NetworkTM to get the best price on a Royal Caribbean suite. Plus, Travel Advisors can guide you through any COVID-19 protocals that could affect your trip.
If you are looking for a more cozy lodging experience, most ships also offer interior rooms with single or double beds, ocean view staterooms with a round window that looks out over the ocean, balcony rooms that come complete with a sliding glass door that leads out to your own private balcony seating area or virtual balcony rooms that broadcast real-time digital video of the ocean views outside onto a screen inside your stateroom. No matter which stateroom you choose, the crew of Royal Caribbean Cruises treats each guest like royalty.
5. A Perfect Day at CocoCay
Exclusive to Royal Caribbean Cruises, voyagers sailing down through the Bahamas can spend a day (or two) on Royal Caribbean's own private island, A Perfect Day at CocoCay.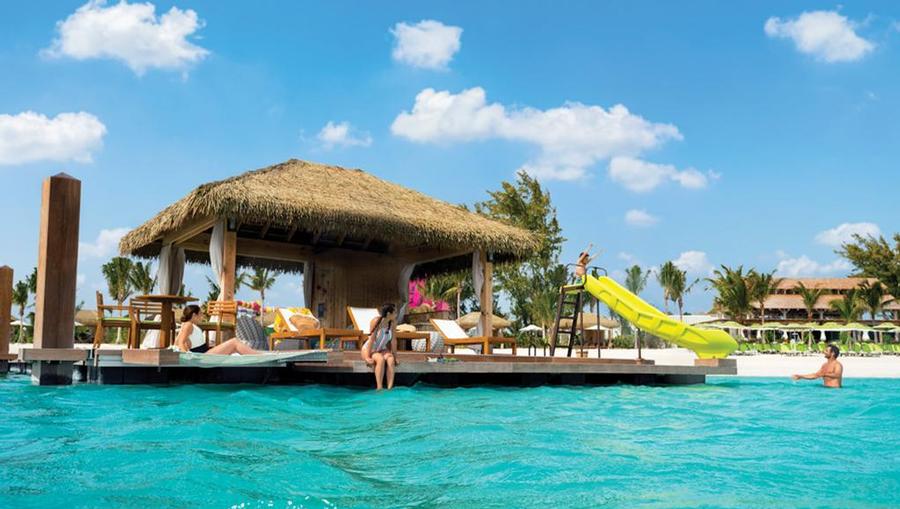 This theme park offers fun activities for the whole family and most activities are complimentary for cruise guests.
Spend a sun soaked day laying out on the beach, swimming around in Oasis Lagoon, splashing down one one of the epic waterslides at Thrill Waterpark or hit up Coco Beach Club for drinks and conversation.
Did you know if you get COVID-19 onboard any Royal Caribbean cruise, they will fly you home on a private jet. Contact a Travel Advisor in the Avoya Travel NetworkTM today to find out more about how Royal Caribbean makes sure you have peace of mind as travel returns!