Celebrity Cruises is known for providing their guests with an array of spacious, comfortable, and luxurious accommodations to serve as a home away from home during unforgettable cruises around the world. The accommodations on the Celebrity Edge ships are in a class all their own, with larger living areas, ocean views, open-air sea access, bigger bathrooms, the latest tech features, and interiors created by famed designer Kelly Hoppen.
One of the highlights of the Celebrity Edge class suites is the Sky Suite, which is offered for guests of The Retreat. We've put together an overview of the Sky Suite, as well as a peek at other suites in The Retreat and even more Celebrity Edge class cabins.
Contact a Travel Advisor in the Avoya Travel Network™ or browse here to see everything Celebrity Cruises has to offer for your next vacation.
Celebrity Cruises' Sky Suites: The Ultimate in Luxury Travel
When it comes to the suites onboard the Celebrity Edge class ships, the Sky Suite provides the best balance of comfort, amenities, and price. It is offered as part of The Retreat experience, which includes exclusive perks for guests onboard Celebrity Edge class ships. Guests of The Retreat get to enjoy a long list of extra amenities on top of their spacious and luxurious suites.
Sky Suites boast a perfect design for making the most of your time spent onboard, pairing expansive ocean views with an intimate atmosphere. Each one is a studio suite with one bathroom, a spacious seating area, and a floor plan ranging from 254-362 sq. ft., giving you plenty of space to move around, stretch out, and store all of your belongings. Sky Suites also come with 57-102 sq. ft. terraces with lounge seating where you can sit to breathe the fresh ocean air or look out over the beautiful ports of call.
Relax in this luxurious and spacious Sky Suite Bedroom onboard the Celebrity Edge class ship.
When inside your Sky Suite, you can still see the ocean thanks to floor-to-ceiling sliding-glass doors, which provide immediate views as soon as you wake up on your king-sized Cashmere™ Mattress and exclusive eXhale® bedding. Step into your complimentary slippers and supremely soft robe as your Personal Retreat Host brings you your preferred morning beverage.
Guests of the Sky Suite are also provided with complimentary 24-hour in-suite dining for breakfast, lunch, and dinner, as well as daily afternoon savories. Other perks included in your stay are unlimited streaming Wi-Fi, prepaid tips, onboard credit to spend how you desire, and shore excursion credit to enhance your trip even further.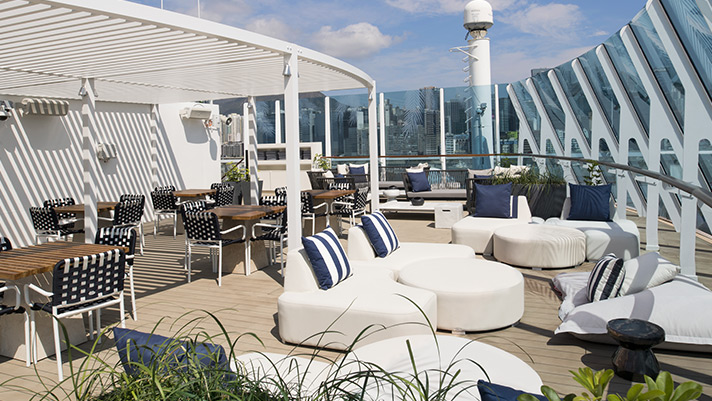 Retreat and soak up the sun on the gorgeous SunDeck exclusively on Celebrity Edge class ships.
Aside from the wonderful amenities available in your suite, there's even more fun to be had in the rest of The Retreat. When you want to take a dip, just head to The Retreat Sundeck, a spacious outdoor lounge area with an inviting pool. On select Celebrity Edge ships, The Retreat Sundeck also features a jacuzzi with 360° views.
The outdoor bar offers tasteful bites and delicious cocktails, as well as dedicated attendants who can bring you towels, beverages, snacks, and more. The Retreat Lounge also serves as a warm and inviting place to relax and unwind when onboard. Available 24/7, The Retreat Lounge offers a dedicated concierge, gourmet bites, and complimentary beverages.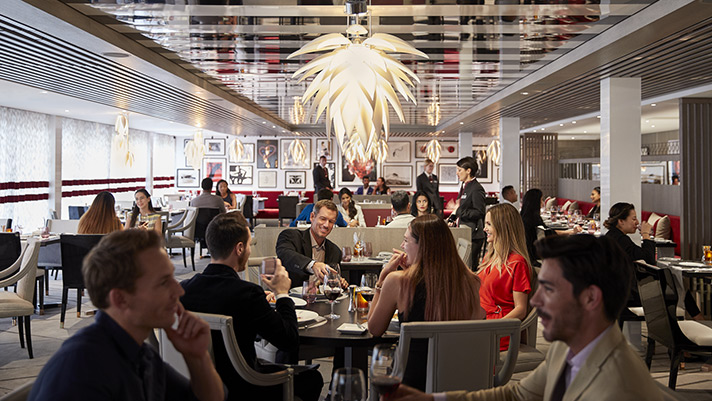 Enjoy an exquisite meal featuring signature dishes by Chef Daniel Boulud in the private Luminae restaurant.
Another amazing perk of staying in a Sky Suite is that only guests of The Retreat can access Luminae. This exquisite private restaurant offers an exclusive menu featuring signature dishes from chef Daniel Boulud, Celebrity Cruises' Global Culinary Ambassador. One of America's leading culinary authorities, Daniel Boulud is the owner of several award-winning restaurants. His unique dining options aren't found anywhere else on the ships, and the elegant interior of Luminae only adds to the private and upscale feel of the dining experience.
Other Suites in The Retreat
In addition to the spectacular Sky Suite, The Retreat on Celebrity Edge class ships also host a number of different suite options, all with the same incredible luxuries and amenities. Like the Sky Suite, the other Celebrity Edge Class suites in The Retreat also come with a terrace. If you would like a separate bedroom and living area, then the Sunset Suite, ranging from 296 to 575 sq. ft. is the next step up.
The slightly larger Celebrity and Royal Suites also come with a separate bedroom and spacious floor plans. On the more luxurious end is the two-story, two-bathroom Edge Villa, which also comes with a private terrace and a plunge pool. The largest and most lavish suites in The Retreat are the one- to two-bedroom Penthouse Suite and the two-bedroom Iconic Suite.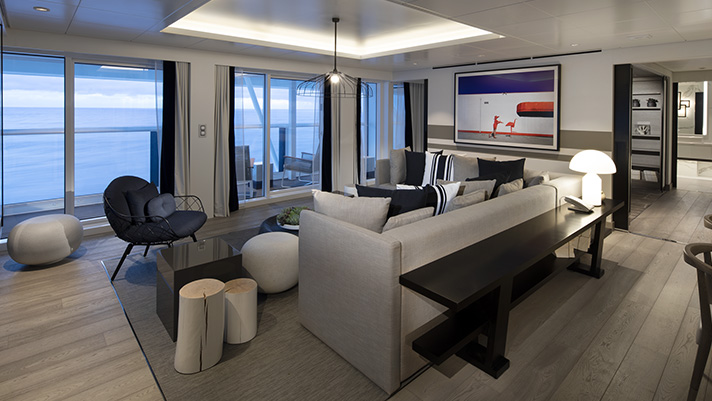 Experience ultimate luxury in the spacious Penthouse Suite onboard Celebrity Edge class ships.
Celebrity Edge Class Staterooms
For those looking to stay in a stateroom, Celebrity Edge class cabins offer a fantastic variety of layouts, as well as nearly 200 different options for connecting staterooms that allow family and friends to travel together. With 243 sq. ft. of living space and 42 sq. ft. verandas, Concierge Class staterooms also come with perks like an exclusive lunch and a destination seminar.
Spa-inspired AquaClass® cabins and the open-air Edge Stateroom with Infinite Veranda offer the same amount of living and veranda space. Verandas also provide generous living space and the added luxury of outdoor space, while Ocean View staterooms let you take in breathtaking views as well. Inside staterooms trade a view for larger living spaces and bathrooms, as well as more storage.
The cabins and suites onboard Celebrity Edge class ships offer accommodations for every type of traveler. From the sky Suite to the host of stateroom options, you're sure to find the perfect temporary home to enjoy your vacation from.
Call the number at the top of this page to be connected with a Travel Advisor in the Avoya Travel Network™ who can help you get the best price, navigate COVID-19 restrictions, and answer any questions you have about Celebrity Cruises' Edge class ships.