Book your dream vacation onboard Holland America's newest ship, Rotterdam and explore the world in style!
With onboard amenities like a prestigious day spa, world-class cuisine dreamed up by some of the most renowned chefs in the culinary industry, and posh staterooms that are designed to relax and rejuvenate your mind, body, and soul, a cruise vacation has never been so blissful.
Here is a brief overview of everything you need to know about Rotterdam.
Contact a Travel Advisor in the Avoya Travel NetworkTM or browse here to see everything Holland America has to offer for your next vacation.
Holland America Rotterdam
An Elegant Ship That Offers the Best of Everything
Designed as part of the Pinnacle Class ship series, Rotterdam is a nod to timeless elegance. This ship was introduced to the Holland America fleet in July 2021 and was named in commemoration of the original Rotterdam, which sailed from the Netherlands to New York in 1872, setting the stage for Holland America to become a powerhouse in the cruise industry later in the early 20th century.
This new ship was expertly designed to make a statement. It features decor and architecture inspired not only by the gentle flowing waves of the ocean but also by the artistry and sound of music. This spacious vessel measures 948 feet in length and can comfortably accommodate over 2,600 passengers.
Let's take a quick look at the incredible accommodations you can enjoy while sailing the world on your cruise vacation.
Prestigious Staterooms For All
Onboard Rotterdam, all guests get to relax and unwind in elegant staterooms that are fit for royalty. Each stateroom features one or more Mariner's Dream™ beds, which are specially designed for Holland America and offer the latest sleep comfort technology.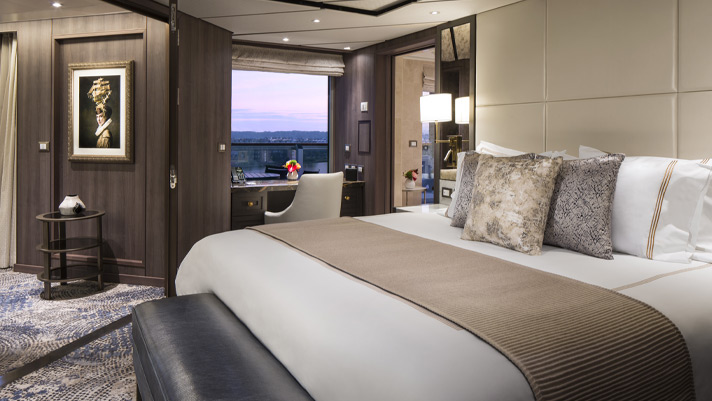 Retreat back to the elegant Pinnacle Suite onboard Rotterdam.
Choose from an Inside stateroom with an optional private spa room; an Ocean View room for couples or families with a large window that overlooks the ocean; a Verandah room with a private outside sitting area and floor-to-ceiling windows; a Vista Suite with an outdoor verandah and a separate inside sitting room; a spacious Signature Suite with up to 400 square feet of living space and an indulgent whirlpool bathroom; or a Neptune Suite, which includes all of the amenities included in the other staterooms as well as exclusive Neptune Lounge privileges.
Gourmet Dining at Sea
Holland America has pulled out all of the stops when it comes to offering a mouthwatering selection of fine and casual dining restaurants for all taste buds.
Voted The Best New Restaurant at Sea by Cruise Critic in 2019, Rudi's Sel de Mer is available onboard Rotterdam, as well as other select Holland America ships, and it specializes in fine French cuisine with a modern twist. Get ready to sink your teeth into world-class surf and turf dishes in an intimate setting.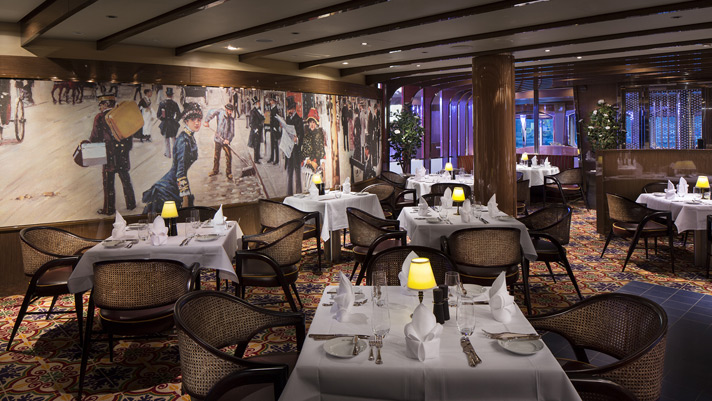 Indulge in delicious cuisine at Rudi's Sel de Mer.
For a more casual eatery, head to Dive In, a 1950s American diner-style grill located poolside. Enjoy an array of classic favorites like chili cheese hotdogs, french fries, and old-fashioned cheeseburgers.
While sailing onboard Rotterdam, be sure to also try out Nami Sushi, which offers artisan sushi rolls and Japanese cuisine crafted by the recipes of Master Sushi Chef Andy Matsuda. And don't forget Canaletto, a charming restaurant that specializes in authentic Italian fare.
Guests onboard this ship can also take advantage of 24/7 room service, and Club Orange members always get to take advantage of expanded menu offerings as well as priority dining privileges.
Onboard Activities and Entertainment
A vacation onboard Rotterdam is anything but ordinary. Spend leisurely days and evenings at sea in the world-class Lincoln Center Stage theater listening to live performances by an in-house symphony orchestra trained in classical and contemporary music. The new Rolling Stone Rock Room is your venue for listening to all of your favorite rock and roll hits. BBC Earth in Concert is exclusive to Holland America cruises and offers a relaxing place to unwind while listening to music and watching documentary-style movies inspired by nature.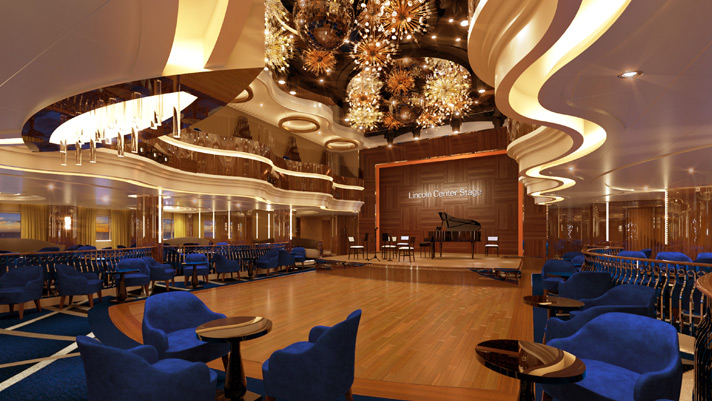 Enjoy world-class entertainment at the Lincoln Center Stage
If a spa day complete with a stunning ocean view is your idea of the perfect vacation activity, be sure to stop by Greenhouse Spa & Salon, where you can rest and rejuvenate with an expert massage or customized beauty treatment. Give Lady Luck a try by playing your favorite slot machines and table games at Rotterdam's own in-house casino; guests can play for cash prizes or cruise perks and upgrades.
Cruise Around the World in Style
Sail away on Holland America's Rotterdam to iconic vacation destinations, like Portugal, France, Florida, Denmark, Germany, the Netherlands, Norway, or the tropical islands that make up the Caribbean.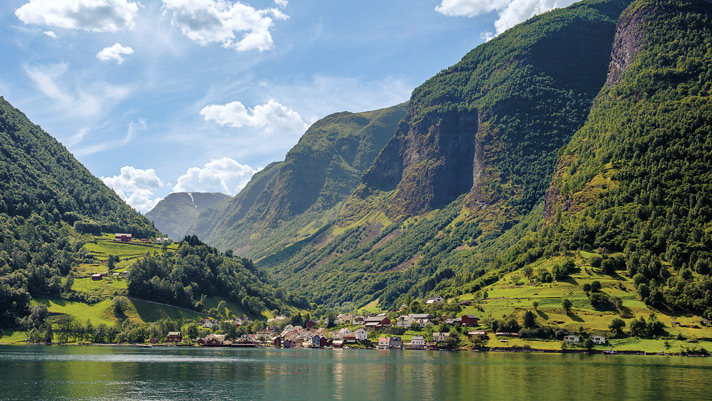 Rotterdam Cruise Destination: Alamy, Norway
Choose from a multitude of exciting travel itineraries that will take you out to sea for short or long getaways. Not only will you get to see the world from the comfort of this elegant ship, but Holland America also hosts land excursions where you can immerse yourself in the local culture through culinary, art, and nature tours that are led by local expert guides. Your cruise vacation can be completely customized to suit your personal taste.
Caribbean cruise itineraries include a port-of-call stop at Half Moon Cay, Holland America's private island in the Bahamas, which features an aqua park, private beach access, and other activities that offer memory-making fun for the whole family.
Get out and explore the world your way onboard Rotterdam, Holland America's newest and most state-of-the-art cruise ship. To book your adventure now, contact Avoya Travel today.
Call the number at the top of this page to be connected with a Travel Advisor in the Avoya Travel NetworkTM who can help you get the best price, navigate COVID-19 restrictions, and answer any questions you have about Holland America.