Oceania Cruises promises to provide "The Finest Cuisine at Sea," and an overview of the cruise line's culinary offerings makes it easy to see why. Travelers are treated to a gourmet dining experience befitting a luxury cruise. The entire Oceania culinary program has recently been enhanced through the latest OceaniaNEXT collection, which introduced a host of new menu items. Cruise guests have a greater dining diversity than ever before, so get ready to indulge your palate while you sail the world on your next adventure.
Contact a Travel Advisor in the Avoya Travel NetworkTM or browse here to see everything Oceania Cruises has to offer for your next vacation.
The Finest Cuisine at Sea Brought to You by Award-Winning Chefs
"Oceania Cruises take their food seriously and it shows," writes Jason Kerr for Luxury Cruise Review. His words ring true when you have a look at who oversees the Oceania Cruises dining program. Executive Culinary Director Jacques Pépin is an internationally renowned food writer, cookbook author, and cooking show host with many accolades to his name. He is joined by Michelin-star chef Alexis Quaretti as the Director of Culinary Programs and Development and executive chefs from some of the world's best restaurants.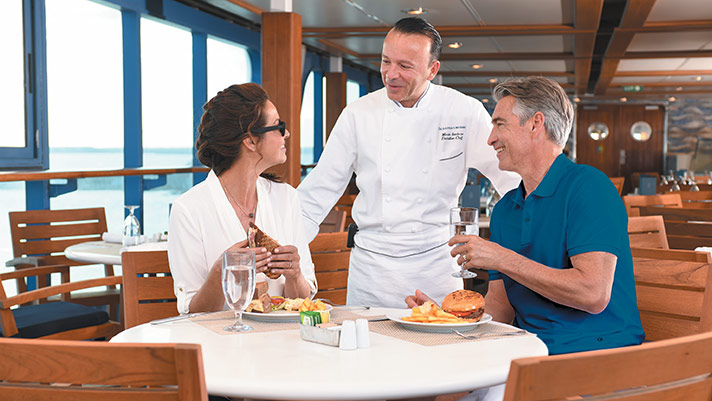 Gourmet Dining Restaurants
Oceania Cruises' dining offers something for every traveler. With a plethora of restaurants to choose from, your palate will never get bored. Here is a quick overview of the gourmet dining restaurants that make up The Finest Cuisine at Sea.
The Grand Dining Room
The elegant Grand Dining Room is the star of the Oceania Cruises dining show. It is modeled after the five-star restaurants of Europe's marquee hotels and features a sophisticated yet relaxed ambiance. The menu changes daily to offer an assortment of globally inspired dishes, including gourmet vegetarian selections.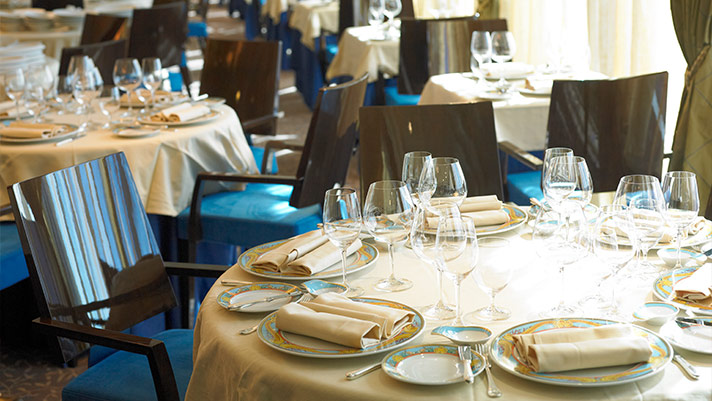 Toscana restaurant
Toscana
A specialty dinner restaurant onboard the Marina, Riviera, Regatta, Insignia, and Nautica, Toscana serves up authentic Italian fare inspired by the family recipes of Oceania's Italian culinary staff. Delight in authentic dishes like octopus carpaccio and minestrone alla Genovese served on beautiful Versace china.
Polo Grill
Polo Grill is a traditional steakhouse with all the classic elements, right down to the crisp linen tablecloths and dark wood furniture. Choose from a selection of quintessential steakhouse dishes, including certified Black Angus USDA Prime, whole Maine lobster gratinée, and the perfect Caesar salad.
Jacques
Don't skip this dinner option onboard the Marina and Riviera. Named for Chef Pépin, Jacques is a fine French restaurant in the style of a Parisian Bistro. The space is filled with antiques and art, and the menu consists of rotisserie chicken, pork, beef, duck, and veal classics.
Jacques restaurant
Red Ginger
Another unforgettable dinner spot on the Marina, Riviera, and Sirena, Red Ginger serves up Asian classics like Thai vegetable curry and Malaysian beef penang. A harmonious setting with a waterfall, Asian artwork, and ebony wood encourages a relaxing dining experience.
Tuscan Steak
Tuscan Steak combines the best elements of Toscana and Polo Grill onboard the Sirena. This modern spin on a traditional steakhouse offers rustic Italian favorites along with classic steakhouse seafood. Glossy wood paneling and elegant decor set the stage for the meal.
La Reserve by Wine Spectator
Available on the Marina and Riviera, La Reserve represents a partnership with celebrated magazine Wine Spectator and French Champagne house Moët & Chandon. Make a reservation for one of three exquisite pairing dinners featuring Dom Pérignon vintages or a curated selection of wines.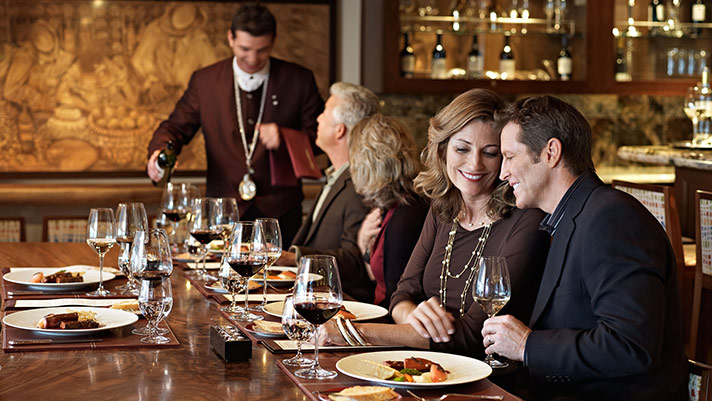 La Reserve by Wine Spectator restaurant
Terrace Café
For an informal meal any time of day, stop by the bright and sunny Terrace Café. An ever-changing lunch menu keeps your dining experience fresh, while a more sophisticated evening offering includes lobster tails, fish prepared to order, and fresh sushi and sashimi.
Waves Grill
Dine alfresco and enjoy the ocean breeze at the laid-back yet classy Waves Grill located right by the swimming pool. Sample some All-American favorites like burgers, sandwiches, hand-cut fries, and decadent homemade sorbet. On the Marina and Riviera, Waves Grill also has the new Raw Juice & Smoothie Bar for cold-pressed vegan breakfast smoothies.
Waves Grill
Baristas
Coffee lovers can get their fix all day until the early evening at Baristas, the coffee bar on every ship. Master baristas are ready to craft your favorite espresso drinks and serve them up with pastries and sandwiches.
Horizons
Every day at 4 pm, Horizons hosts a traditional teatime complete with artisanal teas, a pastry cart, finger sandwiches, scones, petit fours, and sweet desserts, all to the melody of a classic string quartet.
Make the Most of Your Oceania Cruises Dining Experience
Not only does Oceania Cruises offer so many incredible restaurants, but each one features an extensive menu to choose from. Colleen McDaniel from Cruise Critic suggests asking servers for recommendations if you have a hard time deciding from the numerous mouth-watering options. She also advises that reservations fill up quickly, especially on sea days or port days with a pre-dinner departure, so make sure you book well in advance. Some travelers may also be happy to know that vegetarian, vegan, gluten-free, and Kosher dining requests can be accommodated.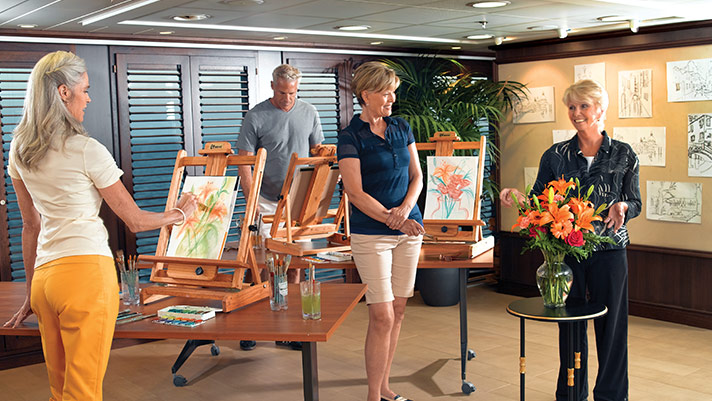 Writing for Travel Age West after reviewing Oceania Cruises dining offerings, David Yeskel remarks, "the line's trademarked tagline, 'The Finest Cuisine at Sea,' isn't just hype; it's the real thing--and simply nirvana for foodies." Don't miss your chance to travel in true luxury complete with gourmet dining options to enjoy along the way. Book your next Oceania Cruises journey with Avoya Travel today and look forward to your gourmet meals onboard.
Call the number at the top of this page to be connected with a Travel Advisor in the Avoya Travel NetworkTM who can help you get the best price, navigate COVID-19 restrictions, and answer any questions you have about Oceania Cruises.