It's time to check your passport expiration date, remember where you left your suitcase, and ignite your sense of adventure because 2023 is the year of travel. After enduring strict travel restrictions, boundless flight cancellations, and seemingly endless entry requirements, people are eager to explore the world again – without limitations this time.
And with this newfound freedom, people are finding avant-garde ways to explore their dream destinations – making 2023 a perfect time to discover never-before-seen landscapes, take on new adventures, and hop onboard some of the latest and greatest travel trends of the year.
Has the travel bug hit you yet? Take a look at our top 7 travel trends of 2023 and cure your wanderlust in style this year.
Contact a Travel Advisor in the Avoya Travel NetworkTM to learn more about your vacation options and how you could save on your dream getaway.
1. Set Your Jets on Adventure
Just like travel, the films and shows we watch inspire us. So much so that people, known as "set jetters," are taking it one step further in 2023 and traveling to the real-world locations of their favorite films and television series.
Cliffs of Moher in Ireland
From the Cliffs of Moher in Ireland – a notorious landmark for some of Hollywood's most notable films – to trekking through the set of The Rings of Power in New Zealand, set jetters are taking advantage of flight deals, incredible cruise and tour offers, hotel discounts, and more to explore popular filming locations.
Whether you're unsure where to visit first or know the exact location you want to explore, check out CIE Tours and Globus. These escorted tour companies often travel to well-known movie locations at discounted prices. Plus, you may even stumble upon one or two unexpected filming spots along the way.
2. Travel Back to the Past
Ready to relive that cherished family vacation or longing to travel back in time? This year, join the nostalgic travel trend and escape the modern-day nuances of travel. Instead, venture back to those treasured traveling memories – ­backpacking through Europe with your friends or relaxing at a luxurious resort in the Caribbean with your family.
Alternatively, travel to another era all together with retro-transportation services such as railway rides or sea-bound cruises for an even more immersive experience. Likewise, reminisce with friends or family on era-themed adventures with visits to '80s and 90's film locations or classic cable car tours.
3. All Aboard the Railway Trend
Traveling is not without its downsides. Rushing through the airport to catch your flight, needing to stretch your limbs on long road trips, or dragging your luggage everywhere you go can complicate your elaborate vacation plans. This year, travelers are not only interested in reaching their spectacular destination spot but truly enjoying the journey along the way.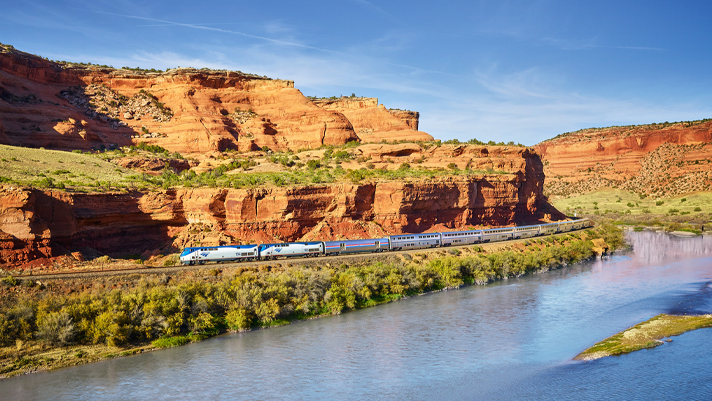 Explore California on an Amtrak Vacations rail adventure
That's why railway travel has made its way back to the future and is on our list of top travel trends of 2023. Modernized train travel offers an experience unlike any other with Michelin-star cuisine, glass-domed train coaches, reclining seats, and short trips perfect for weekend getaways.
Amtrak Vacations, Railbookers, and Rocky Mountaineer are excellent options to enjoy breathtaking panoramic views of lush mountain regions and glacial terrain all from the comfort of your seats. Additionally, railway rides give travelers the ability to stand, sit, or walk around the cabin as they please, sightsee as they go from one destination to the next, and offer a more manageable journey for extended or older families traveling together.
4. Discover Your Ancestry
As you may know, the best vacations include meaningful, once-in-a-lifetime experiences that help us shape who we are. That's why ancestry travel – centered around family heritage – is one of our top travel trends of 2023.
Vaduz Castle
Ancestry travel is for travelers who want to take a deep dive into their family lineage and plan a trip around towns and sites that capture critical moments in their family's history. With ancestry DNA tests becoming a widespread phenomenon over the past decade, travelers are keen on discovering more about their ancestors and, in turn, themselves.
But this doesn't simply mean a solo trip to your ancestors' homes. Travelers are taking it upon themselves to plan a trip with their whole family – either to connect with their distant relatives or to visit regions of significance according to their ancestry test.
Tour groups such as Collette or Globus often visit historical landmarks and battlefields that play a significant role in many families' backgrounds and provide historical context to each location they visit.
5. Begin Your Self-Care Journey
While there are numerous at-home methods for relaxation, there is nothing quite as rejuvenating as a vacation specifically to unwind. Escape from the hustle and bustle of everyday life and make 2023 the year of self-care, health, and wellness. Wellness trips are predicted to skyrocket this year and more serene, immersive experiences are going to be at the forefront of travel.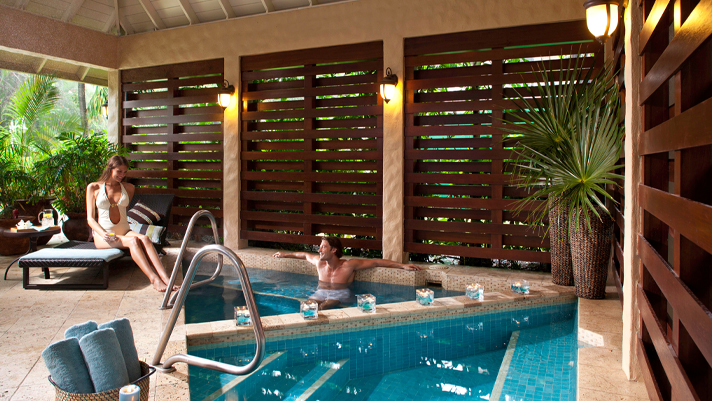 Spa at Sandals Grande Antigua
With that said, all-inclusive resorts provide the perfect recipe for relaxation through rejuvenating spas with certified masseuses, beachfront properties with breathtaking views, and decorated suites with plush beds built for optimal comfort. Known for their impeccable 5-star service and exquisite cuisine that will leave you more refreshed than ever before, discover your self-care getaway at a Sandals resort.
6. Live It Up Local
Another rising travel trend of 2023 is to travel close to home. Traveling locally can help support your local communities and is ideal for the budget-friendly traveler. You can indulge in a short-road trip along the coast or discover the well-kept secrets of your neighboring city without breaking the bank. For the eco-conscious traveler, local travel also helps reduce your carbon footprint without stifling your sense of adventure.
Some travelers are even adopting a "local tourist" mentality this year and are challenging themselves to find all the local hidden gems of their destination. Whether it be hole-in-the-wall food joints or under-the-radar nature hikes, this spontaneous approach to travel is making its way into 2023.
7. Travel Like an Expert
In the new year, travelers are relying heavily on travel advisors to secure their vacation destination. With some of the uncertainties that come with flights and bookings, people are opting to use a travel advisor for a secure, worry-free experience. They want the assurance of booking with an advisor for clear-cut connections, expert-level knowledge of the areas of interest, and flexible availability.
Besides saving you time and energy, travel advisors are experts at finding great deals and giving personalized recommendations based on your travel style. At Avoya, you get the unique experience of being connected with a travel advisor that is dedicated to making sure you have an amazing vacation at an unbeatable value.
Book with Confidence
Ready to start planning your dream vacation based on one of the top travel trends of 2023? You're in the right place! One of Avoya Travel's Independent Travel Advisors is pleased to assist you in discovering the perfect adventure with the best available savings.
Call the number at the top of this page to be connected with a Travel Advisor in the Avoya Travel NetworkTM who can help you get the best price and answer any questions you have about booking your vacation.