Alaska is an amazing place to discover, and it's even better when you can do it from the comfort of a Princess cruise. Book your cruise to explore the jewels of Alaska and go on an unforgettable adventure you won't soon forget.
Princess's cruises to Alaska depart from San Francisco, Seattle, Whittier, and Vancouver and head up the coast to incredible views of majestic glaciers, soaring mountains, and beautiful wildlife. Along the way, travelers can explore the wonderful Alaskan ports of call and take part in the exciting sea and shore excursions. Combine that with the Princess onboard experience and you have the perfect recipe for the cruise of your dreams.
Contact an Independent Travel Advisor in the Avoya Travel NetworkTM or browse here to see everything Princess Cruises has to offer for your next vacation.
An Inside Look at the Jewels of Alaska
Princess's cruises to Alaska strive to bring you the very best of what the marvelous Alaskan landscape has to offer.
Glaciers
It all starts with the awe-inspiring glaciers, which carved up the landscape into what you see today, creating the mountains, valleys, and coastal fjords. These ice giants are one of the main draws for visitors to Alaska, and for many good reasons. Every cruise to Alaska with Princess includes at least one glacier viewing.
If your cruise visits Glacier Bay National Park, then you will be treated to views of seven tidewater glaciers and get to hear the impressive cracks and booms of Margerie Glacier as chunks of ice split away and fall into the ocean. Another incredible spot to discover glaciers in Alaska is the Endicott Arm, a 30-mile-long fjord with some of the most dramatic views and glaciers in Alaska, including the Dawes Glacier.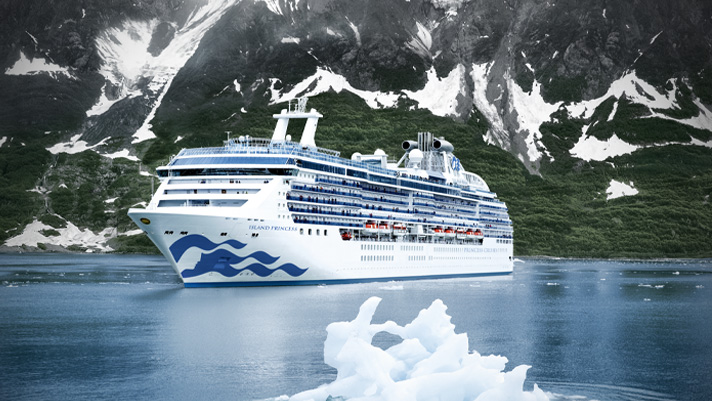 Awe at the magnificent Hubbard Glacier onboard a Princess cruise.
Then there is College Fjord, where numerous glaciers named after America's colleges, including Harvard, meet and flow into the ocean from the mountain valleys. Some cruises also offer a chance to see Hubbard Glacier, the largest tidewater glacier in Alaska. Additionally, travelers can opt for overland excursions to the Mendenhall Glacier from Juneau.
National Parks
Glacier Bay National Park isn't the only national park in Alaska visited by Princess Cruises. There are many more opportunities to see the state's protected mountain ranges and other diverse landscapes and ecosystems.
Enjoy incredible views of the tallest mountain in North America, Mount McKinley.
One of the most exciting excursions available for travelers to take is to Denali National Park. This over six-million-acre park is home to Mount McKinley Denali, the tallest mountain on the whole continent. It is also home to the Denali Princess Wilderness Lodge, which offers stunning views of the Nenana River.
A chance to visit Wrangell-St. Elias National Park is also not to be missed while on your Princess cruise to Alaska. This park is larger than many countries in the world and is the biggest national park in America.
When the cruise stops in Skagway, you can also visit Klondike Gold Rush National Historical Park to take in some history.
Wildlife
Whether you're viewing tidewater glaciers from the cruise ship or on a land excursion to a national park, you're bound to see some of Alaska's amazing wildlife. The waters around the coast are teeming with marine life, including humpback whales, orcas, harbor seals, sea lions, sea otters, and salmon.
Experience one-of-a-kind wildlife sightings.
When you're looking at glaciers, make sure you keep an eye out. On land, you might catch sight of such majestic animals like bears, moose, and wolves, oh my! Dall sheep, mountain goats, and caribou are found among the mountains as well. Also, if it seems like something is soaring overhead, make sure you take a closer look as it could be the iconic bald eagle.
Onboard Experience
Between exciting excursions and ports of call, you'll get to relax onboard one of Princess Cruises' elegant ships. The onboard experience offers something for all travelers, with plenty of ways to have fun and feel refreshed.
With every Princess cruise to Alaska, guests are treated to many wonderful onboard dining options to make sure your hunger and your taste buds are always satisfied. Princess Cruises is known for a roster of award-winning specialty restaurants, including Crown Grill steakhouse and Sabatini's Italian Trattoria.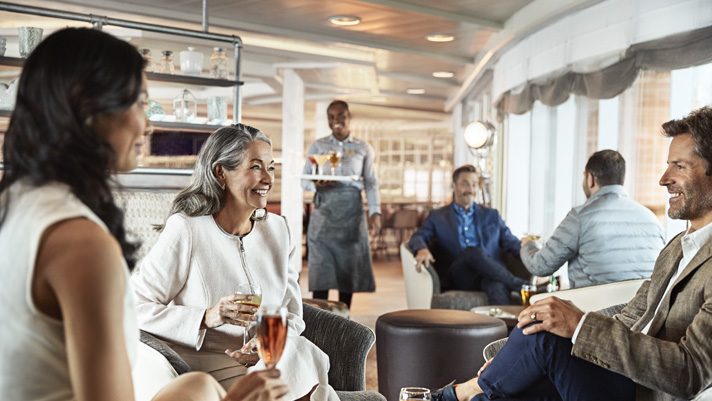 Relax and unwind with a delicious cocktail onboard a Princess cruise.
After dinner, you can take in a Broadway-style production, catch a movie under the stars, or attend a magic or comedy show. If you want to try your luck, all your favorite Vegas-style games are available at Princess Casinos as well. While onboard, make sure you don't miss a visit to the Lotus Spa for a manicure, a massage, or a full spa treatment.
During your Alaska cruise, you will also get to experience destination-themed activities through Princess Cruises' North to Alaska program, which brings Alaskan culture to you. This includes a sampling of the best Alaskan seafood like salmon and King crab, as well as specialties from local eateries.
At the Princess Theater, the planetarium will be putting on a stargazing spectacle of the Aurora Borealis. Local Alaskans will also come onboard to teach you about their great state and their unique way of life, from lumberjacks and mountain climbers to dog sledders and photographers.
Finally, Princess Cruises has partnered with Animal Planet and Discovery™ to bring guests onboard exhibits on hit shows like Panning for Gold, Gold Rush!, and Deadliest Catch.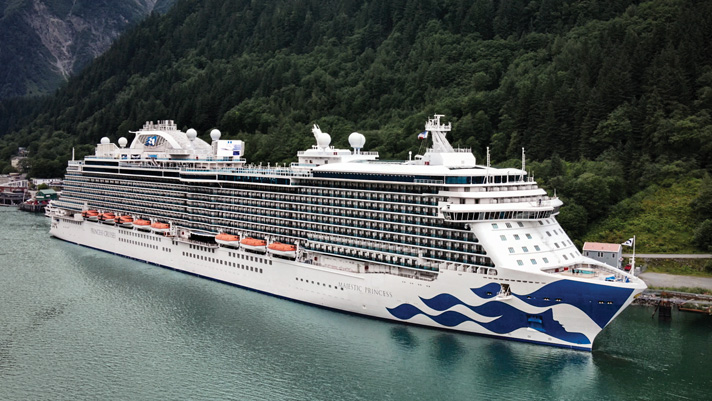 Majestic Princess in Juneau, Alaska.
A Princess cruise to Alaska truly allows you to immerse yourself in this beautiful state to the fullest. Discover the jewels of Alaska through shore excursions and continue the experience onboard with offerings of the North to Alaska program.
If you've always wanted to visit Alaska, then it's time to book your Princess cruise with Avoya Travel for the adventure of a lifetime.
Call the number at the top of this page to be connected with an Independent Travel Advisor in the Avoya Travel NetworkTM who can help you get the best price, navigate COVID-19 restrictions, and answer any questions you have about Princess Cruises.