Oceania Cruises bills itself as having "the finest cuisine at sea," and a look at this cruise line's amazing dining venues and experiences makes it easy to see why. Guests get to choose from a variety of restaurants featuring global cuisine offerings and standout menus impeccably designed to please the palate. Cooking classes and food tours round out the gastronomic delights to be had onboard. A trip with Oceania Cruises is a chance to go on a culinary journey that you won't soon forget.
World-Class Cuisine from World-Class Chefs
The culinary excellence on display aboard Oceania Cruises is a combination of several factors. Spacious and fully appointed galleys, like those found in Michelin-starred restaurants, set the stage for the use of the highest quality, artisanal ingredients like custom-milled French flour and Castilla-La Mancha saffron.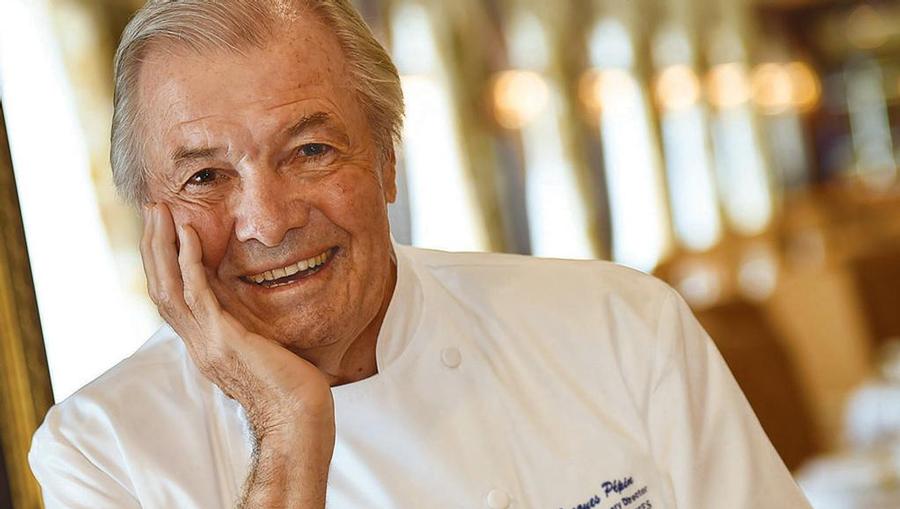 Of course, it takes talented chefs to bring the ingredients to life. Master Chefs Jacques Pépin and Franck Garanger serve as Oceania Cruises' Executive Culinary Director and Corporate Executive Chef, respectively. They are joined by a host of distinguished executive chefs who come to Oceania Cruises from some of the best restaurants in the world.
Oceania Cruises Onboard Dining Venues
Oceania Cruises' commitment to quality is on display at each of the onboard dining venues found on the cruise line's ships. A selection of gourmet restaurants offers something for every traveler, whether you are looking for classic favorites or you want to try something new.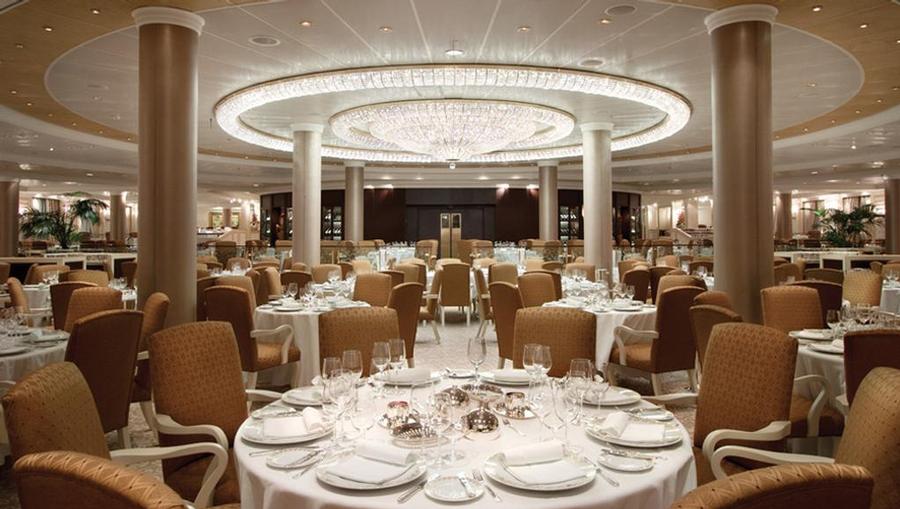 The star of the culinary offering on each ship is The Grand Dining Room, an elegant setting modeled after the marquee five-star hotel restaurants of Europe. The stately space has a sophisticated but welcoming ambiance, while a daily menu keeps the experience fresh by rotating among a choice of Continental and global dishes to delight the taste buds. Each ship also features the Terrace Café for informal dining, Waves Grill for alfresco dining, Horizons for afternoon tea, and Baristas for specialty coffee.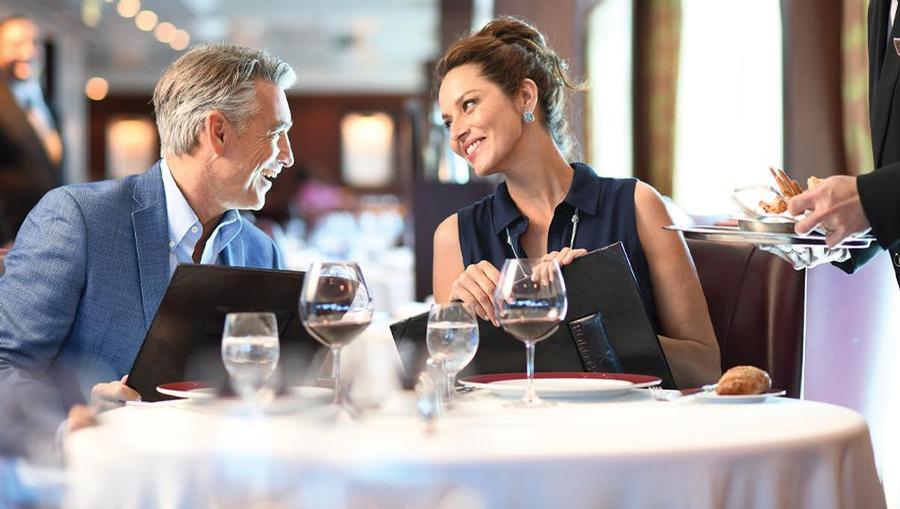 For authentic Italian fare on Marina, Riviera, Regatta, Insignia and Nautica, head over to Toscana, where you can sample classic recipes like osso buco alla Milanese and minestrone alla Genovese. If you are more in the mood for a classic steakhouse, then Polo Grill serves time-honored favorite beef dishes, all certified Black Angus USDA Prime.
Toscana and Polo Grill provided the inspiration for Tuscan Steak, the signature restaurant aboard the Sirena that combines the best of both. For bold Asian cuisine aboard Marina, Riviera, and Sirena, you won't be disappointed by the contemporary classics at Red Ginger. Marina and Riviera are also home to the authentic French restaurant Jacques.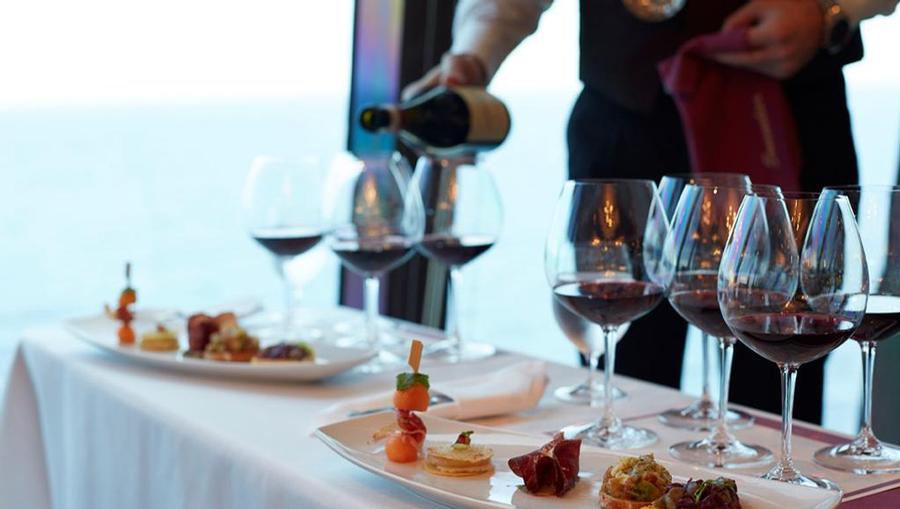 Another experience exclusive to Marina and Riviera is La Reserve by Wine Spectator, a series of wine-pairing dinners, each as extraordinary as the next. La Reserve by Wine Spectator represents a partnership between Oceania Cruises, Wine Spectator magazine, and Moët & Chandon, France's premier Champagne house. Guests can choose from the six-course Dom Pérignon Experience focusing on the spirited champagne, the seven-course La Cuisine Bourgeoise dinner of curated wine selections, and The Odyssey, a seven-course dinner with both wine and champagne pairings.
Interested in a more exclusive dining experience? Privée is a private dining venue aboard the Marina and Riviera where you can host a party for up to 10 guests. Reserve your spot and choose from a selection of gourmet menus befitting the special occasion. The superb cuisine is paired with beautiful Baroque decor and luxurious red carpeting, making for truly decadent dining.
Unforgettable Experiences at The Culinary Center
The Culinary Center is a full cooking school at sea offered aboard the Marina and Riviera. It is staffed by Chef Instructors with a passion for global cuisine and a passion for sharing their culinary knowledge. Under their expert guidance, you will be able to try your hand at delicious recipes in a state-of-the-art kitchen. Spend your days at sea in some of the many popular cooking classes available aboard. Immerse yourself in the flavors of Greek, French, Sicilian, Nordic, or Asian cuisine. Learn how to make Spanish tapas or how to cook with fish. If you are interested in traditional culinary techniques, you can even sign up for an Ancient Cuisines class.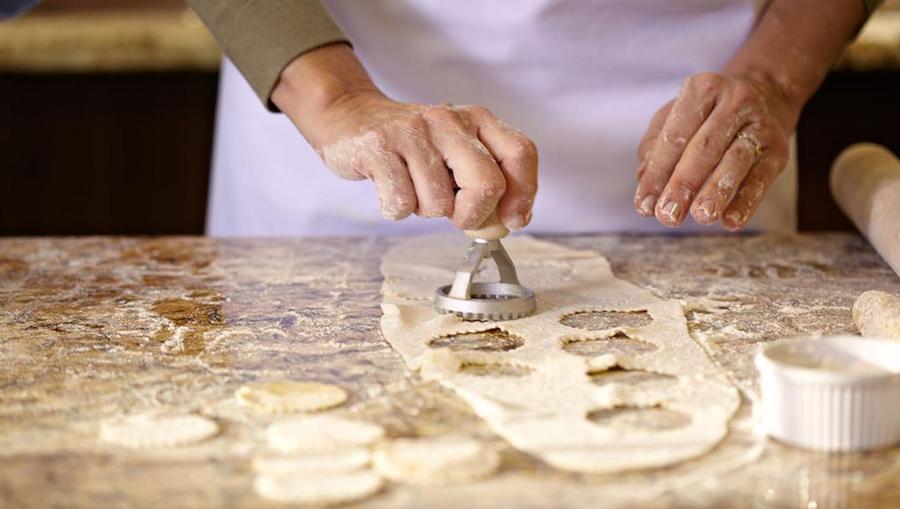 Guests traveling aboard Marina and Riviera also have the opportunity to take Oceania Cruises' exclusive Culinary Discovery Tours. During your day ashore, you will be treated to an authentic experience of the regional cuisine. Tours include visits to local markets, cooking demonstrations, and dining at renowned local restaurants. Once back aboard, you can practice the new skills you've learned at The Culinary Center. Oceania Cruises offers Culinary Discovery Tours in the Mediterranean, Northern Europe, Mexico & the Caribbean, and South America.
Onboard Dining Enhancements
OceaniaNEXT
If the remarkable restaurants and cuisine experiences weren't enough, Oceania Cruises has taken onboard dining to the next level with the OceaniaNEXT enhancements. OceaniaNEXT introduced over two dozen new menu items at the Grand Dining Room, a significantly expanded Sunday Brunch, a reimagined menu at Toscana, poke bowls at Waves Grill, and a selection of regional specialties at Terrace Café. Guests will also enjoy elevated service at all venues thanks to increased staff and an electronic ordering system.
Related: Tempt Your Taste Buds with OceaniaNEXT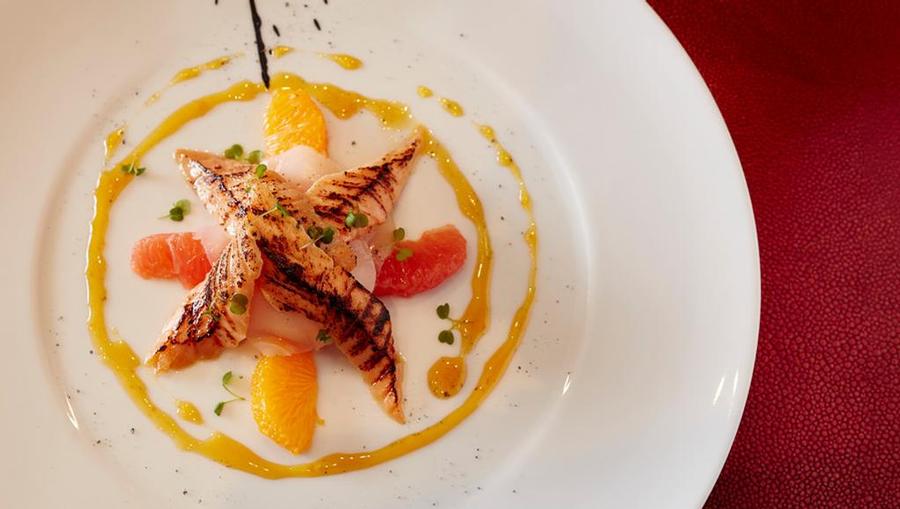 With its enhanced dining programs, Oceania Cruises continues to live up to its claim of having the finest cuisine at sea. The onboard offerings represent a showcase of culinary creativity and excellence sure to satisfy all tastes.
Check out our featured Oceania Cruises Deal and speak to a Travel Planner in the Avoya Travel NetworkTM today to cash in on exclusives.