River cruises provide a unique opportunity to get up close and personal with the extraordinary destinations you visit. They are very popular throughout Europe, with cruise operators like AmaWaterways offering amazing itineraries like an enchanting and luxurious 7-Night Rhine river cruise.
The cruise departs from Basel, Switzerland on May 19, 2022, and makes its way to Amsterdam, Netherlands on May 26, 2022, onboard AmaWaterways AmaSiena. Enjoy a front-row seat to a host of incredible destinations and marvel at the magnificent castles, grand cities, timeless villages, and historic sites along the way.
Here's an overview of all of the perks available onboard the ship and a closer look at your magical itinerary as well.
Contact a Travel Advisor in the Avoya Travel NetworkTM or browse here to see everything AmaWaterways River Cruises has to offer for your next vacation.
What to Expect Onboard AmaWaterways AmaSiena
Part of the reason why this 7-Night Rhine river cruise may be the best river cruise to take in Europe is that it is onboard AmaWaterways AmaSiena. Christened in 2021, this 156-passenger ship provides each guest with ample personal space so that they can truly enjoy themselves on board.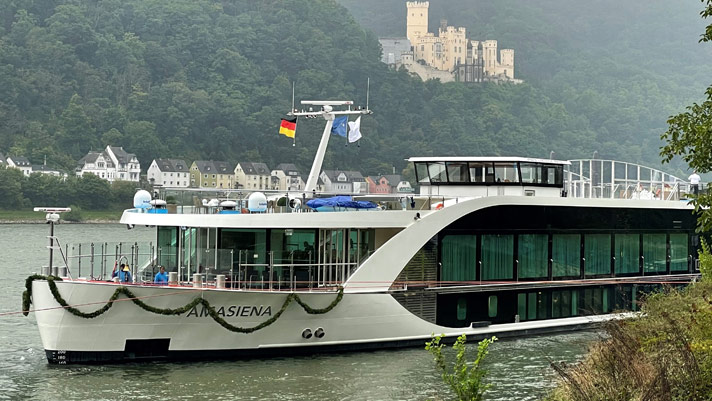 AmaWaterways AmaSiena
It boasts spacious staterooms that feature AmaWaterways' signature twin balconies, which offer panoramic views of the gorgeous riverbank.
Another perk of traveling onboard AmaWaterways AmaSiena is the fantastic choice of dining venues, which includes the Main Restaurant and the specialty restaurant Chef's Table. The Main Lounge also serves delicious tapas to satisfy all of your cravings.
When you aren't dining, there are many other inviting public spaces on the ship where you can relax and unwind. Due to the limited number of guests onboard, you won't have to contend with crowds on the sun deck, in the refreshing pool, or in the fitness room. The ship is also home to a salon where you can get a massage or a beauty treatment to help you feel your best.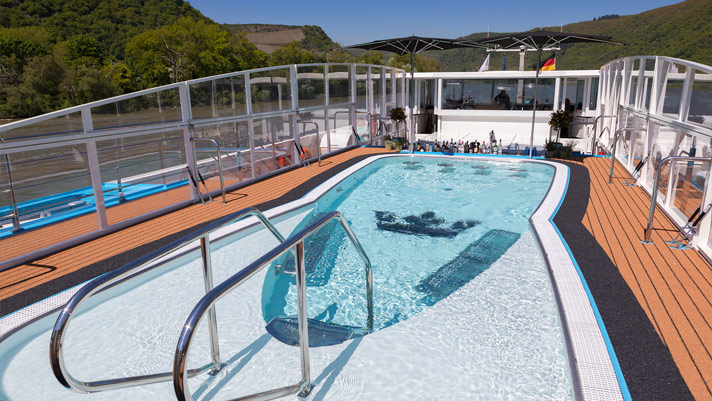 AmaWaterways AmaKristina Pool Deck
When booking your trip, you will be able to select from a choice of accommodations to suit your budget and your travel preferences. The outside staterooms provide plenty of floor space and excellent views from the water-facing windows, while the staterooms with a balcony let you breathe in the fresh air and let the breeze into your space.
For the ultimate in luxury travel, book a balcony suite with 350 sq. ft. of living space and your own personal veranda. Each suite and stateroom feature spacious bathrooms where you can pamper yourself and a large wardrobe to fit all of your belongings.
What You can Experience on the 7-Night Europe Cruise Itinerary
There couldn't be a better ship than AmaSiena to cruise the Rhine River nor a more exciting itinerary. On day one, the cruise begins with embarkation in Basel, Switzerland.
On the second day, AmaSiena arrives in Breisach, Germany, where travelers have the choice between a number of different excursions. The historically inclined will enjoy a walking tour through the 16th-century town of Riquewihr. Another option is to visit the beautiful Gothic cathedral in Freiburg, which was built in 1120. For those looking to do some physical activity, a cycle tour through the countryside or a hike in the Black Forest are also available.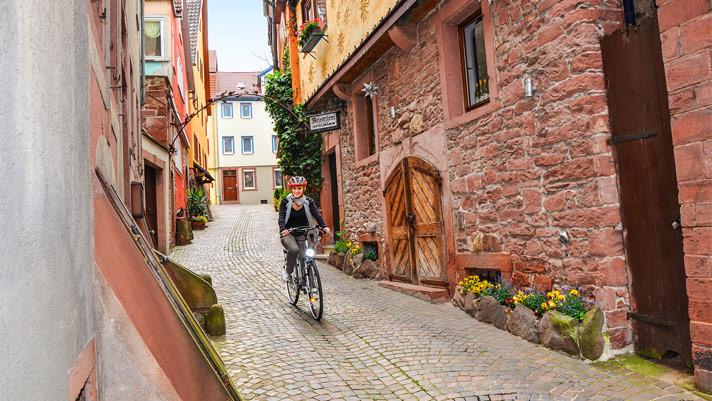 AmaWaterways Cycle Tour Excursion
On day three, the cruise heads to France, specifically to Strasbourg, the capital of Alsace. Due to its location on the border of France and Germany, Alsace offers the flavors of both nations. Here, you can opt for a walking or bike ride tour of iconic landmarks like the Cathédrale de Nôtre Dame, European Parliament, and Parc de l'Orangerie. You can also enjoy a stroll through the fairytale-like "La Petite France" district, a UNESCO World Heritage Site.
The next day, you will embark in Ludwigshafen, Germany, and have a choice of several fun excursions. One option is to pay a visit to the preserved medieval city of Heidelberg in the Neckar River Valley. Another excursion is offered to Speyer, one of the oldest cities in Germany that is known for its large Romanesque cathedral.
Day five brings travelers to Rüdesheim, a German town with a selection of different activities to take part in. Options include taking a gondola ride up to panoramic views, sampling a selection of Riesling wines, going on a vineyard hike, and taking a bike tour along the river. In the afternoon, you can also take a sailing excursion along the Rhine River Gorge.
On the sixth day of the cruise, you will have the opportunity to explore Cologne, which is home to Cologne Cathedral, a revered Gothic masterpiece. Join a guided tour of the Old Town and the cathedral, take a bike ride along the river, or head to a local tavern for a taste of the beer.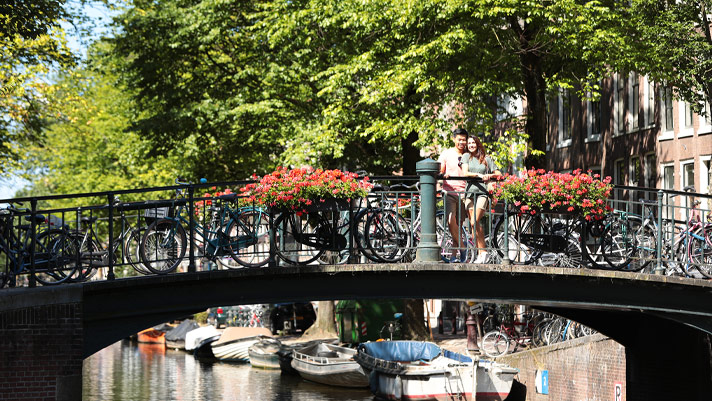 Explore Amsterdam on an AmaWaterways river cruise
On day seven, the cruise comes to its final stop: Amsterdam. This beautiful historic city is steeped in art and architecture to explore, with many different choices for how to take it all in. You can take a walking tour to taste Dutch specialties among the gabled houses, narrow bridges, and traditional canals, or you can take a scenic boat tour of the canals themselves.
If you're looking for the best river cruise to take in Europe, this 7-night Rhine river cruise onboard AmaWaterways AmaSiena from Basel to Amsterdam should be at the top of your list.
Set sail on a luxurious ship to unforgettable destinations and make memories that will last a lifetime. Make sure you book through Avoya to take advantage of excellent AmaWaterways deals for your next vacation.
Call the number at the top of this page to be connected with a Travel Advisor in the Avoya Travel NetworkTM who can help you get the best price, navigate COVID-19 restrictions, and answer any questions you have about AmaWaterways River Cruises.