Dreaming of exploring Spain, Italy, France, and other Mediterranean gems?
Now is your chance to experience it all on this dreamy 2023 Regent cruise that will take you on an all-inclusive voyage around the Mediterranean Sea. From the one-of-a-kind shore excursions to world-class amenities, you're bound to have an unforgettable getaway.
Regent's Seven Seas Voyager features entertainment for everyone. Adults can enjoy state-of-the-art fitness facilities, live shows, and a casino. And if you decide to bring the kids along, they can enjoy games, craft projects, movies, and more with the Club Mariner Youth Program.
Each day, you'll also get to experience some of the most exciting destinations in the Mediterranean. Here's what you can expect from your 2023 Regent cruise from Barcelona to Venice.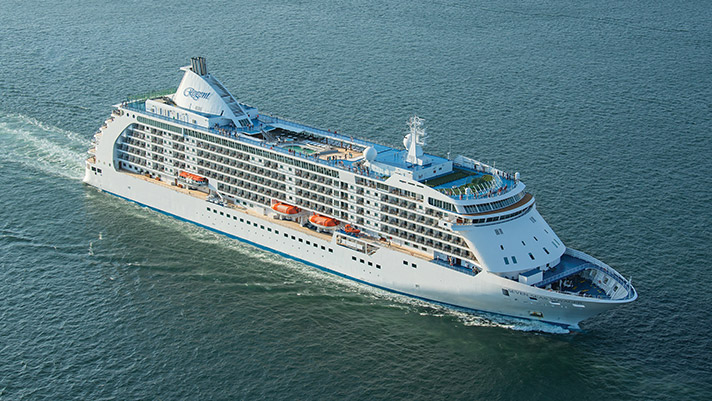 Seven Seas Voyager
Contact a Travel Advisor in the Avoya Travel NetworkTM or browse here to see everything Regent Seven Seas Cruises has to offer for your next vacation.
Your Mediterranean Cruise Itinerary
Day 1 - Barcelona, Spain
Your luxury cruise starts in Barcelona, where you can experience the beauty of its historical churches and lush beaches before setting off from the Barcelona port.
You have the choice to begin your vacation early by taking a three-day Barcelona excursion to explore the city. You can see magnificent sites such as the Abbey of Montserrat and Parador De Cardona and enjoy beautiful hotels and complimentary meals before being transferred back to the pier for your luxury cruise.
Day 2 - Marseille, France
On day 2 of the trip, you'll arrive at 8 a.m. in beautiful Marseille where you'll have all day to explore the city's quaint cafés and shops as well as landmarks like the Romanesque-Byzantine Notre Dame de la Garde Basilica.
Whether you want to see the best spots in the city or explore the breathtaking surroundings of Provence, various shore excursions are available to choose from. For instance, the Aix-en-Provence Cheese & Wine tour allows you to experience stunning countryside views and 200-year-old plane trees before tasting delicious local wines and cheeses at La Fromagerie du Passage.
Day 3 - Monte Carlo, Monaco
After a relaxing jaunt along the French Riviera, you'll arrive in Monte Carlo, Monaco on day 3. With the whole day open to explore the international capital of luxury, you can check out art galleries, palaces, cathedrals, casinos, and plenty of world-class fashion boutiques.
You can also enhance your trip with many exciting shore excursions. Tour the Côte d'Azur, see the quaint walled hamlet of Saint-Paul-de-Vence, visit the Rothschild Foundation, or even create your own signature scent at Molinard perfumery.
Day 4 - Livorno, Italy
On day 4, you'll arrive in Livorno, Italy. With its scenic seaport and canals, this Tuscan gem has the same romantic vibes as Venice. You'll have plenty of time to explore Nuova Venezia, check out local landmarks, and grab some mouth-watering fresh seafood.
You can also take one of the exciting Livorno excursions. Whether you want to drive through Florence, visit Pisa, bicycle around Lucca, or escape to the Bocelli countryside, there's something for everyone. We recommend you try wine tasting and lunch at San Miniato.
Day 5 - Rome (Civitavecchia), Italy
On day 5 of your luxury cruise, you'll arrive at Civitavecchia where you'll be whisked off to one of the world's most famous cities – Rome. From St. Peter's Basilica to the Sistine Chapel and the Colosseum, visitors will have more than enough time to explore renowned landmarks and try world-famous food.
Regent's city excursions can help you hit as many famous landmarks as possible. Alternatively, you can head out to the Casale Marchese wine estate to try local wine and even take a pizza-making class. Tours to Lake Bracciano, Tolfa, and other great locations are also available.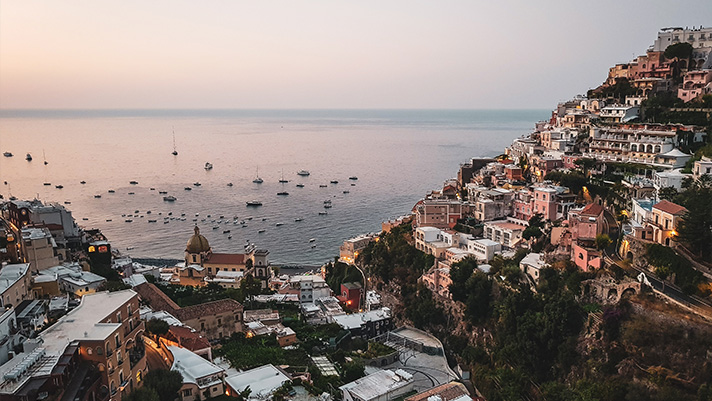 Positano, Italy
Day 6 - Positano, Italy
Next, you'll stop at the breathtaking cliffside village of Positano, known for its jaw-dropping natural views. Here, you'll have the opportunity to take incredible pictures, try local seafood, and take excursions around the Amalfi Coast.
Shore excursions you can choose from include exploring the scenic Villa Rufolo or wine tasting in Sorrento. You can also visit other various characterful villages along the world-renowned Amalfi Coast to make the most out of your day in Positano.
Day 7 & 8 - Kotor, Montenegro
After a day of cruising the Strait of Messina, you'll arrive in Kotor, Montenegro on day 8. This coastal town is one of the most underrated destinations in the Mediterranean. Laced with rich history and incredible views, the entire region is a UNESCO World Heritage site with plenty to see and do.
Regent's excursions can help you explore the highlights of Montenegro, including Kotor's walled Old Town, the Cathedral of Saint Tryphon, the Museum of King Nikola, and the Budva Riviera. You can also take tours to local wineries and lakes or even take a traditional Montenegrin cooking class.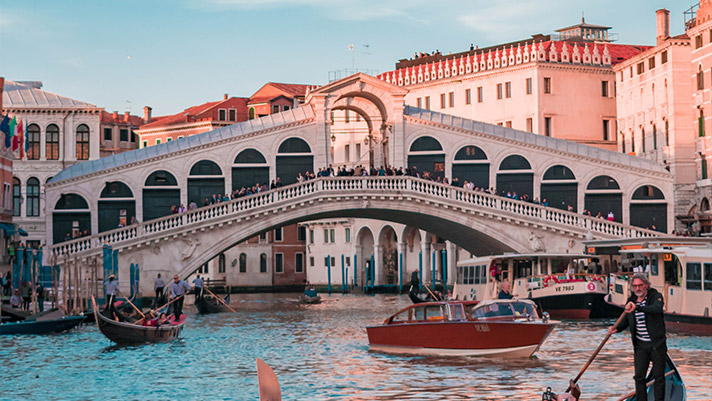 Venice, Italy
Day 10 - Venice (Trieste), Italy
The final port of call is Trieste – a scenic town in northeast Italy. You can taste delicious local dishes, shop at designer boutiques, find souvenirs at regional markets, or take scenic tours to wineries, caves, and castles.
You can also take a guided excursion to picturesque Venice, known as one of the most romantic cities in the world. Tour the city's satellite islands by motor launch or explore Venice at your leisure. You can even spend an extra day here before heading home.
Book With Confidence
Ready to explore the Mediterranean in style and benefit from world-class amenities?
You can book your spot on this luxurious 2023 Regent cruise from Barcelona to Venice with confidence by speaking to one of Avoya's Independent Travel Advisors.
Call the number at the top of this page to be connected with a Travel Advisor in the Avoya Travel NetworkTM who can help you get the best price, navigate COVID-19 restrictions, and answer any questions you have about Regent Seven Seas Cruises.