With winter on the horizon, it's the perfect time to start looking for your next summer cruise. Don't miss your chance to explore the stunning Mediterranean and discover several spectacular Greek destinations on an enchanting 7-Night Holland America cruise that is set to sail from June 25 to July 2, 2022.
The cruise departs from Venice, Italy on Holland America's Oosterdam, travels through the Adriatic isles, and completes its journey in Athens, Greece. While sailing, guests can enjoy the wonderful amenities and entertainment options this luxurious ship offers. Here is an overview of some of the ways you can spend your time onboard, as well as a more in-depth look at your itinerary for this 7-Night Greek Enchantment adventure.
Contact a Travel Advisor in the Avoya Travel Network™ or browse here to see everything Holland America has to offer for your next vacation.
Oosterdam: Ship Overview
One of the best parts of this 7-Night Europe Cruise is that it takes place onboard Holland America's Oosterdam, a mid-sized cruise ship designed to provide for all of its guests' comfort and entertainment needs. This Vista-class ship has a length of nearly 1,000 ft. and can carry a total of 1,964 passengers. It was originally constructed in 2003 and then refurbished in 2007. The ship has also come out of the dry dock with a host of exciting new updates to enrich your experience onboard!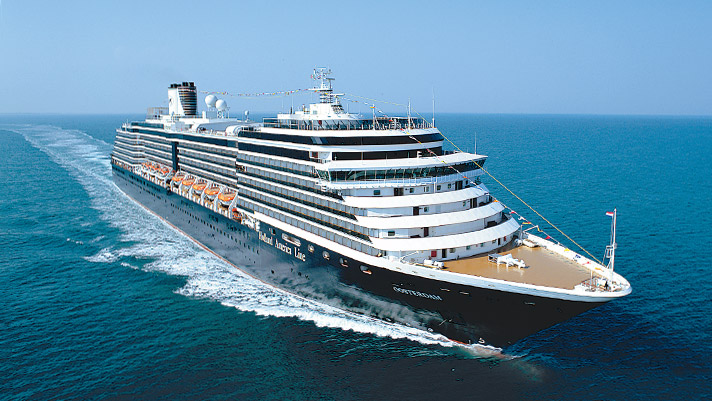 A look at the gorgeous Holland America ship, Oosterdam.
Oosterdam does not disappoint with its wide selection of included onboard activities. Guests can head to Lincoln Center Stage for a lively showcase of chamber music ranging from the classics to contemporary compositions. More live music is available in the form of Memphis R&B at B. B. King's Blues Club and at Billboard Onboard, where talented pianists play all of your favorite hits.
You can also try your luck at the Casino or try your hand at the more family-friendly activities in the games room at High Score! Other fantastic entertainment options include the BBC Earth in Concert, cultural encounters at Explorations Central, and innovative shows at World Stage.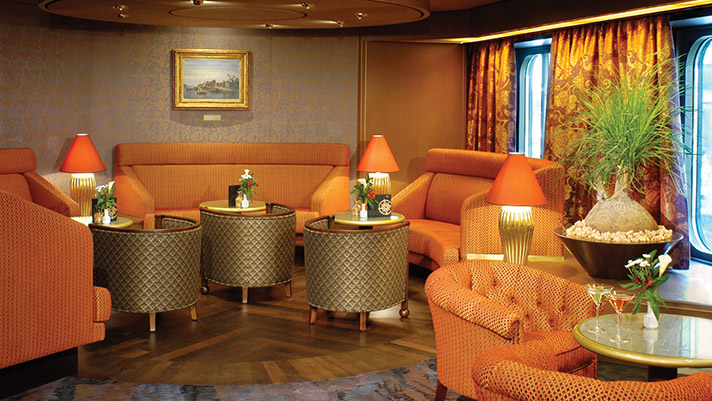 Relax and enjoy a nice cocktail in the Explorer Lounge onboard Oosterdam.
When it's time to dine, Oosterdam offers no shortage of places to eat. The flagship dining experience on the ship is The Dining Room, your main stop for breakfast, lunch, and dinner. The more casual Lido Market is also a great spot to stop for a meal or a light snack, while the upscale Pinnacle Grill offers the best steak and seafood at sea. Canaletto has a relaxing vibe and provides delicious, authentic Italian cuisine. Other dining options include the poolside Dive-In grill and the scenic Explorations Cafe. Guests can also request 24-hour in-room dining to their suites and staterooms.
Enjoy a gourmet dinner at the Pinnacle Grill.
Speaking of suites and staterooms, there are a variety of accommodations available on Oosterdam. Guests can choose between spacious inside cabins, ocean view cabins, and cabins with verandas. For an even more luxurious experience, the Signature, Neptune, and Pinnacle suites offer additional space and amenities.
A Sneak Peek at Your Greek Adventure
While you enjoy the amenities on Oosterdam, your itinerary will transport you to the Greek adventure of a lifetime. Your journey begins in Venice, Italy, the enchanting city built on the water. This beautiful floating labyrinth is known for its romantic canals and striking architecture, which you will have the chance to explore before leaving for your excursion. The cruise will depart from Venice at 5 PM on the first day.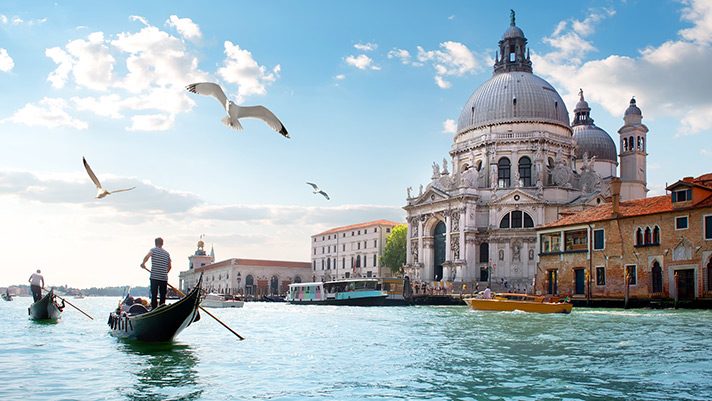 Experience a romantic Gondola ride in the iconic Venice, Italy.
On the morning of the second day, Oosterdam arrives in Split, Croatia, and travelers have the whole day to discover this lively locale. Several port activities are offered, including a stroll through the city's charming and historic Old Town, a visit to the gorgeous Croatian countryside, and an excursion to the waterfalls and cascades of Krka National Park.
The cruise continues in Croatia on day three, stopping at Korcula, the country's sixth-largest island. Here, travelers can explore the town, go sea kayaking, or pay a visit to the vineyards.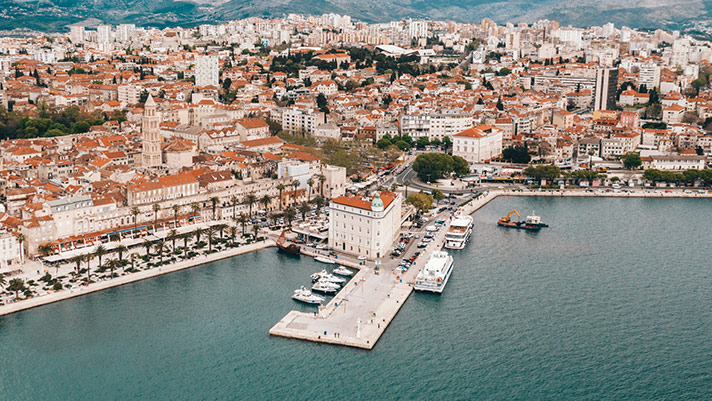 Discover the charming town of Split, Croatia.
After a day spent at sea in which you can take time to enjoy more fantastic onboard experiences, the cruise arrives at Santorini, the jewel of Greece's Aegean Islands. Known for its scenic bay and giant volcanic caldera, Santorini is an unforgettable destination. Port activities include a mountain motorcoach tour, a journey through the island's hidden villages, and sunbathing at the breathtaking Perissa Beach.
The following day, the cruise heads to Rhodes, which is among the most visited of the Greek islands and the largest of the Dodecanese. You can delve into the history and architecture of this ancient locale through many available tours.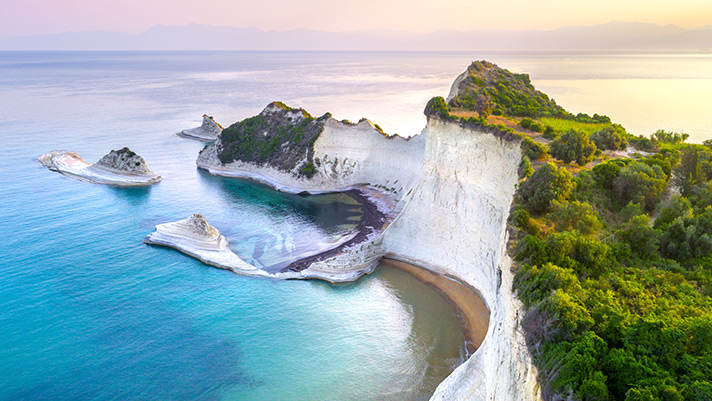 Revel in the most romantic scenery in Corfu, Greece
On day six, Oosterdam makes port in Kusadasi, Turkey, which serves as the gateway to one of the ancient world's most important cities: Ephesus. It is a city brimming with historic sites and ancient wonders, like the Great Theater where St. Paul preached and the ruins of the Temple of Artemis. Cruise guests can select from a number of fascinating tours during their stay.
Finally, the cruise comes to an end back in Greece, with a morning arrival in Piraeus, a port town that provides access to famed Athens. See the legendary sites, explore the bustling markets, and experience the nightlife of this fabled city.
If a Greek adventure to Santorini and beyond sounds like the ideal cruise for you, call Avoya Travel to book this amazing Holland America Itinerary today. Secure your suite or stateroom and start dreaming about your Greek getaway as well as all of the relaxation and enjoyment to be had onboard Oosterdam.
Call the number at the top of this page to be connected with a Travel Advisor in the Avoya Travel NetworkTM who can help you get the best price, navigate COVID-19 restrictions, and answer any questions you have about Holland America Cruise.