What if you could travel across the United States and Canada without having to enter a stressful, bustling airport or sit in a cramped car for hours on end? What if you could roam freely, enjoy a cocktail, and take in the scenic views as you traverse the states to your next iconic destination?
Well, you can with the help of Amtrak Vacations, Rocky Mountaineer, and Railbookers! With their idyllic itineraries, you can tour must-see sites while traveling in comfort from stop to stop aboard a dreamy train ride.
Train travel is a unique vacation style offering many benefits to those who explore this option. With a more relaxed pace, breathtaking views, easy access to must-visit destinations, and various types of accommodations – families, couples, and solo travelers alike are sure to have an unforgettable experience from beginning to end.
Contact us to be connected with a Travel Advisor in the Avoya Travel NetworkTM to learn more about your vacation options and how you could save on your dream getaway.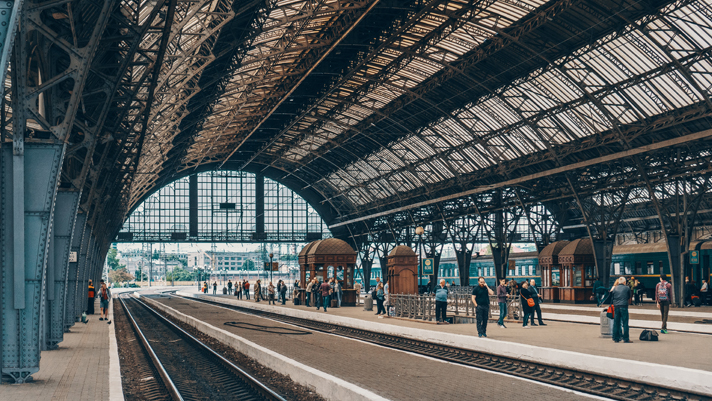 As travelers prepare for their vacations, the thought of entering an airport can cause some undue stress. From checking bags to security lines, flight delays, and more, situations can arise making the start of your vacation less than extraordinary. But what if you could set all that aside for a smooth and seamless travel experience?
When traveling by train with Amtrak Vacations, you only need to arrive at the station thirty minutes before your departure time instead of hours earlier than you would at an airport. You can also avoid the anxiety-inducing takeoff and landing, potential turbulence, and the crowded plane cabin.
Take advantage of Amtrak Vacations' generous luggage policy, which permits two personal items plus two carry-on bags that can be stored in overhead compartments and hop onboard without worrying about space scarcity or your luggage getting lost. No need to stress about those pesky limits on liquids either! You also have the option to check up to four bags (with two being free!) at select stations – just make sure to arrive sixty minutes before departure in these instances.
The Journey Is Part of the Adventure
Typically, when you book your vacation, the fun starts once you get to your desired destination, but what if the journey to get there was just as amazing? With train travel, it is!
When journeying with Amtrak Vacations, there are plenty of things to experience on your ride. Spend some time in the Observation Car taking in the passing sights, head to the dining car and enjoy a full meal, or make a quick stop at the snack car for a bite on the go. Complimentary WiFi for general web browsing is also available on most trains and there's no need to stress about putting your phone in airplane mode – you can stay connected on the go!
Rocky Mountaineer also offers incredible experiences when traveling aboard their luxurious trains. Enjoy glass-dome coaches for optimal viewing, delight in a delicious meal served at your seat or the lower-level dining area, and get even closer to the sights (with the bonus of some fresh air) at their outdoor viewing area or platform.
Train travel allows you to simply unplug, unwind, and potentially meet some new friends along your carefree adventure.
Convenient Access to Must-See Destinations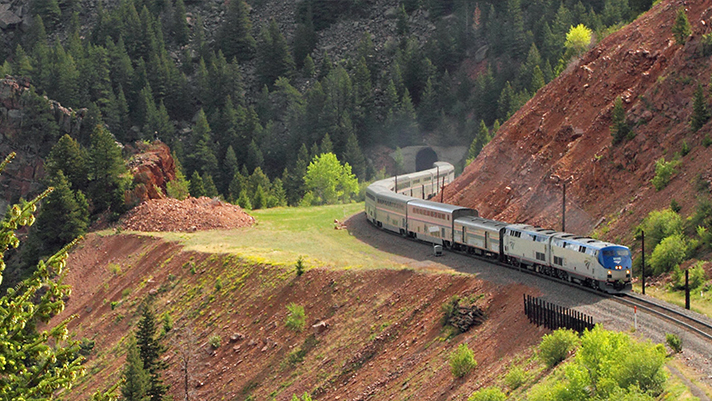 As you journey across the United States or Canada by rail, you have some of the world's greatest sites at your fingertips. Easily traverse through vast canyons and expansive deserts on your way from Moab to Denver and gaze upon stunning arches, impressive hoodoos, and more on and off the train. Or select an itinerary that glides through Glacier National Park and take in the magnificent alpine scenery and other historic landmarks.
Once you arrive at each destination and depart the train, the convenience doesn't end as your immersive explorations begin. Unlike air travel, a major benefit of train travel is it allows you to be dropped off right in the heart of your desired location. Once again, you get to avoid the potential pitfalls of the airport, and in most cases, take a short stroll to your hotel or any major attractions you wish to see. Your train will take you from city center to city center or site to site, allowing for the most efficient use of your time to make more lifelong memories.
Impressive Accommodations
With different levels of accommodations for families, couples, and solo travelers, train travel truly suits everyone. Whether passengers choose coach or first class, this style of travel falls among the most comfortable of options.
When booking coach class itineraries on Amtrak Vacations, guests can look forward to wide, reclining seats with ample legroom and no middle seat. Passengers can also enjoy at-seat trays, reading lights, and electrical outlets in close proximity.
If you would like to travel with a little more privacy, various first-class accommodations can be selected. The smallest of private rooms, the Roomettes, feature two comfortable seats by day that transform into upper and lower-level beds by night. Each room includes a large scenic window, cozy bedding, towels and linens, and access to a restroom and shower in your car. The Bedroom provides twice the space as the Roomette with similar day-to-night transformations but with the added bonus of an in-room sink, restroom, and shower.
Enjoy stunning views from the Viewliner Roommette aboard an Amtrak Vacations train.
For those looking for a more lavish train travel experience and even more space, the Bedroom Suite is just for you. If you're traveling with children, consider the Family Room, which spans the width of the car and comfortably accommodates two adults and two children.
Choosing one of the first-class accommodations also allows you to enjoy the luxury of a dedicated first-class attendant who will provide turndown service and help with meals and luggage throughout your travels. In addition, all first-class passengers can take advantage of complimentary lounge access at major stations, priority boarding, and complimentary meals.
Experience Train Travel & Book With Confidence
This one-of-a-kind vacation option is gaining popularity as people discover the magic and benefits of train travel. Leave the stress behind and give this unique, yet extraordinary escape a try. You never know, it may be your favorite vacation yet! Call Avoya Travel to speak to one of our Independent Travel Advisors and start planning an incredible locomotive journey today.
Call the number at the top of this page to be connected with a Travel Advisor in the Avoya Travel NetworkTM who can help you get the best price and answer any questions you have about booking your vacation.