The boutique cruise line, Windstar Cruises, reaches lesser-traveled ports-of-call and offers a high level of service with "smaller ships for a bigger adventure." The smaller vessels and lower number of passengers give way for elegant intimacy, which means the crew can get to know you better and deliver truly personalized service.
Experience the jewels of Greece onboard Wind Star, a unique, four-masted sailing cruise ship that gives travelers a feeling of being on a lavish yacht. Wind Star features wide-open teak decks, which are rare for small cruising vessels, and there are hidden nooks for special moments, providing a feeling of being on your own secluded veranda.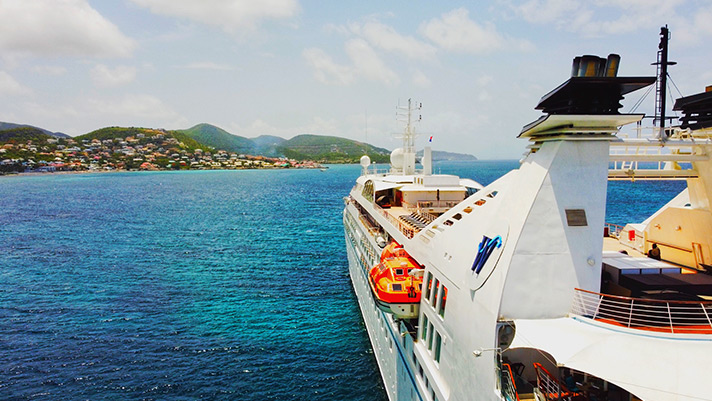 Wind Star's onboard amenities include 73 all-deluxe Oceanview cabins appointed with plush queen-sized beds. There are also two primary dining venues onboard Wind Star plus an option for a specialty dining experience. 'Amphora' is a gourmet restaurant serving up course-by-course cuisine perfect for evening meals. 'Veranda' is a relaxed, casual buffet and full-service dining venue excellent for breakfast and lunch.
To make an evening extra special, reserve your table at 'Candles' for dinner under the stars. Looking to unwind? Retreat to the WindSpa for the ultimate relaxing experience. You can also enjoy kayaking, waterskiing, windsurfing, swimming, and more at the Watersports Platform. The ship's amenities include a casino, lounge, and library as well. Onboard Wind Star, luxury is nothing but personal.
Athens is Wind Star's departure point, a city that requires almost no introduction. This legendary metropolis is your embarkation port for Greece cruises and there couldn't be a more magnificent setting to enjoy the evening departure from the Piraeus harbor and the return after your Windstar cruise ship's voyage.
Mykonos
Mykonos is among the most famous of the Greek islands and is part of the Cyclades region in the beautiful Aegean Sea. Mykonos is renowned for its fabulous nightlife and summer party atmosphere. The beaches such as Paradise and Super Paradise feature bars and massive dance clubs that attract the world's top DJs mixing thumping music well past dawn.
Mykonos is an essential destination on Windstar cruise itineraries, with its iconic landmarks, including a row of windmills from the 16th-century which sit on a hill above Mykonos town. Mykonos offers fantastic beaches, a chic lifestyle, delicious Greek food, beautiful nature, and picturesque villages.
Kusadasi
On the country's western Aegean coast, south of Izmir, the beach resort town of Kusadasi is a major cruise ship destination and a jumping-off point for the classical ruins of nearby Ephesus. Hotels and restaurants adorn its seafront promenade bordering the marina and harbor. On Pigeon Island, just offshore, is a walled Byzantine castle that once guarded the town.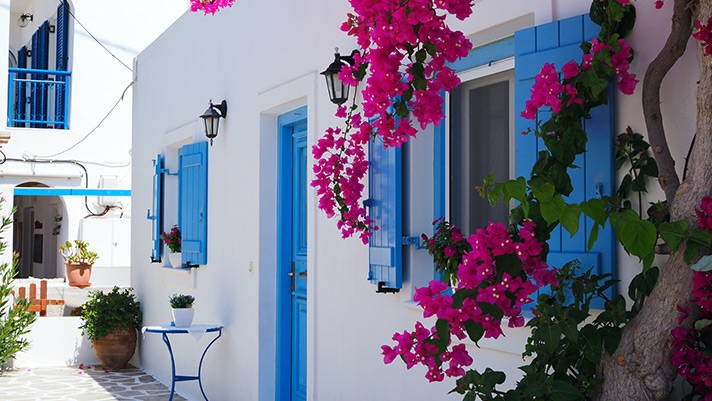 Kusadasi, one of the most beautiful cities of the Aegean Sea, is among Turkey's most popular holiday destinations and an essential part of the Greece cruise itineraries. Packed with sun, sea, and fantastic weather, Kusadasi is a classic tale of a fishing village turned gorgeous resort town.
Patmos
A significant Christian pilgrimage site, Patmos is an island in the north of Greece's Dodecanese archipelago in the Aegean Sea. According to belief, its Cave of the Apocalypse is where John of Patmos (St. John the Theologian) wrote the Book of Revelations. Because of its steep terrain, Romans made Patmos a place of exile. St. John found safe refuge here in the 1st century AD when the Roman emperor Domitian exiled him.
In 1981, the Greek Parliament designated Patmos as "Holy Island," and UNESCO declared it a World Heritage Site in 1999. At the hilltop capital of Hora, an 11th-century monastery dedicated to the saint overlooks the whitewashed houses of the town. Patmos is a worthy destination for nature lovers thanks to its sheer cliffs bordering the lace-like coastline and volcanic soil.
Santorini
Located between Ios and Anafi islands in the Aegean Sea, Santorini is famous for its dramatic views and stunning sunsets from Oia town. It was devastated by a volcanic eruption in the 16th century, forever shaping its rugged landscape.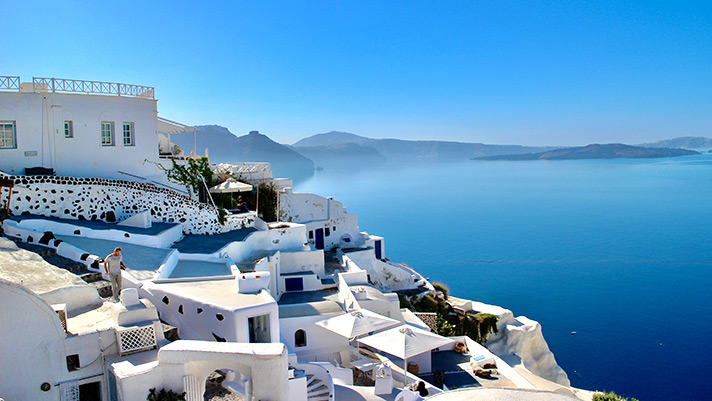 The distinctive, whitewashed houses of its two main towns, Fira and Oia, cling to cliffs above an underwater crater. They overlook the sea toward small islands to the west and beaches of black, red, and white lava pebbles.
Monemvasia
The town of Monemvasia is on a small island off the east coast of the Peloponnese in the Laconia region of Greece.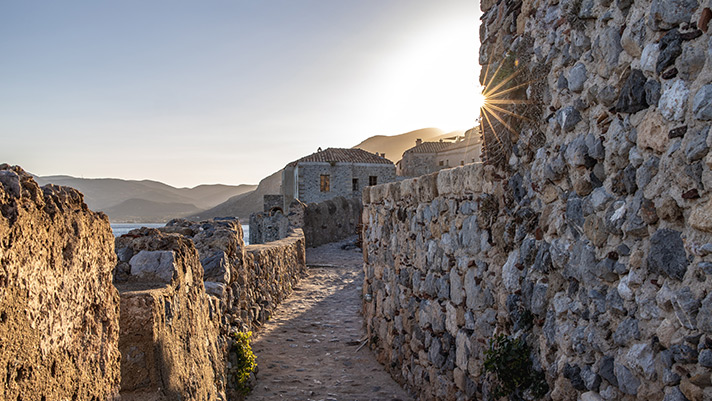 Monemvasia is arguably one of the most romantic places in the country. This incredible ancient castle town is carved onto rock slopes and was initially constructed in medieval times. It has been continuously inhabited since its inception. Monemvasia is one of the country's hidden gems – an enchanting, beautiful little town that will have you spellbound by its charm.
Nafplio
With its beautiful harbor and blue-sea horizons, Nafplio is a coastal city curled around the magnificent Argolic Gulf of the Peloponnese. Take a stroll along the maze of narrow streets nestling hidden squares in the picturesque Old Town. Or enjoy views of the stunning neoclassical mansions which are as enchanting as one could imagine.
Drenched in beauty and history, Nafplio is a lovely place to explore. Picture-perfect views await around every corner. Especially at sunset, it's one of the most romantic places in Greece and a not-to-be-missed destination when you set sail on a Windstar cruise.
Call the number at the top of this page to be connected with a Travel Advisor in the Avoya Travel NetworkTM who can help you get the best price, navigate COVID-19 restrictions, and answer any questions you have about Windstar Cruises..