Head north to Alaska on one of the sightseeing cruises offered by Seabourn and experience the stunning natural beauty of America's Last Frontier while enjoying the luxurious accommodations that only the ship Seabourn Odyssey can offer. A Seabourn vacation is about indulgence and relaxing with the ones you love. Whether you are planning a romantic getaway with your partner or a shared experience with friends and family, get ready to set sail with your fellow cruisers and embark on a journey you will not soon forget.
Seabourn has been working hard behind the scenes to put together Alaska 2022 cruises that offer breathtaking scenery, educational activities, tastebud tantalizing menus, and memorable experiences for all.
Contact a Travel Advisor in the Avoya Travel Network™ or browse here to see everything Seabourn Cruises have to offer for your next vacation.
A Quick Look at Seabourn Odyssey
A look onboard gorgeous Seabourn Odessey.
Regarded as one of the most regal cruise ships to sail around the Alaskan Coast, the Seabourn Odyssey is designed with your comfort in mind, right down to high thread-count soft cotton linens that dress each bed. Onboard this ship, the economy stateroom is anything but ordinary, featuring everything from ocean views to a seating area that is separate from the bedroom, and the accommodations only get better as you upgrade.
While sailing up to Alaska or down to Vancouver, B.C., spend some time playing table games or slot machines at the casino or card games in the card room. Get your daily dose of exercise in the fitness center, which offers complimentary yoga, Tai Chi, and Pilates with a professional instructor as well as weight benches and exercise machines. Guests are also invited to pamper themselves at the salon and wellness center, which provides health and beauty treatments that relax the mind, body, and soul.
Indulge in tasty gourmet meals at Odyssey's dining areas.
Dining onboard Seabourn Odyssey is an experience that is sure to indulge your taste buds. Choose from several gourmet and casual restaurants that offer both indoor and outdoor seating. The meals served aboard the cruise ship are inspired by the regional dishes of the destinations you will travel to, and they are crafted of fresh and local ingredients. Additionally, this ship offers indoor and poolside bars as well as 24/7 room service.
Seabourn's Alaska 2022 Itineraries
And now, let's take a quick look at some of the exciting Alaska 2022 itineraries being offered by Seabourn:
7-Night Alaska Inside Passage & Glacier Bay
Departing from either Vancouver, B.C. or Juneau, Alaska, this scenic 7-Night Alaska Inside Passage & Glacier Bay cruise takes you through the heart of the Inside Passage with stops in Sitka, Ketchikan, the Inian Islands, Haines, and into Glacier Bay National Monument. While on this cruise, you will have the opportunity to partake in land excursions and explore the charming towns.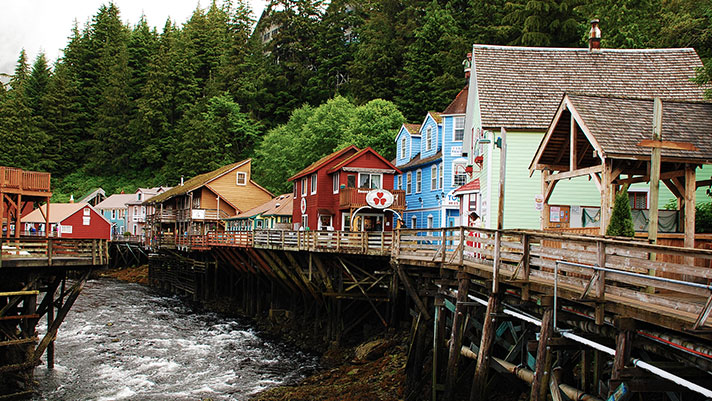 Stroll through the charming town of Ketchikan, Alaska during your luxury Seabourn cruise.
7-Day Alaska Fjords & Canadian Inside Passage
Explore Alaska's untamed wilderness and coastal beauty by way of ship and motorboat tours while on this exciting luxury 7-Day Alaska Fjords & Canadian Inside Passage cruise. You will get the opportunity to see whales and other wildlife as well as glaciers and snowcapped mountains. Ports of call featured on this cruise include Tracy Arm or Endicott Arm, Wrangell, Prince Rupert, and Alert Bay down in the Canadian Passage.
10-Day Alaska Fjords Odyssey
Departing from and arriving back in Vancouver, B.C., the 10-day Alaska Fjords Odyssey is a nature lover's dream. This cruise focuses almost entirely on the exploration of the many fjords that make up the southern coastline of Alaska, with ports of call in Sitka and Ketchikan. Rest and relax on this extended cruise and discover all the fascinating scenery that makes Alaska such a special place.
11-Day Inside Passage & Alaska Fjords
If a standard 7-day cruise is not enough, Seabourn offers an extended 11-day Inside Passage & Alaska Fjords cruise that really allows you to relax and unwind. This cruise departs from Vancouver, B.C., and sails up through the Queen Charlotte Sound, Misty Fjords, Clarence Strait, Snow Pass, and the Inian Islands with stops at Sitka, Ketchikan, and Hubbard Glacier along the way. This cruise gives you an inside look at Alaska's natural history.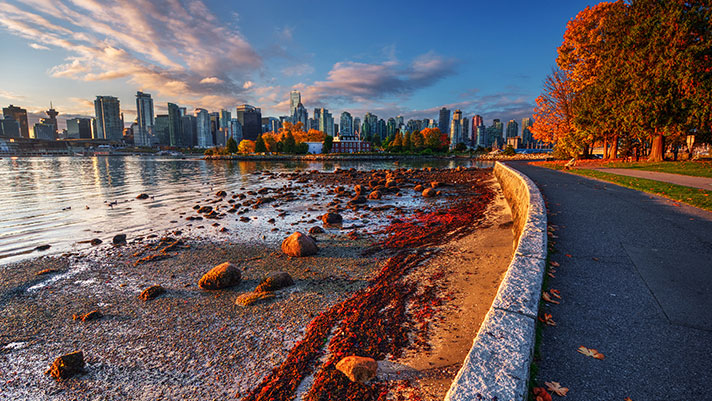 Experience the beautiful skyline sunsets in Vancouver.
14-Day Glacier Bay, Fjords & Canadian Inside Passage
For the ultimate dream Alaskan vacation, consider taking this remarkable 14-day Glacier Bay, Fjords & Canadian Inside Passage cruise along the southern Alaska Coast. This itinerary offers all of the destinations of the shorter cruises plus additional sailing time at places like Seymour Narrows, Decision Passage, and a special stop in Icy Strait Point. This cruise departs from Vancouver, B.C., and arrives back to the same port 14 days later, really making you feel like you have had a break from everyday life.
Set sail with the crew of Seabourn Odyssey for the 2022 sailing season and experience a dream vacation like never before. This ship exudes modern sophistication and offers an amazing lineup of vacation packages meant for adults. Explore the rugged beauty of Alaska in comfort and style while cruising the coastline or disembarking the ship for a fun-filled land excursion.
At Avoya Travel, we work hard to make booking a cruise vacation as seamless as possible so that you can fully immerse yourself in the experience and worry less about the details. Feel free to contact us with any questions or if you would like to move forward in reserving your spot on a dream sailing!
Call the number at the top of this page to be connected with a Travel Advisor in the Avoya Travel NetworkTM who can help you get the best price, navigate COVID-19 restrictions, and answer any questions you have about Seabourn Cruises.