Azamara is back to sailing in a big way, and the cruise line is ready to expand their voyage offerings even further with the acquisition of their new ship, Azamara Onward. The ship was acquired from Princess Cruises and used to be known as the MS Pacific Princess.
It joins the Azamara fleet under its new name, and the 702-passenger vessel will be used to provide travelers with a boutique hotel experience at sea. Azamara Onward's deck plan is identical to its fleet mates Quest, Journey, and Pursuit, providing the same upmarket feel and immersive experience. To give you an idea of what to expect, here are five of the most exciting features to look forward to onboard.
Contact a Travel Advisor in the Avoya Travel Network™ or browse here to see everything Azamara has to offer for your next vacation.
1. Delectable and Immersive Dining Options
Azamara seeks to provide travelers with completely immersive travel experiences, right down to the dining options and cuisine onboard their ships.
Azamara Onward will continue this tradition, incorporating the flavors found at the amazing destinations into the ship's food and drink menus. Guests will be able to choose from a wide selection of incredible restaurants, ensuring that there is something to please everyone's palate.
Enjoy the elegance of Mosaic Cafe while onboard Azamara Onward.
Azamara Onward's deck plan always puts you close to a fantastic dining option. On Deck 5, you can find Mosaic Cafe, a casual coffee shop serving small bites, and Discoveries Restaurant, the main dining room on the ship. On Deck 9 you'll find three more options: a casual buffet, Windows Cafe, a pool grill, The Patio, and an alfresco dinner restaurant, Destination Immersion. Finally, Deck 10 is where you will find the specialty Italian restaurant, Aqualina, and the specialty steak and seafood restaurant, Prime C.
2. Super Stylish Bars and Lounges
In addition to its restaurants, Azamara Onward is home to several chic bars and lounges where you can go to enjoy all of your favorite beverages. Choose from intimate spaces where you can raise a glass in celebration to livelier settings where you can unwind after a day of onshore explorations.
The ship will feature five distinct bars and lounges, each with a different atmosphere to suit your mood. Located just outside of the main restaurant, the Discoveries Lounge is an excellent spot for conversation over drinks like fine wines and premium spirits.
On the same deck, The Den offers both drinks and destination-themed activities to help immerse you in your travels. Two other spots to kick back in comfort are The Living Room, which also features a card room, and Mosaic Cafe, the onboard coffee corner. The Pool Bar will also ensure that you always have a drink in your hand when at the pool.
3. Endless Entertainment Onboard
While you're not busy exploring your cruise destinations, there are numerous ways to keep yourself busy and entertained onboard. Take in one of the classic Broadway cabarets featuring wonderfully talented singers and dancers performing world-renowned Broadway hits.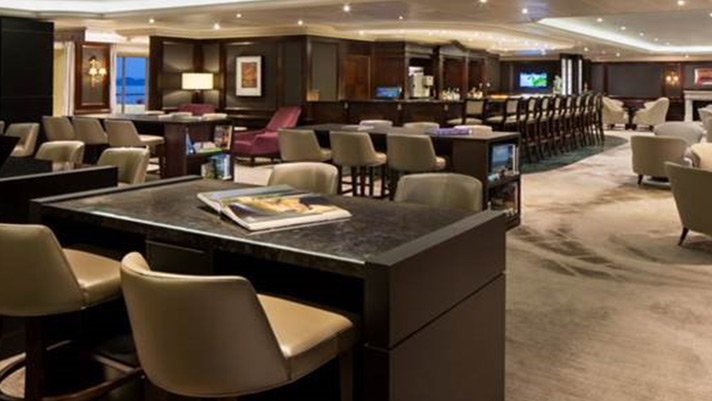 Relax in The Den where you can experience destination-focused activities.
You can check out a variety of other shows and performances as well, including comedy shows, magic shows, and unique instrumentalists. Live music is available both before and after dinner, like a Quartet in The Living Room and a cocktail pianist in The Den.
Later at night, The Living Room also features a dance music DJ for those who want to change into their dancing shoes. Azamara Onward also features Azamara's signature White Nights, an onboard party with a white dress code for cruises over seven nights in length.
4. Luxurious Staterooms and Suites
The Azamara fleet is known for its luxurious accommodations, and this new ship will be no different. Each cruise stateroom is your very own private retreat, complete with a polished style, ocean views, a refreshing sea breeze, and 24-hour room service for everything you could need. Guests are also provided with supremely soft robes and slippers, fresh flowers, French bath products, and additional boutique hotel amenities.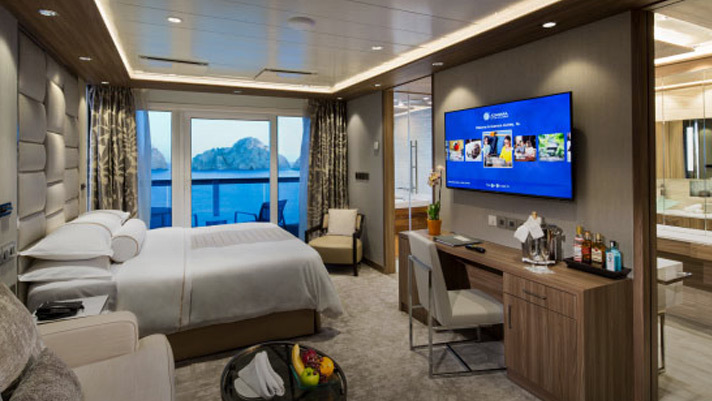 Bask in ultimate luxury as you unwind in one of Azamara's spacious suites.
For even more amenities, upgrade to an Azamara suite. Travel in premium style and enjoy exclusive suite guest benefits like butler service that can assist you with private dinners, private parties, and reservations. Suites also come with ocean views (ocean breeze included) and a private veranda where you can dine alfresco, read a book, or even stargaze.
5. Unforgettable Destinations
Azamara Onward will depart on its christening and maiden voyage on May 2, 2022, an 11-night journey across the Mediterranean. The ship will stay in the Mediterranean in the spring of 2022, visiting destinations like Venice and Athens before embarking on voyages to the Black Sea and Africa over the summer.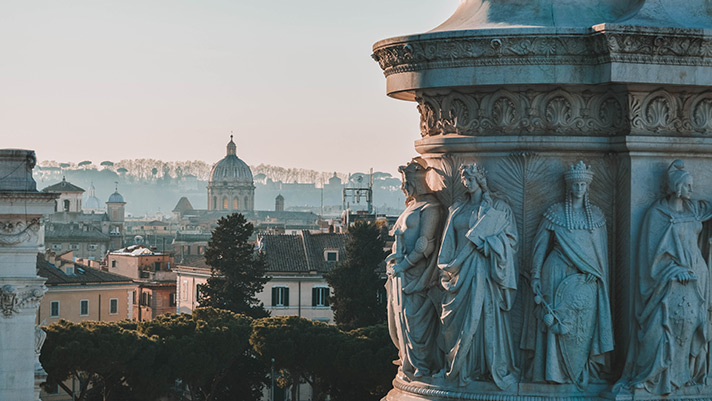 Journey to romantic Rome, Italy while onboard an Azamara cruise.
During the fall of 2022 and winter of 2023, the ship will explore even more of the Mediterranean, visiting Rome, Monte-Carlo, and Istanbul.
In the spring of 2023, it's off to the gorgeous Canary Islands, beautiful Barcelona, and the Amalfi and Dalmatian Coasts. The ship will then travel to the Adriatic, Spain, France, and Croatia before closing out its 2023 season by crossing the Atlantic to Florida and sailing throughout the Caribbean.
With its host of incredible dining options, numerous swanky bars and lounges, a fantastic selection of entertainment, luxurious rooms, and amazing itineraries, Azamara Onward is a top choice for your next vacation. You can book your trip for a 2022 or a 2023 voyage onboard the newest ship in the Azamara fleet with Avoya today. Enjoy all of the luxuries that Azamara is known for as you sail throughout the beautiful Mediterranean and beyond.
Call the number at the top of this page to be connected with a Travel Advisor in the Avoya Travel NetworkTM who can help you get the best price, navigate COVID-19 restrictions, and answer any questions you have about Azamara.