Exotic, lush, and tropical, escape to the Hawaiian Islands on a Princess cruise and enjoy a stress-free vacation that is filled with breathtaking scenery and an array of action-packed and relaxing activities you and your party are sure to love. With Princess Cruises, you can explore all four of the main islands and retreat to an elevated cruise ship for an evening filled with relaxation and state-of-the-art fun.
Let's dive in and explore Princess Cruises' dreamy tropical itineraries in further detail.
Contact an Independent Travel Advisor in the Avoya Travel NetworkTM or browse here to see everything Princess Cruises has to offer for your next vacation.
Hawaii Cruise Itineraries for Everyone
The hardest part of planning an exciting Princess Cruises Hawaii vacation is deciding which remarkable itinerary to choose from! Princess Cruises pulls out all the stops when it comes to offering dream vacations that allow you to relax, unwind, and indulge in fun.
Choose from dreamy cruise itineraries starting at 15-nights that depart from Vancouver B.C., Canada; Los Angeles, California; San Francisco, California; or Seattle, Washington.
Grand Princess
No matter which cruise itinerary you choose, you will be treated to the Aloha spirit from the moment you board your Princess ship. To get the most out of your Hawaii cruise vacation, we recommend booking your land excursions early so you can spend time exploring each of the four main islands: Maui, Oahu, Kauai, and The Big Island.
Maui
Maui, or Lahaina as it is known by natives of Hawaii, is the historical epicenter of the island chain and was once designated as the playground of royal officials under King Kamehameha's rule. Maui is the second-largest island of the chain, and it is home to lush green valleys, the iconic Molokini Crater, and Haleakala State Park.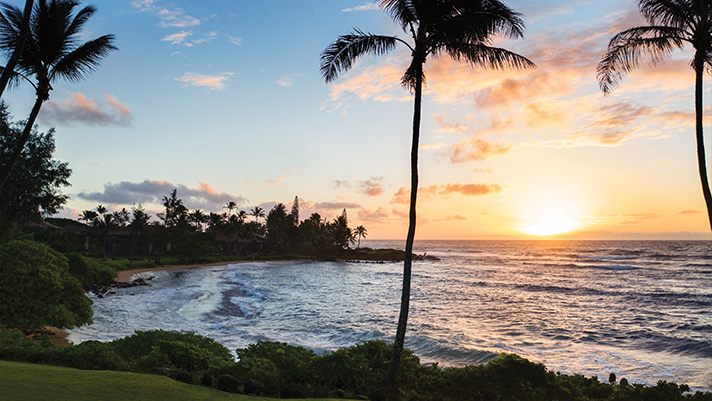 Enjoy the gorgeous beaches and beautiful sunsets on the island of Maui.
While visiting Maui, join in on memorable shore excursions that include whale watching on a guided motorboat tour, snorkeling the coast of the island, the Atlantis Submarine Adventure, a Segway tour of the beach, a guided tour of the pineapple plantation, or a scenic bicycle ride around Haleakala, just to name a few.
Kauai
Kauai, or Nawiliwili, is known as "the garden island" thanks to its lush landscape and picture-perfect views. This island is home to popular points of interest, including the North Shore, Kilauea Lighthouse, Grove Farm Homestead, and Waimea Canyon. Kauai features a small community vibe and is a place where you can really immerse yourself in the local culture while also being able to explore its diverse natural wonders.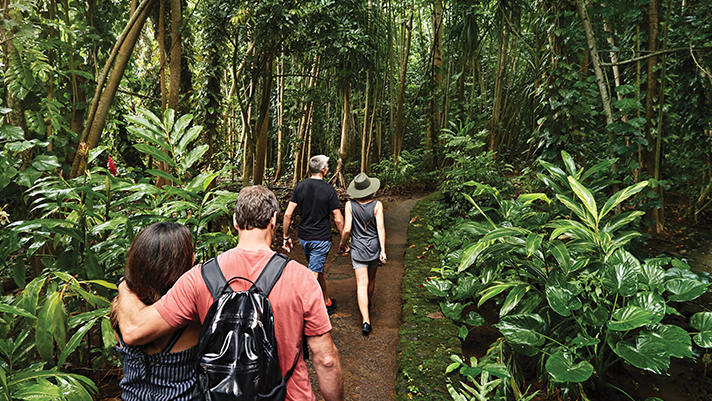 Discover the lush and tropical forests on Kauai.
On this island, Princess Cruises offers 21 exhilarating land excursions, like the Kauai hiking adventure, where you can explore the woodland hills in the company of a local guide; the Allerton & McBryde Tropical Gardens & Waterfall tour, which is a half-day excursion and comes complete with a prepared meal; a Hollywood in Hawaii tour, where you will get to see the filming locations from movies like The Descendants, Jurassic Park, and Pirates of the Caribbean; or take a trip to Kipu Ranch for activities like ziplining and hiking through the jungle.
The Big Island
Every Princess Cruises itinerary includes a port-of-call destination stop at The Big Island, which is one of the most popular islands for tourists who really want to discover the natural side of Hawaii. Not only is The Big Island the youngest of the chain but it is also where you will find Hawaii's largest mountain – Mauna Loa.
Experience Black Sand Beach on The Big Island.
Explore The Big Island on your own and discover glistening black sand beaches as far as the eye can see, a landscape that is enveloped in lush rainforests, and crystal-clear ocean water that begs for you to take a swim or try out your snorkeling skills.
Sign up for one of the 19 land and shore excursions offered by Princess Cruises and partake in adventures like a Hilo town highlights guided tour, a hike around the most active volcanos in America, a trip to the Macadamia Nut Shop and Tropical Garden Zoo, or a Taste of Hawaii culinary event at Hawaii Volcanos National Park.
Oahu
Oahu is home to Hawaii's state capital and largest metropolitan city, Honolulu, as well as many of the prestigious resorts you think of when planning a Hawaiian vacation. Not only is Oahu a powerhouse in the culinary, shopping, and city life scene, but it is also where you will find the historic Pearl Harbor Naval Base and Pearl Harbor & USS Arizona Memorial. Oahu is a cultural hub where you can immerse yourself in the Polynesian lifestyle while enjoying the perks of a dreamy Hawaiian vacation.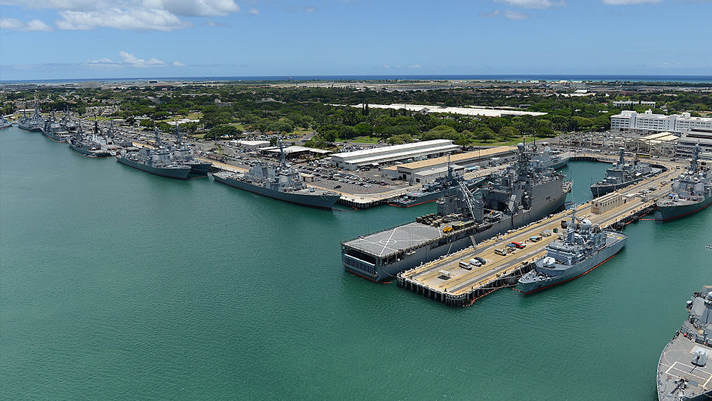 Take a step back in history at the Pearl Harbor Naval Base on Oahu.
Choose a Hawaii cruise itinerary that allows you to spend a few days on the island so you can take in all of the magic it has to offer. Princess Cruises offers 37 land excursions you can take part in while docked at this stunning destination.
When booking your cruise, you can reserve your spot for activities, which include a guided tour of the Pearl Harbor Visitor Center, a scenic van tour of the NaPali Coast, a day of lounging at the iconic Waikiki Beach, or a Tropical Nature Walk through the rainforest.
Book a dreamy tropical getaway to Hawaii onboard a Princess cruise today and embark on a journey to the tropics without having to plan out all the logistics on your own. At Avoya Travel, we are here to help you turn your Hawaiian dream vacation into a reality. Contact us today so we can help you choose the perfect Princess Cruises itinerary for you.
Call the number at the top of this page to be connected with an Independent Travel Advisor in the Avoya Travel NetworkTM who can help you get the best price, navigate COVID-19 restrictions, and answer any questions you have about Princess Cruises.