AmaWaterways' Christmas Markets cruise is one of the most remarkable ways to experience the holiday season in Europe. Get swept away in the European charm as you set sail down the Rhine River and immerse yourself in the local festivities.
Among the most popular offerings from this luxurious river cruise operator is a 7-night journey from Amsterdam, Netherlands to Basal, Switzerland. Complete with stops at some of the most famous Christmas markets in Germany and France, this enchanting cruise is one you don't want to miss.
Contact a Travel Advisor in the Avoya Travel NetworkTM or browse here to see everything AmaWaterways has to offer for your next vacation.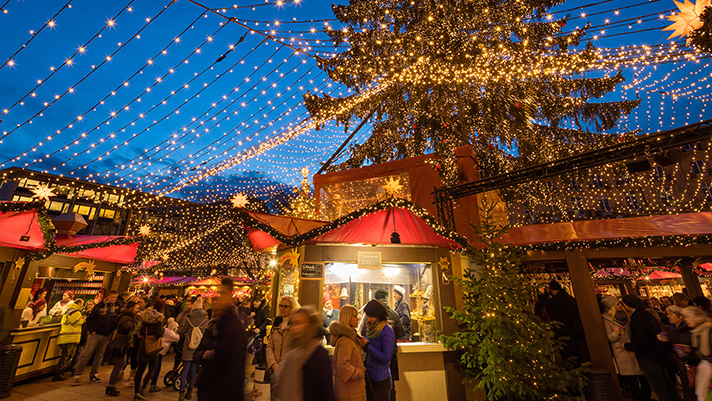 Indulge in the festivities at the Christmas Markets in Cologne, Germany.
Why a Christmas Markets Cruise in Europe is Worth It
The holiday season is easily one of the most wonderful times of the year to visit Europe. As the charming cities become adorned with lights and the air becomes frigid, you'll feel a sense of nostalgia as you bundle up with a warm sweater.
Due to the annual Christmas markets, Europe has become a popular holiday destination. These markets are a European yuletide tradition and a popular local pastime. Conveniently, many of these wonderful shops are set up along some of Europe's most popular rivers. This allows AmaWaterways to bring guests from all around the world to experience these magical events.
As you join AmaWaterways on their dreamy Christmas Markets cruise, be prepared for your senses to be delighted onboard and off. At each port hosting a market, you'll be greeted with beautiful decorations that will get you into the holiday spirit as the aromas of cinnamon and gingerbread waft through the cool crisp air. While you browse the colorful stalls, be sure to sample tasty treats like roasted chestnuts and warm up with some hot mulled wine.
This river cruise also makes it easy to buy gifts for everyone on your list. The stalls are brimming with artisanal handicrafts like ornaments, jewelry, cards, adorable wooden toys, mugs, nutcrackers, soft slippers, and more. When you're finished shopping you can enjoy the variety of other perfectly curated shore excursions AmaWaterways has to offer.
Plus, AmaWaterways indulges their guests onboard their Christmas cruises with a special treat. One night during the journey, guests can leave their cruise-provided slippers outside of their door to be filled with chocolates and candies come morning (a St. Nicholas Day European tradition).
There is no better way to experience the holidays than on an AmaWaterways river cruise through Europe. Not only will you get to see the charming markets and beautiful cities, but the onboard experience promises a relaxed and comfortable journey with luxurious amenities.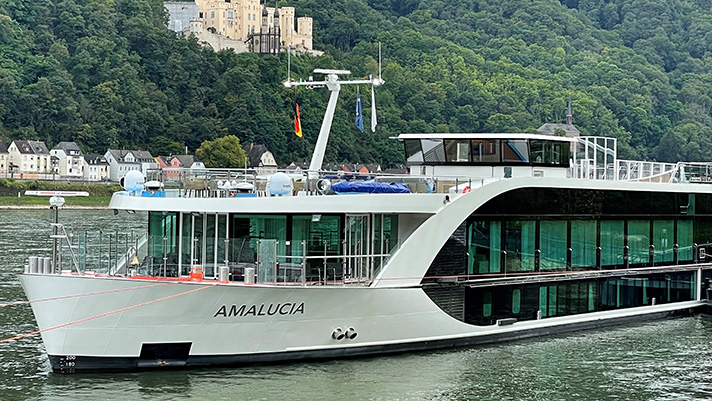 AmaWaterways AmaLucia
Sneak Peek of the AmaWaterways Christmas Markets Itinerary
Here is a brief look at the cities and markets you will enjoy along the way on your AmaWaterways 7-Night Christmas Markets cruise.
Day 1: Embark in Amsterdam
The cruise begins in Amsterdam, the capital of the Netherlands. A city of rich character, Amsterdam is known for its cobblestones, 17th-century architecture, cycling-friendly infrastructure, and numerous museums.
Day 2: Amsterdam Canals
On the second day, you will get to take in even more of Amsterdam by sailing through some of its 165 canals.
Day 3: Cologne
On the morning of the third day, the river cruise sails past the idyllic farmlands of the Netherlands and northern Germany. Upon arrival in Cologne, travelers have a choice of a Cologne walking tour to Old Town, a beer tasting at a local tavern, or a bike tour along the Rhine. Cologne is home to one of the largest Christmas markets in all of Europe, which is set up in front of the Cologne Cathedral, a Gothic masterpiece. Here you can enjoy the ambiance of the markets, shop for trinkets, and indulge in the classic Christmas treats.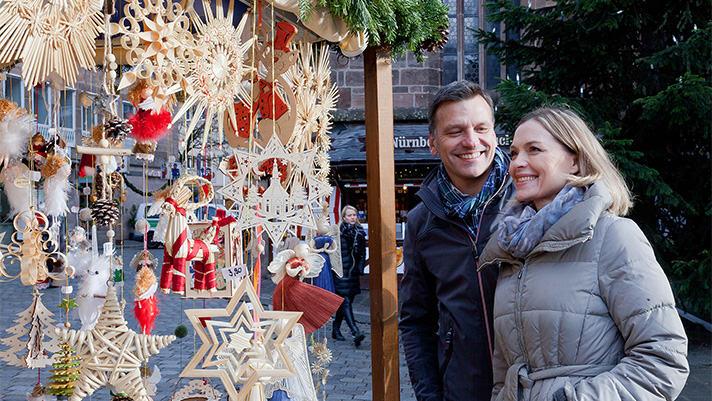 Shop for unique trinkets and gifts as you explore the Christmas Markets.
Day 4: Rhine Gorge and Rüdesheim
Day four begins with a scenic cruise through the Rhine Gorge, which is flanked by castles, to the town of Rüdesheim, which is famous for its wine. Choose from three excursions that all include a visit to the town's Christmas market: a wine tasting, a gondola ride, or a guided bike tour. Alternatively, visitors can experience an invigorating hike through the vineyards.
Day 5: Ludwigshafen
Ludwigshafen is the gateway to three historic German cities that travelers can take their pick from Heidelberg with its majestic castle and long pedestrian shopping streets that host the city's Christmas market; Speyer with Europe's largest Romanesque cathedral and a Christmas market that offers stunning views of the structure; or the medieval town of Ladenburg reached via a bike tour.
Day 6: Strasbourg
Strasbourg is the site of the oldest Christmas market in France, the Christkindelsmärik, which dates its founding to 1570. Before visiting the market in the evening, choose between two ways of touring the city. You can opt for a bus tour of the most significant sites, including the European Parliament and the historic town center, or take a bicycle tour of the city's districts.
Day 7: Breisach
Finish your unforgettable European river cruise with an excursion to remember. From Breisach, you can visit the 16th-century town of Riquewihr and admire the historic architecture as you shop at the Christmas market
Alternatively, go back even further in time to Freiburg, which was founded in 1120 and also has a quaint market to explore. Those who have finished all of their shopping might prefer a bike tour of Breisach wine country instead.
Day 8: Basel
Your Europe Christmas Markets cruise comes to an end in Basal in northwest Switzerland. The city's medieval town centers make it a fitting stop on a journey through European tradition.
Book with Confidence
Don't miss your chance to take this magical yuletide adventure onboard AmaWaterways. Turn to one of Avoya Travels' Independent Travel Advisors to help with the booking process for a dreamy Christmas Markets cruise at an incredible value.
Call the number at the top of this page to be connected with a Travel Advisor in the Avoya Travel NetworkTM who can help you get the best price, navigate COVID-19 restrictions, and answer any questions you have about AmaWaterways.