Travel along some of the world's most notable rivers with a luxurious Avalon Waterways river cruise experience. Avalon Waterways® launched in 2004 and is known for having the youngest fleet in the industry (its oldest vessel is from 2008). Today the fleet is comprised of two dozen vessels that operate across Europe, Asia, South America, and the Galápagos Islands.
These modern, inviting ships carry between 36 and 166 passengers, ensuring an intimate experience while onboard. Avalon Waterways boasts the industry's most spacious staterooms. English-speaking crews are friendly, welcoming, and accommodating. Crews are known for being attentive and helpful to guests as they work to ensure that your journey is a pleasant one. Avalon Waterways also offers a healthy mix of onboard amenities alongside well-planned shore excursions.
Contact a Travel Advisor in the Avoya Travel NetworkTM or browse here to see everything Avalon Waterways has to offer for your next vacation.
Amenities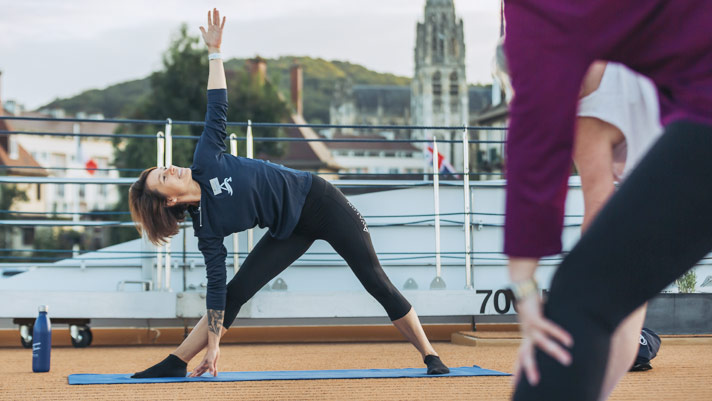 Take a yoga class on the Sky Deck
Your Avalon Waterways river cruise offers the amenities and facilities you would expect at a 5-star hotel with the unparalleled experience of being on a world-famous river. Enjoy a complimentary breakfast in your room with sparkling wine as you take in the views. Head to the Sky Deck where you can unwind on a lounge chair, enjoy the shade system, or soak in the whirlpool. Work out at the onboard fitness center or grab a coffee from the Club Lounge, which offers a round-the-clock self-serve beverage station with cappuccinos, lattes, hot chocolate, tea, and cookies. Read a book or play a board game at the Club Lounge Library. As your journey continues, don't forget to send photos to family and friends via the complimentary WiFi. Learn about fitness center classes or secure active gear at the Adventure Center.
Spacious Rooms
Take in views from the Panorama Suite
Staterooms on Avalon Waterways® river cruises are 30% larger than the industry standard. Bigger rooms mean fewer passengers which cultivates an intimate onboard experience. Enjoy Avalon Panorama SuitesSM where your bed faces sliding glass windows. These windows offer wall-to-wall, floor-to-ceiling views outside. All Avalon Waterways rooms are equipped with either windows or an Open-Air balcony®. The Deluxe staterooms offer luxurious amenities including soft Egyptian cotton sheets, memory foam mattress toppers, L'Occitane® bath products, English-language TV channels, under-bed luggage storage, and 3-door closets with shelves.
Culinary Delights
Enjoy incredible meals onboard Avalon Waterways river cruise ships
Enjoy breakfast, lunch, and dinner onboard daily, with complimentary beer and wine served at lunch and dinner. Choose from an al fresco lunch at the Sky Grill, a casual bistro setting in the Panorama Bistro, or a four-course dinner in the Panorama Dining Room. Avalon FlexDining® offers seating times to suit your schedule and allows you to dine onboard when and where you like. Avalon Fresh® has a selection of healthy options to choose from for each meal, and Avalon's culinary team can accommodate dietary restrictions as needed. Discover new regional dishes as you continue your cruise with food tailored to where your ship is located during your journey. Finally, stay refreshed and hydrated with one of the beWell water stations located on the ship. These convenient stations offer still, sparkling, or flavored water choices.
Dreamy Destinations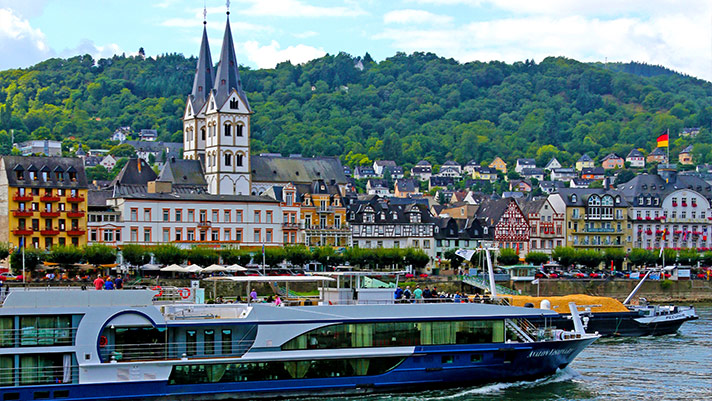 Stop in destinations like charming Germany on your river cruise
Sail down one of the world's most famous rivers with the experienced crew of an Avalon Waterways® river cruise ship. Take in views of iconic European spots along the Danube, Rhine, or Seine rivers, among others. Travel further afield and explore the legendary Nile, Mekong, Ganges, or Amazon rivers. Avalon Waterways itineraries include at least one complimentary daily excursion and allow you to choose optional activities along the way. Download the free AvalonGO mobile app for daily schedules and itineraries, local guidance, street directions, recommendations, and more.
Specialty Cruises
When it's time to select your Avalon Waterways river cruise, why not consider a specialty cruise? Explore your passions and interests while enjoying the one-of-a-kind service that only an Avalon Waterways® package can deliver. The upcoming Storyteller Series hosts speakers such as Candace Bushnell of Sex and the City fame, Wild author Cheryl Strayed, songwriter Edwin McCain, and others. A specialty wine cruise hosts a certified Master of Wine who will teach wine lovers to pair wines with cheeses, desserts, and more. Food lovers will rejoice with a culinary river cruise that explores Burgundy and Provence and their famous regional cuisines. Explore renowned European Christmas markets on a festive Christmas cruise or take in a garden and nature cruise through Holland and Belgium.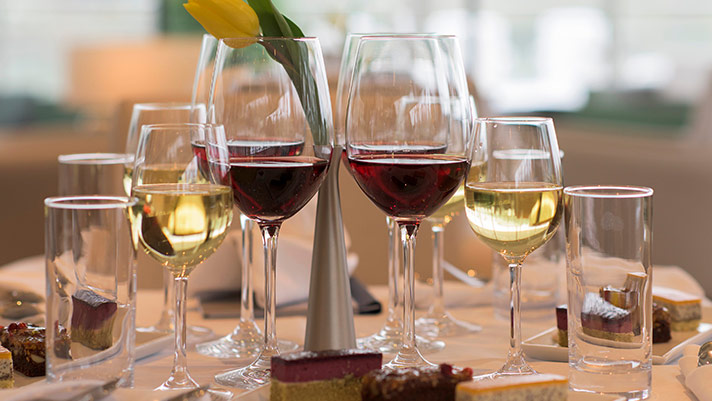 A specialty wine river cruise is perfect for wine lovers!
Active and Discovery river cruises take place in Europe and allow you to immerse yourself in each destination in a unique way. Choose from a variety of options including Classic (where helpful local guides share their knowledge about famous historical sites, local culture, and more), Discovery (get a little more up close and personal with your new locale through painting, cooking, taking an archery lesson, and more), and Active (set your sights on a day of adventure and take in new locations via bike, hike, kayak and beyond).
Awards
Avalon Waterways® has received numerous accolades in the travel industry. It was named the Cruise Critic Editor's Picks 2019 for Best Shore Excursions. Avalon Envision® was voted 'No. 1 Best River Cruise Ship' in 2021 by USA Today, and in the same year Condé Nast Traveler voted Avalon Waterways® a 'Top 10 Best River Cruise Line.'
Book With Confidence
When you're ready to set sail on an Avalon Waterways river cruise, turn to one of Avoya Travel's Independent Travel Advisors who will be happy to guide you through the booking process from start to finish.
Call the number at the top of this page to be connected with a Travel Advisor in the Avoya Travel NetworkTM who can help you get the best price, navigate COVID-19 restrictions, and answer any questions you have about Avalon Waterways.