Club Med's all-inclusive resorts can bring comfort and fun to your next family vacation. Each resort offers spacious accommodations and extensive dining choices. There are plenty of sports and activities to choose from and you can cap off a day of play with evening entertainment or live music.
Plus, each Club Med resort is located near some of the world's most beautiful destinations, so you and your family can enjoy excursions further afield.
Contact a Travel Advisor in the Avoya Travel NetworkTM or browse here to see everything Club Med's all-inclusive resorts have to offer for your next vacation.
Kid Zones
Each Club Med resort hosts Children's Clubs designed for children between the ages of 4 months and 17 years old. You can drop your little ones and younger kids off at Baby Club Med® geared for ages 4-to-23 months old, Petit Club Med® designed for 2-3-year-olds, or Mini-Club Med® for 4-to-10-year-olds. Have older kids? Send them to Junior Club Med and Passworld® to hang out in cool spaces specially designed for them.
In addition to the Children's Clubs, you will find baby feeding and equipment rooms located at the resorts to ensure you have a safe space to care for your infant at no additional charge, whenever you need it.
Fun for the Family
Club Med is at the top of its game when it comes to family-friendly activities. Enjoy free pool access at any time during the day. Experience Family "Big Snack," where you and your kids can flip pancakes or bake treats together. Go on a new adventure with a fun-filled treasure hunt or boogie down and learn a new dance together. The possibilities are endless.
Club Med resorts all adhere to the same world-class standard for all-inclusive stays, but each resort offers something a little different. Club Med Punta Cana in the Dominican Republic is one of only two Club Med properties to host CREACTIVE, the Cirque-de-Soleil staffed circus-skills playground suitable for the whole family. Club Med Academies finds its home at Club Med Sandpiper Bay in Florida and boasts a wide range of sports training facilities staffed by pro instructors.
Tropical Escapes in the Dominican Republic
Opened in 2019, the Michès Playa Esmeralda resort in the Dominican Republic is a five-star Club Med all-inclusive resort catered to providing an unparalleled family-friendly experience. Michès is the crowning jewel of Club Med's Exclusive Collection and boasts an eco-chic, environmentally friendly model. Here, you'll find a unique four boutique village design, including the family-friendly Explorer Cove village located near the playground and sports facilities.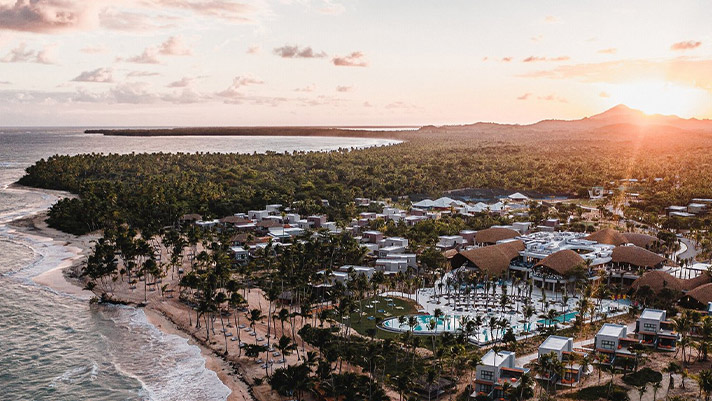 Club Med Michès Playa Esmeralda Resort in the Dominican Republic
Unwind after a day of exploring with a family yoga class catered to the Mini Club Med® age group or swing above it all with a group flying trapeze lesson. See who can get a hole-in-one on the minigolf course or get into the water with a stand-up paddle or a kayak. Discover The Secret Chocolate Room with your youngsters or watch them discover the joy of gardening with The Little Gardeners' House where kids can plant, grow, and tend to their own fruits and vegetables and learn more about plant species.
Only an hour away from the Michès resort, underneath a canopy of palm trees and set against an unspoiled stretch of beach, the beauty of the Punta Cana resort awaits. Here you and your family can participate in water sports such as sailing and paddleboarding or experience a high-flying adventure with the Circus School. Try a pitch-and-putt course or mini-golf at one of the nearby golf courses. When it's time to dine, head to one of two newly redesigned restaurants: Samana or Hispaniola.
Active Adventures at Sandpiper Bay in Florida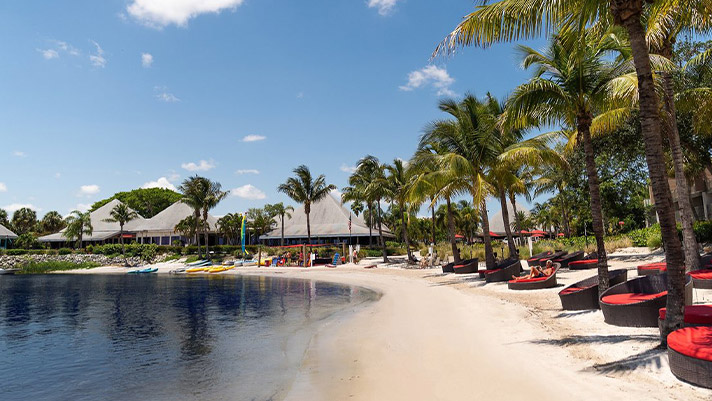 Club Med Sandpiper Bay in Florida
Located between Orlando and Miami along the St. Lucie River, Club Med's Sandpiper Bay resort in Florida is host to the renowned Club Med Academies. Your family can play sports or take lessons from pro instructors. Choose from golf, tennis, flying trapeze, and more.
After a day of activity, dine at the Marketplace and discover a tantalizing array of international dishes. Don't forget to try Sandpiper Bay's famous white chocolate bread during your stay. For nearby excursions, consider a sunset cruise on the St. Lucie River and see if you can spot local wildlife such as dolphins, manatees, and alligators.
Dreamy Getaways in Mexico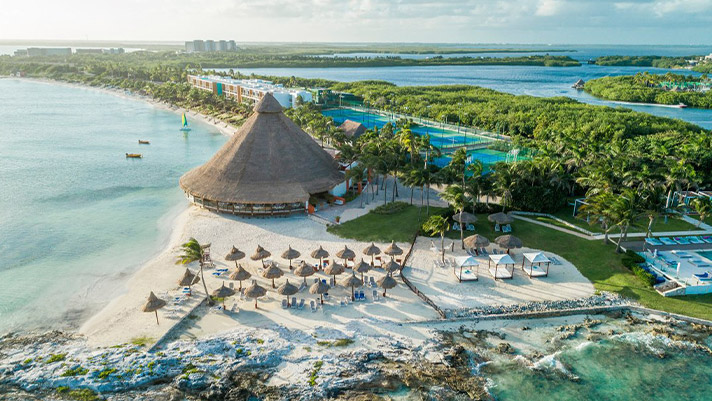 Club Med Cancun Yucatan Resort
The redesigned Cancun Yucatan resort boasts plenty of family-friendly activities for you and your children to experience. Try your skill at a flying trapeze lesson. Explore the Maya pyramids by day and watch the sunset over the ocean at dusk. There are three outdoor pools, including Aguamarina, a dedicated family pool. Sample the tacos and fresh guacamole at Taco Arte or indulge in a sweet or savory treat at The Creperie.
Club Med Ixtapa Pacific resort brings you plenty of sunshine and sandy beaches. There's a dedicated kids' pool and plenty of Mini Club Med® activities to keep youngsters entertained, including the Petit Chef program where they can show off their culinary talents. Discover activities by land and sea including sailing, tennis, and archery.
Winter Wonderland in Canada
Quebec Charlevoix, Club Med's first North American Mountain resort, looks out over the St. Lawrence River and showcases the natural beauty of the Canadian landscape. There's year-round fun to be had with skiing in the winter and hiking in the summer.
Club Med Quebec Charlevoix Resort in Canada
Hit the slopes with 5-day Alpine ski or snowboard lessons offered by certified instructors for both children and adults. Strap on a pair of ice skates and hit the rink with your family (children 4 years old and up are welcome to join in).
Book Your Club Med All-Inclusive Stay
Club Med's all-inclusive resorts are located worldwide with additional resorts in the Caribbean, the Mediterranean, Europe, Asia, and beyond. No matter which location you dream of discovering, staying at a Club Med resort will ensure you have a wonderful getaway.
Turn to Avoya Travel when you're ready to plan your next vacation. With Avoya, you'll experience hassle-free booking with a dedicated Independent Travel Advisor who will help you coordinate your family-friendly getaway at a dreamy Club Med resort from start to finish.
Call the number at the top of this page to be connected with a Travel Advisor in the Avoya Travel NetworkTM who can help you get the best price, navigate COVID-19 restrictions, and answer any questions you have about Club Med's All-Inclusive Resorts.