Guests wishing to set sail on a Regent Seven Seas GrandeurTM voyage can now make reservations for its inaugural season.
Soak up the sun onboard this luxury ship with a cruise through the Caribbean Sea, explore ancient sites of the Mediterranean, or discover the natural beauty and history of New England and Quebec. Itineraries for all interests abound onboard this incredible vessel.
Contact a Travel Advisor in the Avoya Travel NetworkTM or browse here to see everything Regent Seven Seas Cruises has to offer for your next vacation.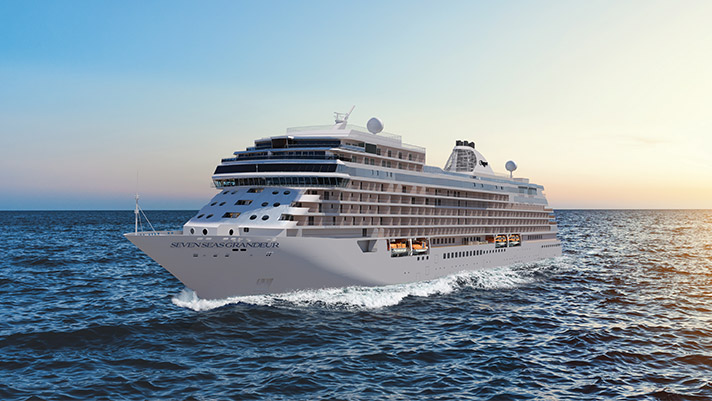 Regent Seven Seas Grandeur
Inaugural Season Itineraries
A Transatlantic Crossing
Cross the open sea on a 14-Night cruise from Barcelona to Miami. Begin the journey in Barcelona and sail through the Mediterranean Sea to Seville. Here, travelers can join a walking tour through the city, admiring Baroque architecture and art and meandering through spacious plazas. From Seville, the ship then makes its way to Funchal (Madeira), Portugal.
Choose a hop-on-and-off bus tour around Funchal's main attractions or sample regional flavors with food and drink tastings. From Portugal, the voyage continues across the Atlantic Ocean with a stop at Royal Naval Dockyard in the Bahamas before sailing to Miami.
Voyage through the Panama Canal
Embark on a 16-Night sailing from Miami to Los Angeles. Enjoy the sights of the Caribbean with a stop at the Cayman Islands, where guests can dive around Casuarina Point Reef, touch stingrays, or enjoy scenic views along a shore drive. In Cartagena, Columbia, join a walking tour through the oldest part of the city.
After crossing the Panama Canal, Seven Seas Grandeur makes a stop in Puntarenas, Costa Rica. Here, the wonder of the rainforest awaits with an immersive walk along the Skywalk, designed from suspended cable bridges.
Later in the journey, the ship heads to Acapulco, Mexico, home to sandy beaches and turquoise waters. Watch cliff divers at La Quebrada or relax on the beach before ending the voyage in Los Angeles.
Marvels of the Mediterranean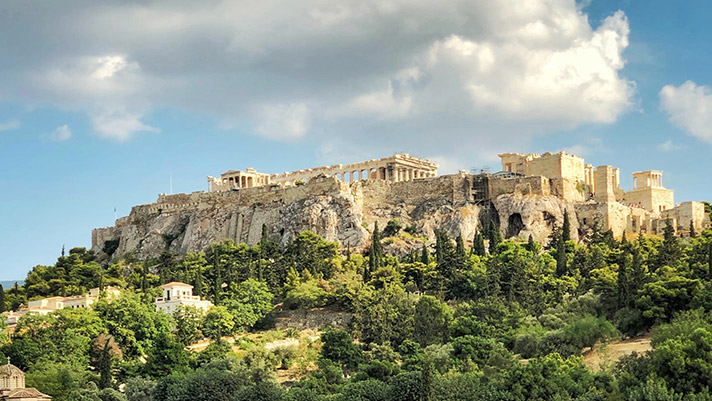 Athens, Greece
Explore the dreamy Mediterranean on a 10-Night cruise from Istanbul to Athens. Stop in Mykonos, Greece with excursion options that include scenic drives along the coast, a guided walking tour of Mykonos, or a half-day visit to Elia Beach.
Enjoy onboard activities and experience the luxurious amenities Seven Seas Grandeur has to offer for a few days before arriving in Limassol, Cyprus. Once you arrive, visit ancient sites like the city of Kourion or explore Paphos, home of the fabled birthplace of Aphrodite.
Venture onward to Turkey, where travelers can explore the Old City of Antalya or sail around Bodrum in a gulet, a traditional Turkish two- or three-masted wooden boat. Arrive in Athens, the final destination, and explore its impressive historical sites.
Excursions Your Way
A Seven Seas GrandeurTM voyage offers excursion options tailored to suit a variety of interests. Offerings in select ports include tours like the Food and Wine tour, Go Local tour, or Small Group tour.
Choose from a range of activity levels, from Seated Tours to Strenuous Activity tours. Guests can also choose excursions based on duration, from a half-day wander to a full-day experience. For a more personal outing, travel in a private vehicle, complete with a personal driver and guide, and select the points of interest to explore.
What to Expect Onboard
Luxurious Accommodations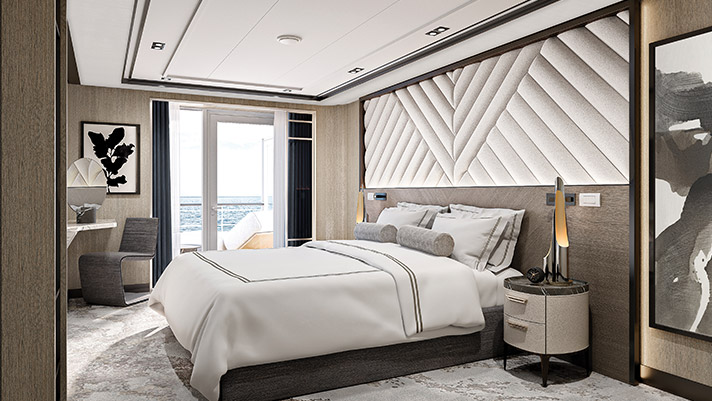 Seven Seas GrandeurTM has an impressive array of 15 suite categories. The Regent Suite boasts over 3,100 square feet of space, including two bedrooms, a generous living room, and a sitting area, in addition to a spacious private balcony. This suite features an in-suite spa with a sauna, steam room, and jetted tub – the perfect way to unwind at any point during the cruise.
Book a Master Suite and enjoy a generous living room with views of the sea and a wrap-around balcony. This suite offers two bedrooms and two bathrooms, ideal for a small group or family.
Enjoy the Penthouse Suite that boasts a European King-sized bed, living room, and private balcony. Standard amenities for all suites include free valet laundry service, unlimited WiFi, bath essentials, a flat-screen television, as well as comfy bathrobes and slippers.
Onboard Activities
Seven Seas GrandeurTM offers a variety of activities and facilities for guests to enjoy during their voyage. Shop at boutiques with designer clothing, handbags, and jewelry. Up the ante at the casino or head to Constellation Theater, which offers daily performances. Take in the expansive sea views from the Observation Lounge or head to the pool deck – the go-to place for soaking up the sun, swimming, or sipping on a cocktail.
If you need to catch up on some work, the Business Center has desktop computers and printer access. Guests who bring their own laptop or tablet onboard have access to WiFi anywhere on the ship.
The fitness center hosts several classes, including Pilates and yoga, alongside weights, strength machines, and cardio machines. On the Sports Deck, guests can walk, jog, or run around the track, play a friendly game of paddle tennis with friends, or take a swing at the golf net, clubs and golf balls included. After a workout, relax at Serene Spa and WellnessTM, which features treatments that provide restoration and rejuvenation.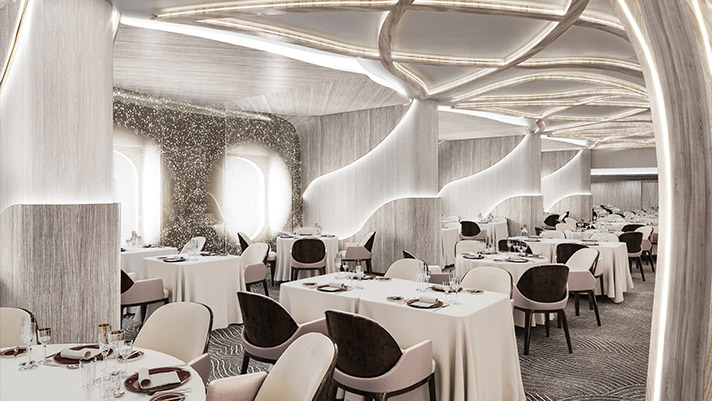 Compass Rose dining room onboard Seven Seas Grandeur
Guests onboard this luxury ship will find plenty of dining options onboard. A grand staircase in the Atrium leads guests to Compass Rose, the ship's largest signature restaurant.
Start the day with breakfast at La Veranda or a latte at Coffee Connection, which brings chic café vibes onboard alongside a can't-miss sea view. Follow with lunch at Pool Grill, offering casual eats in an outdoor setting. Enjoy fine dining at Chartreuse, which takes its inspiration from iconic French cuisine with a contemporary flourish.
Book with Confidence
When you're ready to embark on a Regent Seven Seas GrandeurTM voyage and experience this luxury ship during its inaugural season, call Avoya Travel to be connected with an Independent Travel Advisor, who will be happy to guide you through the booking process from start to finish.
Call the number at the top of this page to be connected with a Travel Advisor in the Avoya Travel NetworkTM who can help you get the best price and answer any questions you have about Regent Seven Seas Cruises.