Read Time - 7 mins & 12 secs
You may have seen pictures of Santorini and it's iconic white and blue-capped architecture. It's widespread views of rolling hills overlooking the Aegean caldera have become iconic. The good news is it is just as beautiful as it looks and filled with many layers of fascinating culture waiting to be explored. Whether you're cruising from island to island or staying in a luxury resort, here's everything you need to know about vacationing here…
When to Go
Here's a look at when the weather is at its best and when popular tourism seasons take place to help you decide on the best time to visit.
Best Weather in May Through October
The best time to visit is late Spring through early Fall for the sunniest and warmest times of year. There is a rainy season that peaks in January with about ten days of precipitation per year. The shoulder season may be better time of year if you don't mind colder weather. There are often discounted travel deals in the offseason, but keep in mind that many businesses close in the less beach-friendly months of August through March. We'd recommend that you consult an Independent Travel Agent in the Avoya Network who can confirm specific must-see landmarks are accessible during your vacation dates. (Weather Source)
Tip: January averages ten days of rain per year in Santorini.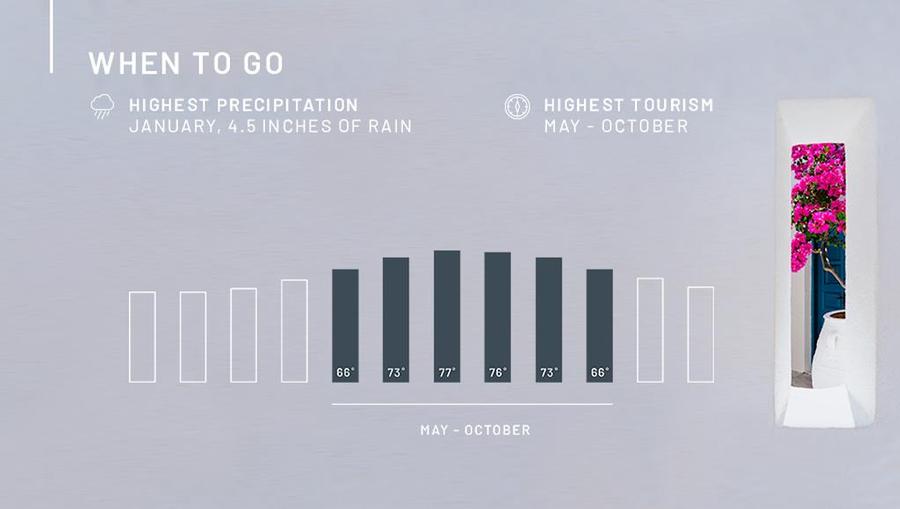 Peak Season Starts During Greek Easter
Greek Orthodox Easter consists of the Holy Week, and on Good Friday Pyrgos is brightly lit with candles for an awe-inspiring event. This is one of the many celebrations that take place all over the island during the week leading to Easter Sunday in April, and sometimes early May.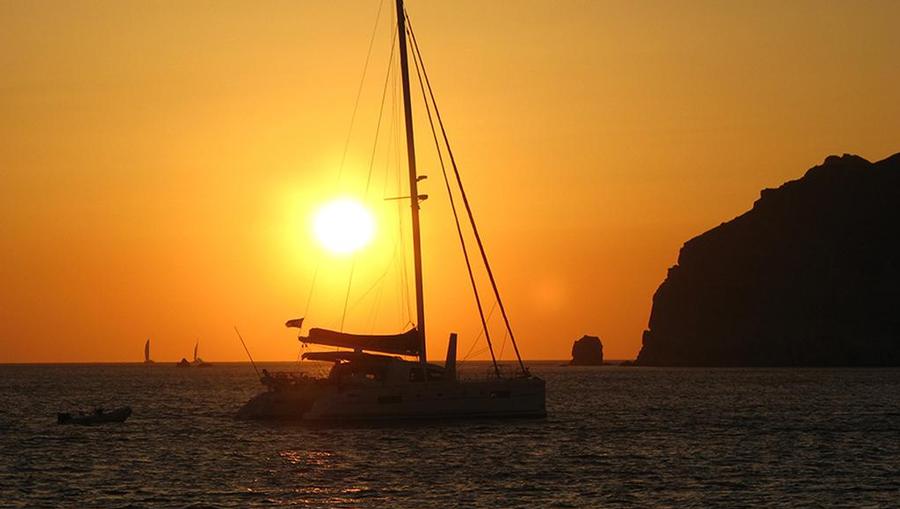 From that point on travelers who are here for the sunshine and scenery start to arrive. In August tourism picks up even more with both the Festival of Megaron Gyzi, a musical summer celebration in Fira, and the Aegean Regatta, an annual Aegean Sea boat race, drawing travelers here.
The incredible Ifestia Festival follows in September when the Santorini Volcano fireworks show lights up the sky for a beautiful reenactment to memorialize the world-changing 1646 eruption.
Top Things to Do in Santorini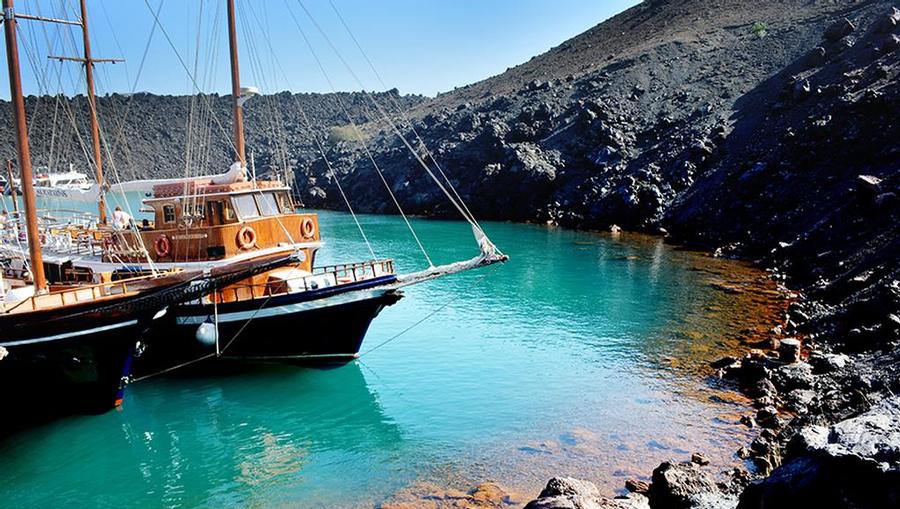 Swim in the Healing Waters of Santorini Hot Springs
Head to Oia (Old Port) in the capital city of Fira where you can take a boat tour across the Aegean waters to Nea Kemani islet. This volcanic island is the access point to Palea Kameni where the hot springs are located, as well as stunning views of lava fields and boulders. To get to Palea Kameni requires a short swim so make sure you are comfortable in water if you want to partake. If not, sunset catamaran cruises are idyllic in this area and could not be recommended enough.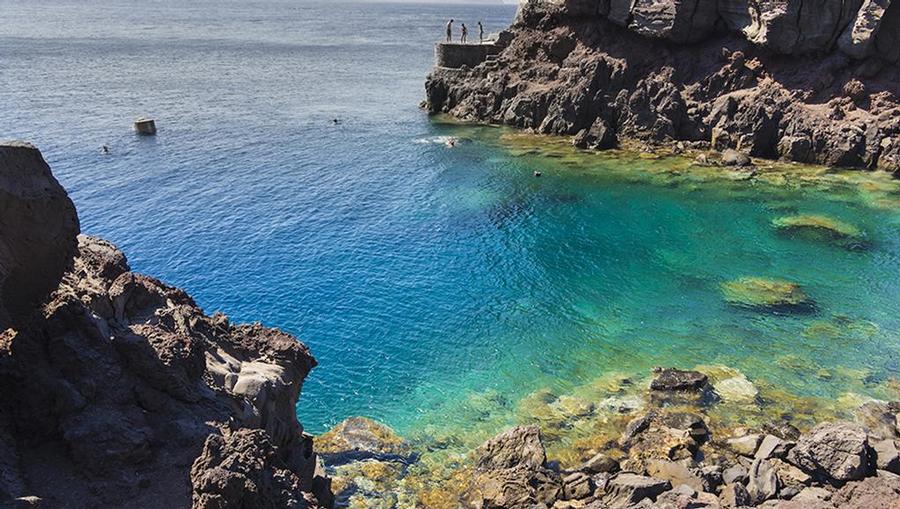 The spring water stays around 85°-95° F and has a noticeable orange color. This is caused by sulfur in the water that gives it healing properties great for skin and joints. Don't wear your favorite swimsuit here because the sulfur has a distinct smell that stains on your clothes and takes a few washes to remove. If your into the outdoor adventure and authentic experiences it is well-worth the hassle.
Enjoy the Unique Black Sand Beaches
Santorini Volcano produces volcanic sand which is why you can find so many black- and red-sand beaches on this fascinating island. Find all the usual water sports, shopping, as well as delicious coastal restaurants that you would find in other beautiful seaside destinations – Santorini is comparable to many of the world's best beach getaways.
You can find beach bars to enjoy a cocktail as you relax or rent a jet ski for a more adventurous activity. Just make sure you wear flip-flops or water shoes because the dark-colored sand heats up under the sun! Some of the most popular options are Perissa, Kamari, and Red Beach, but here are some more to choose from…
Elia Beach
Amoudi Bay
Perivolos
Eros Beach
Tip: Tranquilo Beach Bar on Perissa Beach is a perfect place to relax in a hammock or drink with friends and enjoy the amazing setting.
Sunset Dinners with Unbelievable Ocean Views
Enjoy Greek food like you were meant to at a restaurant like 1800-Floga, a fine dining establishment with a dream-like, open-air setting that serves culinary works of art and boasts a roof garden. From there you can see the volcano and caldera while you indulge in lemon calamari, shrimp risotto, ravioli al salmone, and a glass of wine from their cellar. Santo Winery is another romantic setting with unforgettable views and delicious seafood like lobster pasta, or you can just keep it to cheese if you are here for the wine and views from the terrace. Fresh fish is abundant and the destination is postcard-perfect. Here's a few more restaurants with views to add to your itinerary…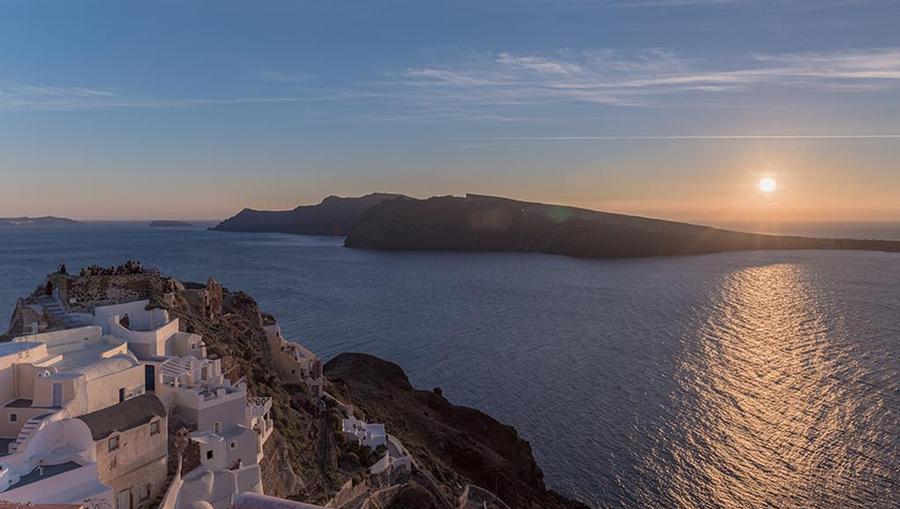 Argo Restaurant - Amazing views from Fira and delicious meals like lamb kebabs and picanha black angus cooked to perfection. A wonderful venue for a wedding reception.
Las Maison - Featuring innovative dishes bursting with flavor and picturesque scenery on the Northern tip of Fira. Expect rich culinary traditions of Santorini and the Mediterranean served up here.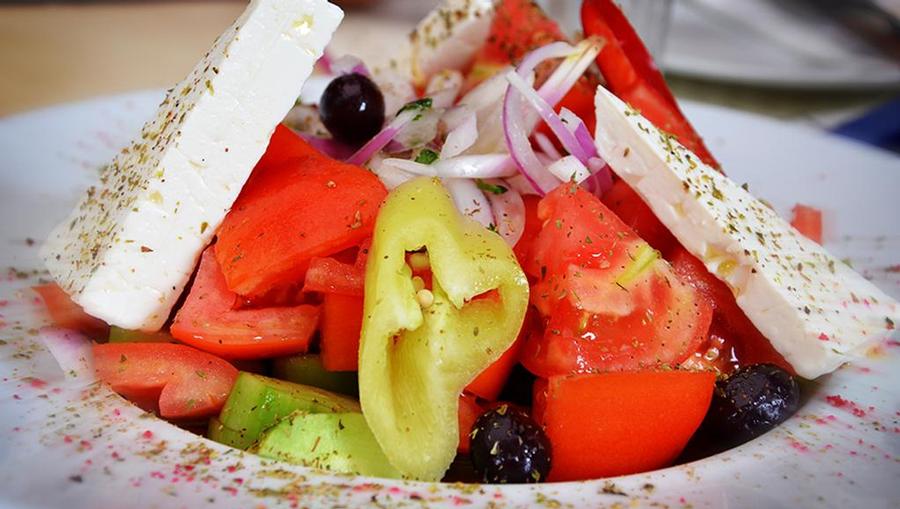 Volcano Blue - Another Fira restaurant with dreamy surroundings and outstanding Greek specialties like Mousaka, fish fillet with capers, and veal 'Stifado'. The spaghetti with fresh mussels and lobster spaghetti dishes are also mouth-watering.
Naoussa Restaurant - Nearby the Central Orthodox Church in Fira, this family-run restaurant serves up high-quality Greek cuisine like eggplant dip or grilled octopus starters and Chicken Souvlakior, cheese-stuffed beef burgers, and Soutzoukakia (stewed meatballs) specialties.
More Local Landmarks and Things to Do
Endless Food and Wine Tours – Wine tasting tours at the finest vineyards (sometimes chauffeured in a Mercedes Benz minivan), cooking classes, and local craft-beer sampling are few tours to add to your to-do list. Don't miss Santorini Brewing Company (look for the donkey logo) if you're a beer enthusiast.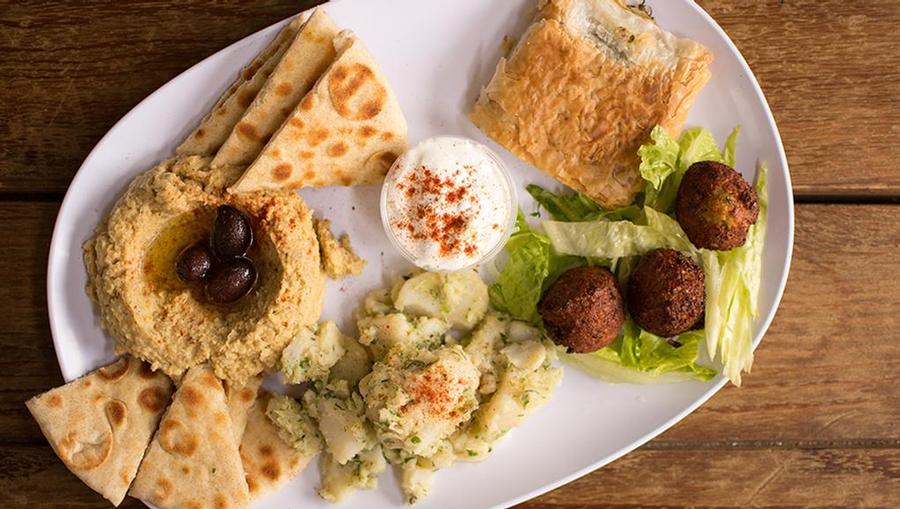 Greek Doughnuts – LukuMum has rave reviews for their 'loukoumades' doughnuts!
Sail on Catamarans – Sail on the Aegean sea in the caldera where you can get an unforgettable perspective of the islands, and even swim, fish, snorkel, or just enjoy the sunset.
Hike from Fira to Oia – This is a famous excursion on Santorini and is not an easy hike but manageable for the moderately athletic. You can see a lot of the culture like the iconic white and blue buildings, Neolithic artifacts, ceramics, and wall paintings.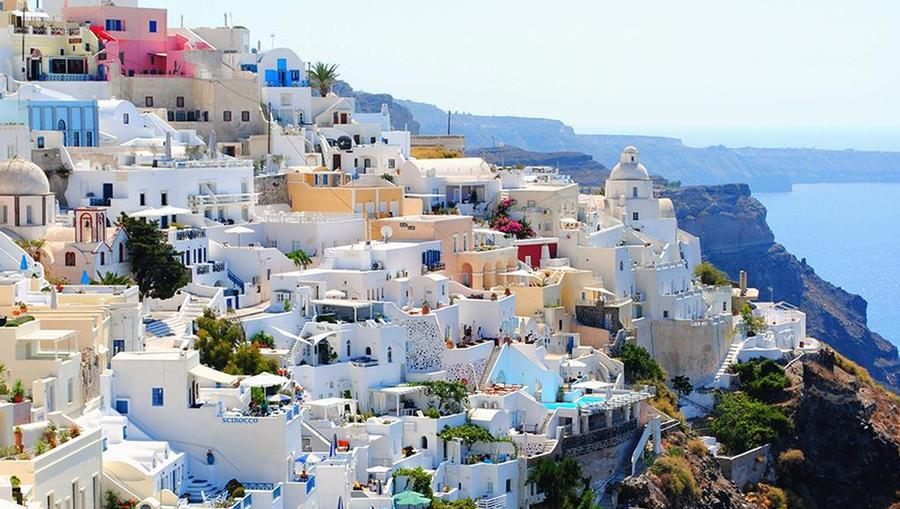 Santorini Cable Car – For an easier route out of Oia, and even more stunning vistas, ride the famous cable car.
Greek Coffee Shops – There is a charming coffee scene with plenty of coffee shops, including these top options: Chocolat Creperie – Café, Lila Café, and Franco's Bar.
Tip: Select cruises offer onshore excursion to many Santorini cities all in one itinerary and include the activities mentioned above.
Island Hop to Mykonos, Milos, and Skopelos
The best way to see all three of these islands and Santorini is to cruise the Mediterranean. Cruises offer you plenty of time to experience the beach clubs and parties of Mykonos, the windmills and ATV riding in Milos, or Skopelos (furthest and most accessible by flight if you are not cruising), the island where the musical Mamma Mia! was filmed.
Explore sailings to this region that stop at all of these islands here. Don't miss out on our best available deals for discovering Santorini and beyond.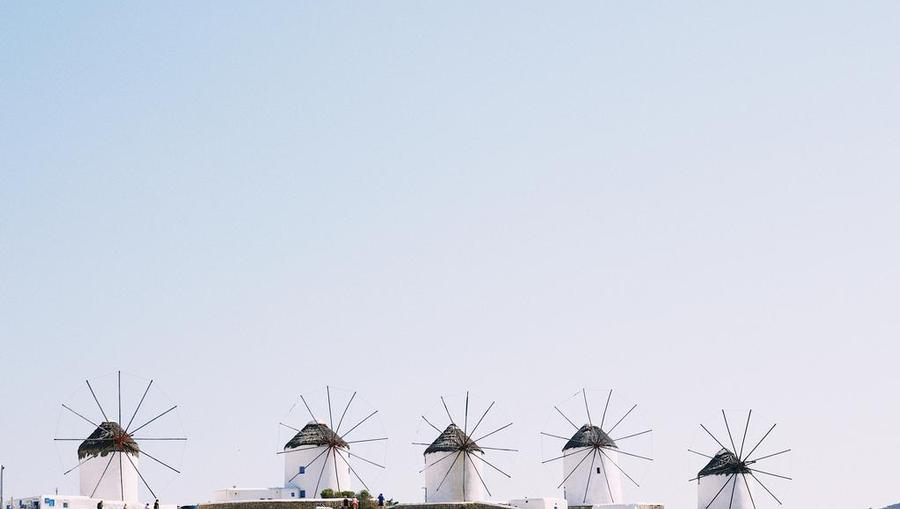 Things to Know
In short, foodies, romantics, and those that want relaxation in a culturally rich paradise – Santorini is for you. Whether it's a week-long honeymoon or an overnight cruise stop, you'll have a long list of adventures to fit into your plans. Still curious about this island escape? Here's some frequently asked Santorini questions to help you get the full picture…
Tip: The primary currency in Santorini is the Euro and the main language spoken is Greek. There are a small amount of English, French, and German speakers as well.

How many days do you really need in Santorini?
Five to seven days is a perfect amount of time to get a full Santorini experience, but any opportunity you have to visit, even if it is an overnight cruise stop, will be just as amazing.
What should I do in four hours in Santorini?
We recommend a visit to the hot springs, but the views of the caldera are so beautiful that just wandering the city from coffee shop to restaurant to boutique will be unforgettable for visitors.
Where should I stay in Santorini?
The cities of Fira, Oia, and Imerovigli on the Western side of the island are closer to the volcano and tons of beaches.
Is it safe to travel to Greece?
Although there have been incidents of unrest from extremist groups and protesters in metropolitan areas in wider Greece, Santorini is a very safe island with little crime. It's its own microcosm of peace, great food, fascinating history and culture, and bucket-list-worthy views, but anytime you are in a foreign country you should take proper precautions when it comes to traveling safely.